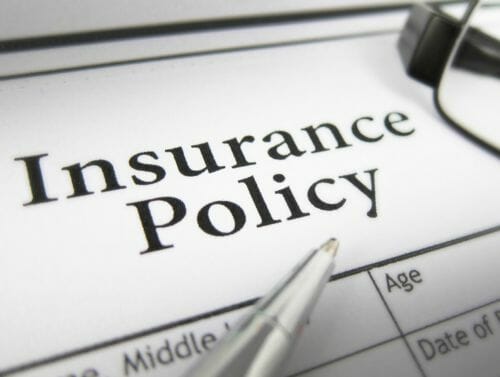 Last week, I shared 10 reasons to get life insurance. They were mainly personal reasons Dave and I feel it's important to have life insurance — I know there are plenty of people out there without life insurance. That's fine, it IS a very personal choice based on you, your family, your job, your financial situation, etc. I'm just glad there are so many different options for life insurance policies.
As expected, after sharing that post, I got quite a few questions related to buying, having, and using life insurance — and I honestly didn't feel confident answering all of them since I'm certainly not an expert in life insurance. I just know what I know from asking questions and doing some research of my own.
(Side note, if the person or company you're working with to do any sort of investments, banking, insurance, etc. makes you feel dumb or silly for asking questions, I would highly recommend working with someone else!)
Anyway, since I didn't feel confident answering the questions myself (and since I actually had a few more questions of my own), I asked the folks at Allstate if they would be willing to send me the answers to these questions for a follow-up post.They graciously offered to help!
Below is a list of questions I compiled, along with the answers from Allstate. Hopefully the answers will be as helpful to you as they were to me. However, please keep in mind that you should also do your own research before purchasing a life insurance policy. There are SO many different variables that can help to decide what type of insurance and what value of insurance is right for you, your spouse, and other various family members.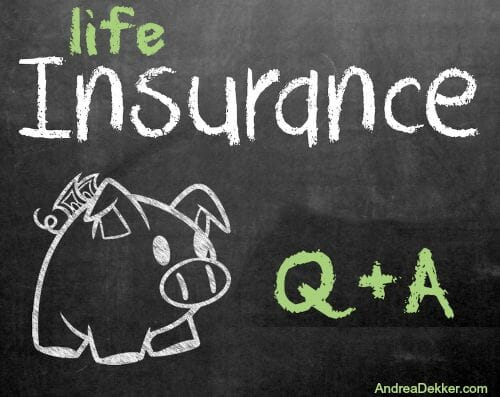 photo source
How do you determine the amount of life insurance you should purchase?
In general the "value" of life insurance is nearly immeasurable as it can be so many things to so many people, beyond the cash payout.
A good rule of thumb for calculating a face amount of coverage on the policy is to consider at least 5 times one's yearly salary — probably closer to 10 times if possible.
What is the main difference between a term policy and permanent policy?
Think of insurance from a housing analogy: Term insurance is like renting a place to live for a specified term limit. The coverage ends at the end of the policy's specified term.
Permanent policies allow the owner of a properly funded permanent policy to build cash value just as a homeowner builds equity in their home as the mortgage is paid down along with any appreciation of the property value over time. A permanent policy is designed to be in-force when the insured passes away.
NOTE: Dave and I have a 30-year term policy. (You can click on the links above to read more details about Term and Permanent policies.)
Who would be an ideal candidate for a permanent policy?
The ideal permanent policy buyer is someone seeking a long-lived life insurance policy at a solid fixed rate.
The demographic typically consists of married couples looking for a more secure future by having "income replacement" for a working spouse, and also successful business owners looking for additional coverage for their key people, or for a buy-sell agreement.
Does it ever make sense to buy life insurance for young children?
As a parent myself, I look at "Kid" policies as an excellent way to provide guaranteed insurability for any child who might develop a chronic illness that could keep them from getting life insurance in the future.
Many plans start with minimal premiums and, if they are a type of policy that builds a cash value, could potentially build a solid cash value into the child's adulthood.
Kids will eventually take over their policies and hopefully see cash values inside the policies (assuming no withdrawals) are quite significant.
Is there an age when it is "too old" to buy life insurance?
Some plans are not available after certain ages, while other plans can be cashed in at certain ages.
Can you ever be refused life insurance? Like if you have bad health?
Life insurance is always subject to the underwriting guidelines of any potential carriers. The prospective company is required to follow its published underwriting acceptance/declination procedures.
NOTE: Dave and I had to pass a relatively basic health screening. A nurse actually came to our house to do it for us, we filled out some paperwork, and got the results a couple weeks later. My health was apparently slightly better than Dave's so my yearly premiums are a bit lower.
Are there any term life insurance plans that can be "cashed out" after the term is up?
The original term policies does not build any cash value. If you pass away before the term ends and the policy is in good standing, then it pays-out the face value to the beneficiaries. If you do not pass away before the end of the term, the policy is simply gone.
Today there are "Hybrid" Universal/Term life policies that can be funded in a way that they build cash value and, once the policy reaches the desired term of years in-force and/or cash value, it could be cashed in.
NOTE: Dave and I have the "original term policy" that can not be cashed in. We honestly didn't even know about the hybrid policies when we set up our accounts. Maybe they weren't even available 10 years ago. I'm not sure 🙂
.
I'm so glad I had a chance to ask these questions (for myself and for you)! I thought I knew more than I did… so I actually learned a lot! I really didn't fully understand all the differences between a term policy and a permanent policy, I always wondered why anyone would buy life insurance for their children, and I was never really sure about if/when a policy could be cashed out. Yay for more information!
Do you have more questions?
Leave them in the comments!
This post was written as part of the Allstate Influencer Program and sponsored by Allstate. All opinions are mine. As the nation's largest publicly held personal lines insurer, Allstate is dedicated not only to protecting what matters most–but to guiding people to live the Good Life, every day.