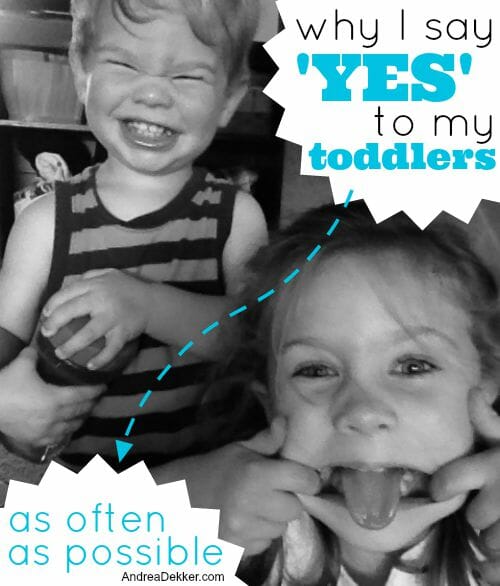 As a full-time stay-at-home mom to 3 children 3 and under (one of which is a nonstop chatterbox), I'm sure you can just about imagine how many questions I'm asked EVERY SINGLE DAY.
Sometimes I feel like Nora asks 250 questions by breakfast time… and even though Simon doesn't officially talk yet, he definitely gets his point across when he wants something (and thankfully, I almost always know exactly what he's asking for).
Can I do this?
Can we go here?
Can we have a snack?
Who will we play with today?
Is anyone coming over?
Are we going anywhere today?
When will dad be home?
Can we go to the park today?
Can we do a craft?
Will you get the stickers out for me?
Can we read this book?
Can I watch a show?
Can I change my clothes?
Can we go outside?
Can we go to the pool?
Multiply this by 50, and you can start to see what I'm talking about in terms of the daily questions I get!
At least they're cute… right?
It's very easy for me to get overwhelmed by the constant questions, whining voices, and temper tantrums when they don't get what they want… and when I get overwhelmed, I start saying "NO" a lot!
However, over the last few months, I've been trying really hard to say "yes" to my toddlers, as often as I possibly can.
Please know that this does NOT mean I'm giving into them, spoiling them, or letting them rule our household. No, instead, I'm simply phrasing my responses in a more positive way that helps the kids to feel like they are "winning" even though I'm still in full control — or at least mostly in control 🙂
Let me explain with a few examples:
1. Nora asks to do a craft while both boys are awake.
I could say, "No, not right now. I need to feed James and Simon will make a mess."
Or I could say, "Yes, we will do ______ crafts when Simon and James are napping later today. Right now, you can color by yourself if you'd like."
2. Simon wants to watch a show before his nap but I don't want to prolong the pre-nap process.
I could say, "No shows today."
Or I could say, "Yes, you may watch ______ show after your nap, but right now, it's time to lay down."
3. The kids want a snack even though we just finished eating a meal.
I could say, "No snacks, we just finished eating."
Or I could say, "Yes, you may have a snack in an hour. I'll set the timer, what would you like for your snack?"
4. They want to go for a bike ride when Dave is gone.
I could say, "No, James is too small to go for a bike ride."
Or I could say, "Yes, after Dad gets home from school, either he or I will take you for a bike ride."
5. Nora asks for something at the store (like candy or a toy).
I could say, "No, we're not shopping for toys or candy today."
Or I could say, "Yes, that would be a great thing to put on your birthday or Christmas list."
6. Nora asks if we can go to Disney World. (this is a current hot topic in our house right now)
I could say, "No, not now."
Or I could say, "Yes, we will most likely go to Disney World at some point. Probably when you are older."
7. They want a Band Aid even though there is no cut or blood.
I could say, "No, you're not bleeding."
Or I could say, "Yes, the next time you have a cut or are bleeding, we will get you a Band Aid."
You get the idea…
Now, please don't picture my children smiling and giving me a big hug because I'm the best mom ever, even though I'm not giving them exactly what they want. No, they are still usually annoyed and upset — but they are LESS annoyed and upset than if I totally shoot down their request with a big fat "no" answer… and right now, I'll take "less annoyed and upset" over "more annoyed and upset" any day 🙂
By the way, I have noticed that it is much easier for me to say "yes" earlier in the day. As evening approaches, my patience has usually been pushed to the limits and I catch myself saying "no" more often.
For example…
Nora, after being told (for the millionth time) that she can not eat the pickles yet!
Simon, after being told that we could not his blanket out of the washing machine until it was clean.
James, after I told him he could not stay up so late anymore 🙂
Kids in "control"
In general, I try to let my kids make as many decisions during the day as possible. Anything that is not a life-or-death issue, anything that is not morally wrong, anything that's not hurting someone else, or anything that I don't have a strong opinion about, I try to let them decide so they feel like they are in control of something.
I let them pick out their own clothes if they want to (even Simon has an opinion at certain times).
I let Nora decide how she wants me to do her hair.
I let them pick from a few options for breakfast, lunch, and snacks.
I let them pick what books we read, what toys we play with, what games we play, if we play inside or outside, etc.
If we're going to watch TV, I give them a few choices and let them decide.
I let them pick what plate and cup they want to use at meal times.
All of these choices are things I could care less about, and I know they like making the decisions on their own. It's one less thing to fight or argue about, and it makes it easier for me to put my foot down when it really matters.
There are definitely still days when I feel like every other phrase out of my mouth is "Just a minute" or "Not right now"… and I don't particularly like how I feel on those days.
I would much rather tell my kids yes as much as possible!
Again, I want to reiterate that in no way am I relinquishing control to my children. Instead, I'm just choosing my battles and trying to put a positive spin on my answers whenever I can.
It's a very simple concept (at least in theory — it takes some practice to get in the habit). However, I truly do think this makes a big difference with how my kids react to an answer that might not be exactly what they wanted to hear, and also in how smoothly our days go.
I don't always make it work, but I've noticed that the more often I can give a "yes answer" the happier we all are!