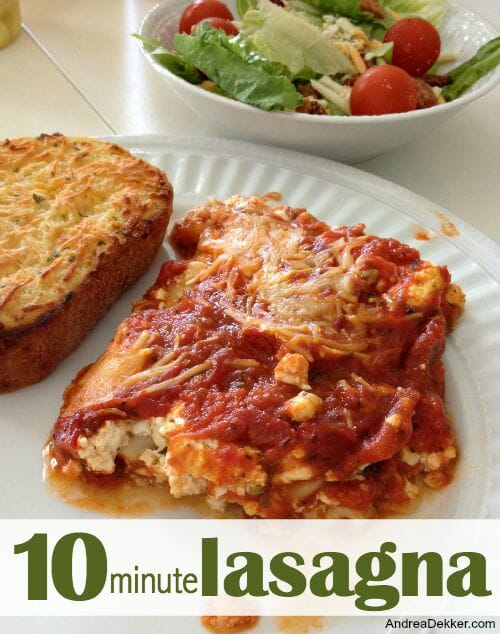 Pasta is one of our family's favorite meals — pretty much any type of pasta.
The kids love it, Dave and I love it, it's usually pretty quick and easy to make, it freezes well, and it uses relatively inexpensive ingredients.
Win, win, win, win… win!
One of our favorite pasta dishes is lasagna. I know some people don't care for ricotta or cottage cheese, but our kids LOVE it (Dave and I like it too)… so lasagna regularly shows up on our weekly meal plans.
I used to think lasagna was SO much work and I dreaded making it. Often, I'd make 2 or 3 at a time and put 2 in the freezer for later. However, the frozen lasagna always seemed to take forever to defrost, and then forever to bake so the top and edges would often get slightly burnt or dried out before the middle was fully heated through.
In lieu of more time-consuming lasagna, I started making this Lasagna Pasta Bake a couple years ago, as it makes a smaller batch. However, I still needed to boil the noodles and make the sauce ahead of time.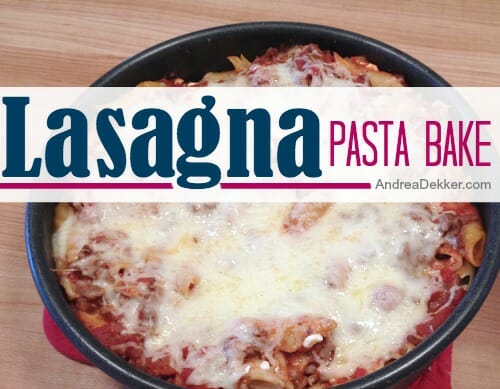 As we add more children to our family, the time I have available for dinner prep continues to get shorter and shorter. So over the summer, I tried a few new ways of making our family favorite lasagna in an effort to find the most simplified, least time-consuming recipe that still tasted great.
THIS is what I came up with — and yes, I really can have it oven-ready in 10 minutes or less!!
For me, the best part about this recipe is that I can use regular lasagna noodles but I don't have to boil them first (that's my most hated part of making lasagna)! It speeds up the process considerably, it's one less pan for me to wash, and it almost eliminates the possibility of broken noodles.
My 10-minute lasagna recipe is so quick and easy, I ALMOST listed it as a "Kids in the Kitchen" recipe… however, Nora didn't want her pictures taken, so I didn't push the issue.
That said, if you're looking for a recipe to make with kids, or just a quick meal for a busy weeknight, this lasagna should definitely go on one of your upcoming menu plans.
Recipe for 10-Minute Lasagna
Serves 6 (makes a 7″ x 11″ pan)
INGREDIENTS:
6 regular lasagna noodles
1.5 to 2 jars (24 oz.) pasta sauce, or approximately 4 to 5c. homemade sauce
1 container (24 oz.) cottage or ricotta cheese
2 c. shredded mozzarella cheese or Italian cheese blend (divided)
1 egg
1 t. dried basil
1 t. dried oregano
1 t. garlic powder
salt and pepper to taste
1/2 lb. cooked ground beef or sausage (optional)
1 c. water
DIRECTIONS:
Preheat oven to 375*F
Grease a 7″ x 11″ baking dish and pour 1/4 c. sauce in the pan to cover the bottom
In a medium bowl, mix together cottage cheese, 1 c. mozzarella cheese, egg, and seasonings
Place 3 lasagna noodles on the bottom of the pan. (there is no need to boil the noodles first!)
Cover lasagna noodles with half of the cottage cheese mixture
Pour 1/2 the remaining sauce over the cheese mixtures and sprinkle all the cooked meat over sauce
Layer 3 more lasagna noodles over sauce
Top with the remaining cottage cheese mixture and remaining sauce
Pour 1 c. water over the sauce
Sprinkle remaining 1 c. mozzarella cheese over the top
Bake for 45-50 minutes in preheated oven
I was very skeptical the first time I tried my recipe because I had never tried not boiling the noodles first… however, Dave and I were both thrilled with how well it tasted — and Nora and Simon each had a full piece!
And since I made it in a 7″ x 11″ pan, we had just enough left over for one more meal and then everything was gone (no more eating lasagna for a whole week anymore!)
I have made this lasagna recipe many times since my first trial run — and every time, it continues to taste great.
As with all my recipes, please feel free to mix up the ingredients based on your family's references. The only thing you need to make sure of is that there is PLENTY of sauce. Since the noodles are dry, they will absorb a lot of the sauce, and if you don't have enough, the noodles will not get soft enough.
What is your go-to pasta recipe?
Visit my virtual recipe box for more simple, delicious, family friendly recipes!