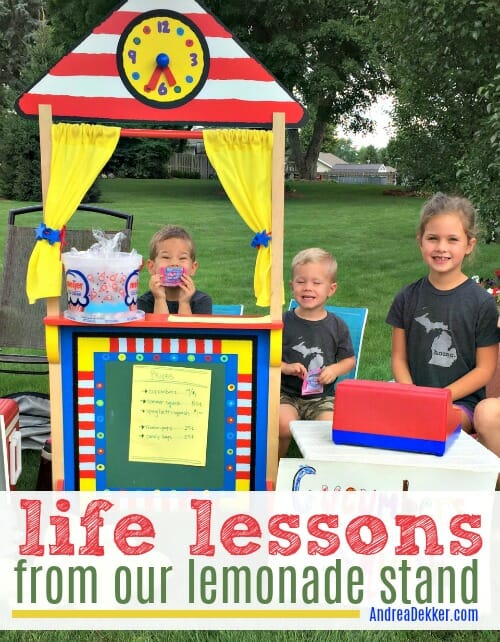 For the past 2 summers, Nora has begged me (daily) to have a lemonade stand at the end of our driveway.
Last summer, I told her she had to wait at least a year so she could actually do the math to give people change.
This summer, she can do the math… so I had to come up with more creative reasons why we shouldn't/couldn't do a lemonade stand.
It's too much work
Our street is not a good street for it
It's not going to be "fun" to stand out in the sun
You can't play — you have to stay at the stand and hold the sign
You might not make much money
But alas, I couldn't persuade her to give up her pipe dream of a lemonade stand… especially since she officially put it on our Summer Fun List this year… so we HAVE to do it.
What can I say… she's persistent! 🙂
Last week, we decided we would do a stand on Monday afternoon — but we weren't going to do lemonade. We would sell freeze-pops, bags of candy, cucumbers, summer squash, and spaghetti squash.
Within minutes of deciding this, Nora was immediately coming up with plans for the sale:
we should put the candy in bags — 10 pieces to a bag; $0.25 for each bag
we needed to make signs to hold
we needed a price sheet so everyone would know the cost of each item
we needed the toy cash register with extra money inside to give people change
we needed a trash can and scissors for the freeze pops
She even came down after she went to bed Sunday night to tell me a couple more details for the sale. 🙂
.
I had a feeling the sale would not be successful. I had a feeling it would be a "waste" of my time to sit out there with the kids in the hot sun. I had a feeling they wouldn't sell much of anything… but I went through the motions to set everything up on Monday afternoon.
I even posted pictures to my personal Facebook account so local friends and family would know about our sale in case they were driving close to our house.
We opened shop at 1:00pm, and by 1:15 the kids were already wondering what was taking so long, why no one was coming, how much longer we had to sit out there and wait, etc. etc.
We lasted just over 2 hours and got a whopping 4 sales (it was honestly even worse than I thought it would be!) and although the kids were fairly disappointed, I realized the afternoon wasn't a total waste because we all learned several life lessons.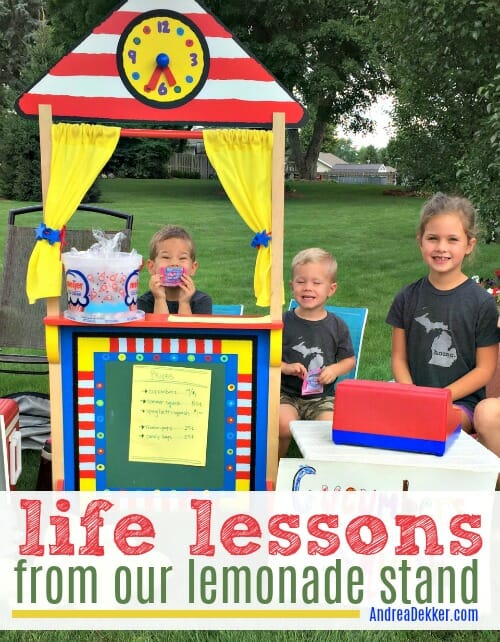 .
1. Life is not always fair.
Dave and I regularly respond to our children's complaints by saying, "life isn't always fair"… and then going on to explain that life will go on even though their sibling got 5 grapes and they only got 4! 😉
No, it wasn't fair that we spent a large chunk of time preparing for our sale but hardly made any money.
No, it's not fair that some of our friends have had very successful lemonade stands but we didn't.
No, it wasn't fair that only ONE of our neighbors stopped by (even though several others were outside at various times).
None of these things are fair… but life isn't always fair. The sooner they realize this, the better!
.
2. We need to follow through, even if it's not fun.
Our plan was to keep the stand open for 2 hours — but after the first 15 minutes, I honestly wasn't sure we'd make it.
They were bored. They just wanted to eat the candy and freeze pops. They wanted to go play with their friends. They wanted to go back inside because they were hot (we had an umbrella for shade!)
I did let James go inside with Dave and Clara because the stand really wasn't his idea anyway, but I made Nora and Simon stick it out for the full 2 hours.
Can you see how excited they are!
Everything we do does not have to be fun — in fact, many things we do will not be fun, but we do them anyway (because life isn't fair… right!)
.
3. Looks can be deceiving.
There were countless moms with kids who drove past our stand without giving us a second look; and Nora was SO shocked that all our neighbors didn't immediately flock to our stand.
But then, totally out of the blue, a hot-rod car pulled into our driveway and big muscular guy with tattoos all over his arms got out. The kids instantly walked closer to me and hardly made eye contact with the guy.
Surprisingly, he pulled out his wallet and bought one of everything we were selling! He was our best customer of the day and SO nice to the kids.
They were super excited to tell Dave about "the guy with tattoos"… and I was super excited to use that as an example of why we should not judge people based on what they look like.
.
4. Trial and error is a really good way to learn.
This lesson is mostly for me, but it's still worth sharing!
I know trial and error is a fantastic way to learn — in fact, it has always been one of the best ways for me to learn anything. That said, it's more difficult than I thought it would be to let my children fail at something that is within my control (tell me I'm not the only one!)
However, if I wouldn't have let them do this stand, they would have continued to ask about it day after day, week after week, all summer long. I could tell them over and over that it wouldn't be fun or successful, but until they actually realized it themselves, they wouldn't have believed me.
Now, I can safely say that I don't think they'll be asking me to set up a lemonade stand for them any time soon!
.
Our freeze-pop, candy, squash, cucumber stand wasn't all that fun, and only made us about $7 (which we used to go bowling the next day) but I suppose we all learned quite a bit in the process.
I suppose our afternoon wasn't totally 'wasted' after all!