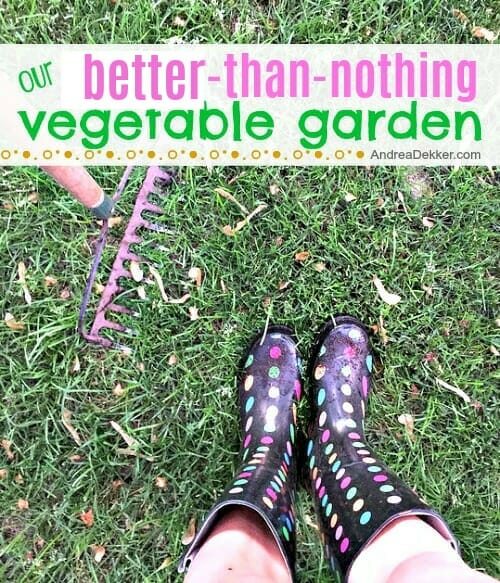 Over the last 2 months, our vegetable garden has gone from drab to fab… to the point where I've needed to cut back all of our squash, cucumber, and pickle plants to keep them from totally overtaking our driveway!
Here it is the 2nd week of June:
Here's our garden the 2nd week in July:
And now, the 2nd week in August (after cutting back many of the plants):
.
In all honesty, we almost didn't even plant a vegetable garden this year. We had so much going on at the end of last school year with meetings for Dave, extra events for Nora, extra stuff at church, starting on house projects, all our spring yard work (25 yards of mulch!), setting up the pool, and 4 children who need to be fed, bathed, clothed, and entertained for large portions of the day!
A vegetable garden simply felt like "one more thing" we really didn't NEED to do.
Then we were gifted a few herbs and I figured, why not just plant the herbs and a few more veggies for a small garden the kids can enjoy. I purchased 2 cucumbers, 2 tomatoes, 2 zucchini, and 1 spaghetti squash… but then were "gifted" a summer squash, another cucumber, and a patio tomato.
And then all the plants got HUMONGOUS!
So much for our "small garden"!
We have more veggies than we know what to do with right now!
I've been canning small batches of refrigerator pickles twice a week.
We've been eating raw cucumbers and hummus at practically every meal and for every snack.
We've been grilling zucchini, summer squash, mushrooms, peppers and onions for dinner several times a week.
I've made SO many zoodles!
I've incorporated shredded zucchini and squash into our pasta sauces, eggs, taco meat, and of course, baked goods (seriously, it's amazing how many shredded zucchinis and squash my kids have eaten over the past month!)
We've been eating 1-2 spaghetti squash every week (served up just like I would serve spaghetti).
I've tried so many new and interesting recipes — most of which have been a success.
We've been giving veggies away like crazy.
The kids tried selling veggies at our not-so-successful road-side stand last week.
We even enjoyed coloring and painting a few spaghetti squash! 🙂
We did manage to keep the weeds down this year (we've struggled with that in the past) but our garden is still far from pretty!
The plants were just sort of thrown in the ground with no rhyme or reason. I didn't properly space them out (obviously!) and we've sort of neglected that area of the yard (except for picking the produce every other morning).
That said, I'm still super glad we decided to plant our crazy overgrown garden because the kids just LOVE it!
Our current routine is that one of the older 3 kiddos gets to wear our kiddie gardening gloves and help me pick the garden after breakfast. Then we clean the produce and pack it up in our extra fridge so we can easily access what we need at a later date.
The whole process only takes about 20 minutes, but it's a little chunk of one-on-one time, and I honestly think they like that part the best.
They do all love each other… but the fact that they get to do something special without their siblings around is a big perk these days! 🙂
We are FAR from gardening experts over here…
our garden doesn't look pretty
our garden doesn't grow all that much
our garden isn't well-mantained
we really don't even know that much about vegetable gardening (outside of the basics)
BUT, it's the "perfect" vegetable garden for our family and the level of time we were willing to allocate to it this summer.
It might be too late for you to plant a vegetable garden this year (and that's really not the point of this post at all)… if you are procrastinating on doing something because you fear you can't do it perfectly or even as well as you'd ideally like to, I'd like to challenge you to simply DO SOMETHING!
Even if your organizing project isn't glamorous with matching bins and labels — it's still more organized than it was before.
Even if your menu plan isn't gourmet — it still better than not having a plan and opting for fast food all week long.
Even if you don't have time to purge your entire wardrobe — purging something is better than nothing.
Even if your family photo album doesn't contain every great picture or detail every family event — it's still better than no pictures at all.
Even if your party isn't decked out with cutesy decorations and drool-worthy food — it's still better than not having people over in the first place.
Even if your vegetable (or flower) garden isn't pretty or perfect — it's still most likely better than nothing.
We made memories, we ate lots of good veggies, my kids learned the process of growing something, and we enjoyed a little quality time together.
Definitely worth the $6 I spent on plants back in June!