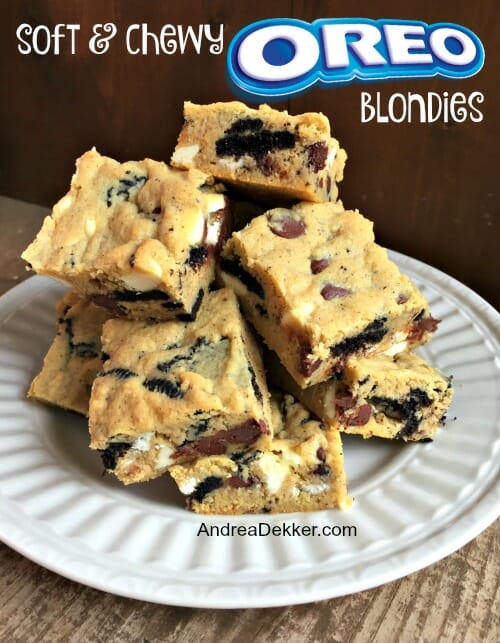 One of my favorite go-to bar recipes is this one for Chewy Delicious Blondie Bars. I got it from my sister's mother-in-law, and it's a winner!
These bars are SO quick and easy to make, our entire family loves them, and I don't think I've ever brought leftovers home when I make them for a get-t0-gather.
In my opinion, blondies are a fantastic alternative to regular brownies, they are much faster than making cookies, and they are a great substitute for peanut-butter-laden desserts that aren't allowed in most schools.
In an effort to grow my list of blondie recipes, I combined a few of my favorite bar recipes to come up with these amazingly delicious Oreo Blondies.
If you like Oreos, you will LOVE these bars…
If you like chewy chocolate chip cookies, you will LOVE these bars…
If you like any type of chocolate dessert, you will LOVE these bars…
If you have trouble eating just one of your favorite dessert, you might not want to make these bars — either that, or make them with the intention of bringing them to a party. I promise, you won't bring many home with you!
Recipe for Oreo Blondies
Makes one 9″ x 13″ pan
INGREDIENTS:
1 c. butter (2 sticks)
1 c. brown sugar
1/2 c. granulated sugar
2 eggs
1 t. vanilla
1 package (4 servings) dry instant vanilla pudding mix
2 c. flour
1 t. salt
1 t. baking soda
1/2 t. baking powder
1 c. semi sweet chocolate chips
1 c. white chocolate chips
12 Oreo cookies; chopped
DIRECTIONS:
Preheat oven to 350ºF. Grease a 9″ x 13″ baking pan and set aside (I always use glass for this recipe, otherwise the edges tend to burn before the middle is set).
In a large mixing bowl, cream butter and sugars. Add in egg and vanilla, mixing until well combined.
Add in dry pudding mix and cream for 1 minute.
Add in flour, salt, baking soda, and baking powder until just combined.
Stir in chips and chopped Oreos (this is a fantastic use for stale cookies!)
Spread batter into prepared pan (it will be VERY thick), and bake in preheated oven for 20-22 minutes.
Let cool completely. Eat and enjoy!
These bars practically melt in your mouth — probably because of all the butter!
They are quite rich, so we cut our bars very small (35 bars from one 9″ x 13″ pan). It helps them last a little longer, and saves a few calories too!
As with almost all my baked good recipes, these bars freeze amazingly well and are still super soft and chewy after months in the freezer (so start stashing some away for all those school lunches you'll be packing soon!)
What are your favorite OREO snacks and desserts?