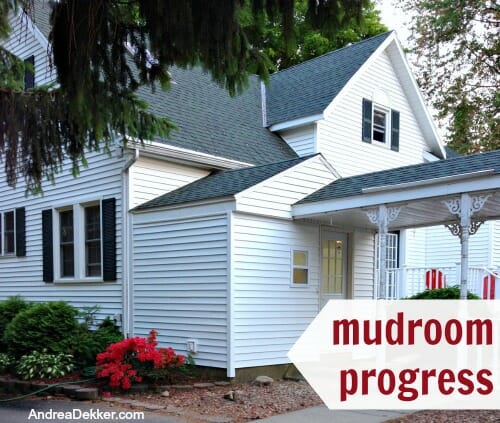 Over the past few weeks, I've shared bits and pieces of the progress we're making in our new mudroom — but today, I'm sharing a lot more details, photos, plans, etc. Aren't you excited? 🙂
The progress is coming along quite well — and right now, we're literally just waiting for some mud!
We're waiting for the drywall guy to come and "mud" the seams — then it's ready for us to paint, trim, and lay new floors.
I'll go into lots more detail below, but first, let me share the story of how this mudroom came to life…
Rewind 4 years…
I saw this house for the VERY first time on Craigslist in May of 2010. Unfortunately, it was out of our price range so I didn't look too closely, but I remember thinking that the one thing I really didn't like about the house was that it had no front closet, no back closet, no hall closet, and no mudroom.
There was literally NO WHERE to hang coats, put boots, store bags, etc… except in the bedroom closets or in a teeny tiny corner of the laundry room (see below).
Later that year (December of 2010) we ended up purchasing that house after the price was significantly reduced. We decided that since the rest of the floor plan was laid out almost exactly like we wanted, and that it was in awesome location, we would sacrifice our desire for some sort of mudroom or coat closet.
Over the past 3+ years, we've made do without a closet or mudroom fairly easily. We keep the coats and shoes we wear very regularly on a few hooks in the laundry room and everything else is stored in an armoire by our front door.
It's not the worlds best organizational system, but it has worked for us, and that's what matters most.
.
However, with the addition of a couple of kids (who come with lots of winter gear) we were quickly outgrowing our laundry room hooks. Not to mention, it was starting to get old putting our guest's coats and bags on our bed, over chairs, or even right on the ground if we had no other room.
We needed (or at least really wanted) a mudroom so all our doorways didn't constantly look like this!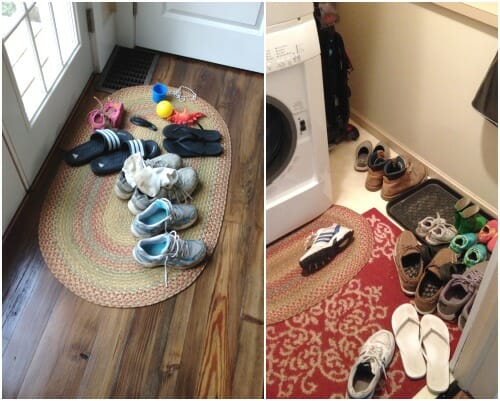 Dave and I have mulled over a few different ideas for creating a closet / mudroom area off our back entryway — which is the door we use most as it goes from the garage into the kitchen.
I'm sharing those ideas below… but first, here's a basic (not exactly to-scale) bird's-eye view of our back entryway with the new mudroom drawn in place. Hopefully it will help you get a feel for how that area is laid out.
note: I used FloorPlanner.com to make the image below.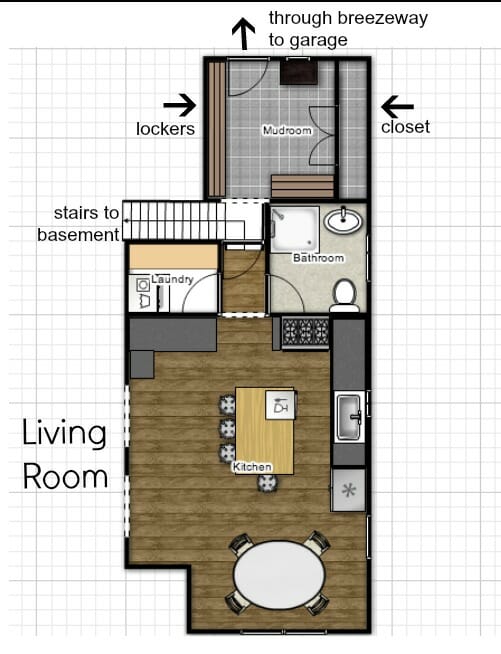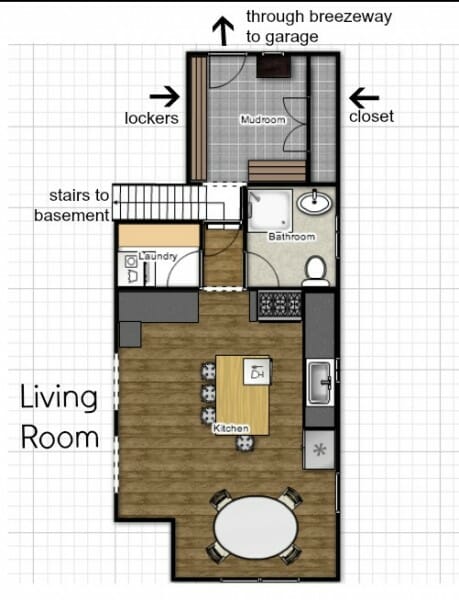 And here's a broader view of the entire house/garage area.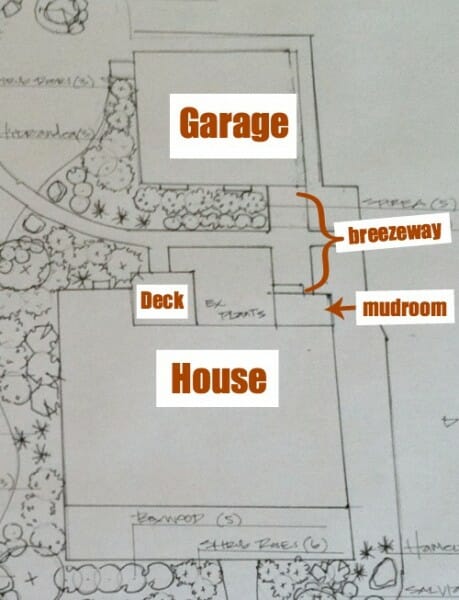 OK, so about those mudroom ideas…
IDEA #1:

We thought about transforming part of the basement (right off the back door) into a mudroom — but that would mean tramping up and down the stairs many times a day with little kids, car seats, etc. Plus, our basement can get water in it the Spring (we're working to fix this), and then smells quite "damp" during the summer.
IDEA #2:

We also thought about removing the shower from our rarely used 3rd bathroom (also right off the back entry) and then moving our stackable washer and dryer to where the shower currently stands. All the plumbing would be there as well as a vent for the dryer. Then we could turn our very small laundry room into a mudroom / coat closet.

We both really liked this idea — but we were still somewhat hesitant to totally eliminate our 3rd shower — just in case we might need it some day.
IDEA #3:

Enclose part or all of the covered breezeway between our garage and our back entryway. This would allow us to keep our 3rd full bathroom AND keep the separate laundry room. Plus, we'd have a MUCH larger mudroom in the end and we'd increase the square footage of our house (for a very, very nominal fee!)
.
As you can probably see from the floor plan photo above, we're going with IDEA #3!
Dave and I actually JUST came up with this idea a few months ago. We were outside doing a bunch of yard cleanup and I casually said, "wouldn't it be cool if we could enclose the covered breezeway between the house and the garage?"
We both looked at each other, then looked back at the breezeway, and the lightbulb went off. We had our "ah-ha" moment and both immediately LOVED the idea. I think we also wondered how on earth we had never thought of the idea before 🙂
Originally, we thought we would enclose the entire area from the garage to the house, but after asking a concrete company to check out the foundation of the breezeway, we realized that only the first portion connected to the house had proper frost footings.
This meant we had 2 options:
Enclose only the first part of the breezeway (a 12′ x 10′ section right off the back door) with very minimal expense or hassle.
Enclose the entire area between the house and garage (about 12′ x 20′) via some MAJOR construction work with a much heftier price tag and lots of demolition involved (including some demolition in our newly renovated garage).
Once we had the facts, this decision was pretty much a no-brainer for us. Since the raised portion off the back of the house is still about 120 square feet (more than enough space for our needs) we VERY quickly decided to go with the smaller, less expensive, and less involved option #1.
We already had a proper foundation, a roof, support posts, and an electrical connection, so "all" we had to do was build up the walls, add a door and a little window for ventilation, and slap some siding on the outside. My dad helped us out a ton — he even figured out how to do the siding (something he had never done before.)
And although it obviously wasn't quite as simple as I listed out above, it wasn't nearly as bad as many of our previous renovations. Plus, all the dust and dirt was outside!
As of today, the exterior of the mudroom is basically finished. We just need to pour a new cement pad for the step, then put the white railings back on, and spruce up the landscaping.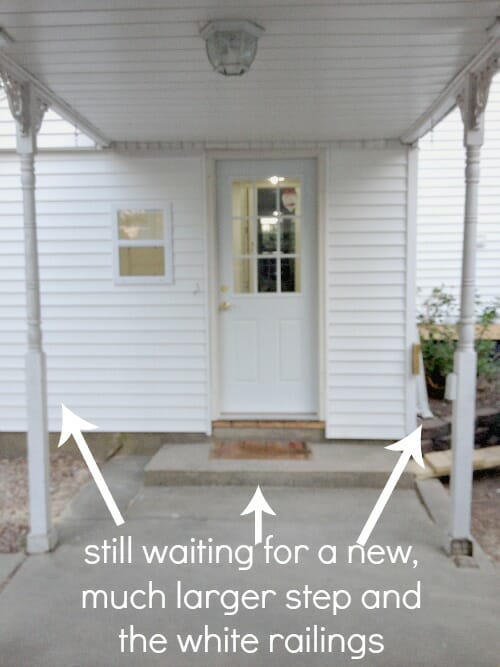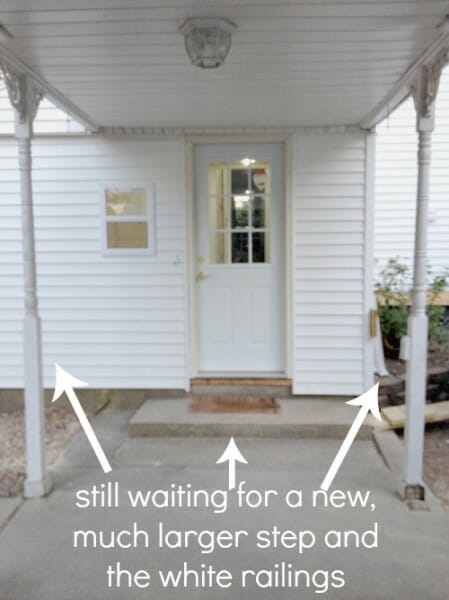 I honestly can't get over how our new mudroom almost seamlessly fits in with our existing house — you'd never guess it was an addition or that it hadn't been there for years. (notice Dave's new fence in the background of the new mudroom picture!)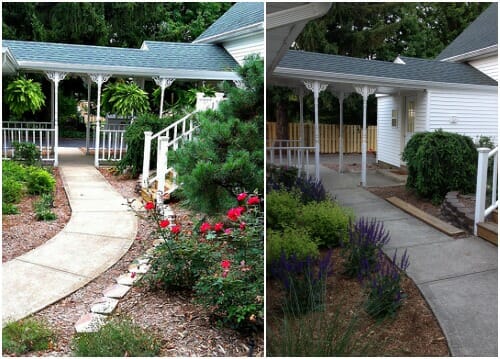 .
As for the inside, we still have a ways to go… but we're making good progress!
Basically, after the drywall is "mudded" and sanded, we can lay the floors (we're just going with linoleum for easy clean-up) put all the trim up (baseboards, door frame, window frame, etc.), and paint everything. And THEN it will be time to neatly organize everything in our new space!!
Here are a few more photos to help you get your bearings:
This is what it looks like as you enter the mudroom from the garage (I will eventually make this look really cute!)
Below is what you see when you open the door into the mudroom from the breezeway — looking into the kitchen. The stairs to the basement are on the right, just before going up to the kitchen.
This is the opposite view — me standing in the kitchen (laundry room on my left, bathroom on my right) looking towards the mudroom and breezeway. The dark green door goes to our garage.
Here are some of our plans for inside:
#1. A large storage closet:
We have a large storage closet (with French doors) on one side of the room. This will be great for all the clutter stuff we don't necessarily use every single day and don't need sitting out in the open. We'll probably have space for hanging items on both sides of the closet with a bank of shelves down the middle. I might have some baskets or bins on the shelves as well — we will see what I come up with.
We specifically chose French doors, as opposed to bi-fold doors, so that we can hang hooks or shoe organizers on the backs of the doors (similar to what we did in our master bedroom closet). This will be the perfect spot for hats, scarves, mittens, and other smaller items.
#2. Lockers:
We're putting a long built-in bench on the the other side of the mudroom with built-in lockers above. This will be the perfect spot to hang coats and bags we use daily — or for our guest to quickly hang up their coat as they walk in the house.
I'm thinking of lining up boot trays under the bench for wet, muddy, or dirty shoes.
#3. Other furniture:
I have a cute little dresser that has lived in our upstairs bathroom for the past couple of years — and it will fit perfectly under the window in the mudroom. I'm thinking that might be a good place for phone chargers, extra batteries, light bulbs, or other odds and ends that we don't necessarily have a great place for right now.
I also have a small rustic red bench that I'm planning to put right next to the closet as an additional space to sit down and take off shoes — or even to set a few bags of groceries.
I'm hoping that we'll make lots of progress in the next week (after the drywall guys finishes the mudding). My goal is to have official "before and after" photos to share by the end of the month!
I never thought I'd be so excited about organizing our coats, boots, snow pants, hats, and gloves in the middle of the summer 🙂
I'd love to hear from you…
If you have a mudroom, what are your favorite features or "must haves" for busy families with small children (and eventually bigger children?)
And if you don't have a mudroom, what is something you would definitely want to incorporate if you could add a mudroom to your house?