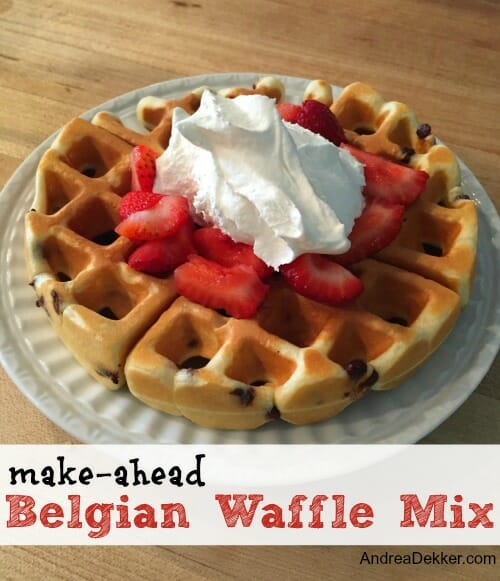 Over the past 5-6 years, I have thought about sharing my extremely simple Belgian waffle recipe countless times… but for whatever reason, I always decided to share a different recipe.
Then, a couple weeks ago, I mentioned my Belgian waffle recipe in a post and was flooded with emails and comments asking to share it here on the blog. So I finally took some pictures and typed up the recipe in hopes that you will love it just as much as our family does!
As you'll see below, I make a big huge batch of the dry waffle mix in advance, and then all I have to do when we want waffles is mix some of the dry mix with milk, eggs, and oil to make the waffle batter.
I can literally have this waffle batter mixed and ready to go BEFORE the waffle iron is hot — so it's definitley a do-able week-day breakfast (even during the school year!)
To simplify mornings even more, I'll often mix up the waffle batter the night before and separate it out into 4 small food storage containers — enough for 1 waffle each. This way, Dave can pull one container out for his breakfast and I can pull another container (or 2) out for myself and the kids. We use the rest of the batter the following day or I'll sometimes make it for the kids' afternoon snack (with added mini chocolate chips!)
Recipe for Make-Ahead Belgian Waffle Mix
INGREDIENTS for the DRY MIX:
6 c. all-purpose flour
1 c. granulated sugar
4 Tbls. baking powder (1/4 c.)
2 tsp. salt
DIRECTIONS for the DRY MIX:
Mix the dry ingredients together in a large food storage container with a tight-fitting lid and store at room temperature. It should last for many weeks, even months.
.
INGREDIENTS for WAFFLE BATTER (makes 4 waffles):
1.5 c. dry ingredients (from recipe above)
2 eggs
1/2 c. milk
1/4 c. oil or melted butter
DIRECTIONS for WAFFLE BATTER:
In a small bowl, mix dry ingredients, eggs, milk, and oil together with a fork (batter will be quite thick).
Use 1/2 c. measuring cup or ladle to scoop about 1/2c. of batter onto a hot waffle iron.
Top with syrup, fruit, whipped cream, or any other toppings.
.
As you might have noticed in the pictures above, I have the waffle batter recipe stuck right to the container of dry mix — this way, Dave can easily mix up his own waffles!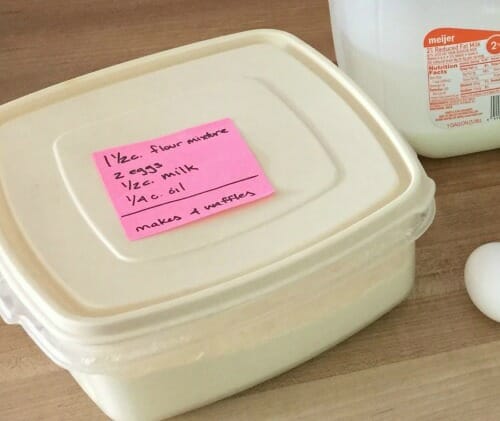 We have Belgian waffles at least once or twice a week — interspersed between pancakes on the "off days". We also have waffles for dinner somewhat regularly (they are Dave's favorite) so I have made this recipe hundreds of times over the past few years!
I often make these waffles when we have overnight guest and everyone always raves about how delicious they are (if only they realized how ridiculously easy they were to make!)
I guess the only downside to these waffles is that we only have one Belgian waffle maker, so I can only make one waffle at a time 🙂
What are your go-to breakfast recipes?
Visit my virtual recipe box for more simple, delicious, family friendly recipes!