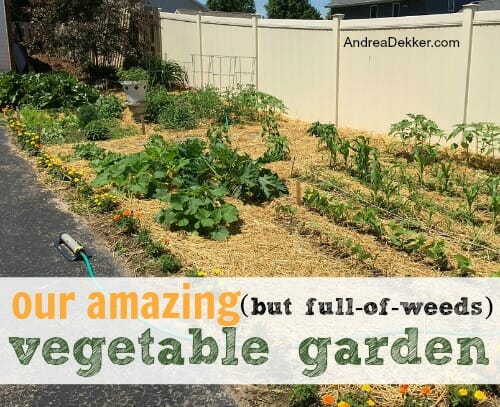 Way back in the beginning of April, Dave and I excitedly prepared a large chunk of ground for the biggest (and hopefully best) vegetable garden we've had since we moved into our farmhouse… almost 6 years ago.
After cutting down almost 40 REALLY HUGE pine trees, putting up hundreds of feet of privacy fence, and relandscaping our entire 1-acre property over the past 3 summers, we were excited to devote the majority of our "outdoor energy" to maintaining our current landscaping, and growing a big, beautiful vegetable garden.
Here's a picture of our current vegetable garden location from the day we moved into our house (December, 2010)
And here's a picture from last week (August, 2016).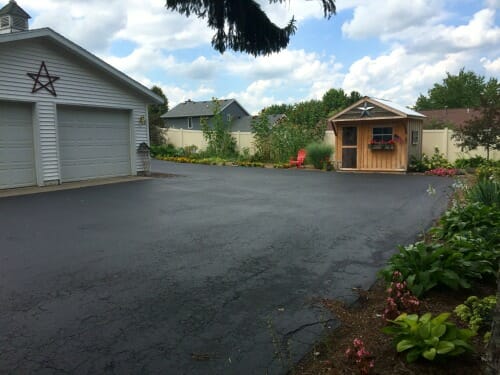 I realize the "after" picture would look nicer if we had more landscaping and decorative plants versus vegetables, but after A LOT of thought and consideration, Dave and I both decided this was the best place for our vegetable garden for the following reasons:
It's out of the way — no one can see it unless you come ALLLLL the way to the back of our driveway and drive behind the garage.
It's very close to the shed (access to yard tools) and to the house (easy to pick and run back into the kitchen)
This area has it's own zone for our underground sprinkling so it's easy to water
This is the only "non-visible" area in our entire yard that gets 100% full sun
It's not by the kid's toys or by our patio furniture so bees don't bug us when we're outside
.
We had 3 goals for our vegetable garden this year:
Plant things as early as possible for our climate (in the past, we've planted things WAY too late)
Try to get the kids involved
Keep it as weed-free as possible
I'm happy to say that we succeeded with 2 out of the 3 goals…
We started out really strong — Nora helped me plant some seeds in egg cartons inside and a bunch of the "cold weather" seeds outside in April! We were on a roll and SO excited to watch everything grow.
We checked on our vegetables multiple times every day, and the kids excitedly harvested radishes in mid May already!
Dave and I faithfully weeded the vegetable garden all through May and June. We planted Marigolds all around the perimeter to help keep bunnies out, and we put a bunch of straw down to help keep the moisture in (and potentially thwart some weed growth).
The garden looked amazing and we were harvesting lettuce, peas, carrots, rhubarb, radishes, and some herbs almost every day!
Then came cucumbers, zucchini, peppers, beans, and hundreds of tomatoes!
The kids used their shopping carts to play "grocery store" and shop for produce. They would walk through the garden, help me pick, and put the goodies in their carts to bring to the back door.
They thought it was one of the "funnest things ever"!
Surprisingly enough, I think my favorite part of the whole garden was the flowers. We grew zinnias and 2 different types of sunflowers. They look SO pretty, and we've enjoyed many of the blooms inside for the past month already. I think we'll grow lots more flowers next year!
.
Everything was going so well until early July when it got SO hot and humid that we couldn't bare to work in the full-sun vegetable garden during the day.
We would go out there every night after the kids went to bed, but we also had SO many veggies to pick that we would pick until it got too dark to see and never had any time left over to pull weeds.
I tried waking up early a couple different mornings to pull weeds before kids got up. I enjoyed working outside in the quiet morning hours, but of course, the kids always seemed to wake up extra early those mornings, so I had to come back inside to help with breakfast before I was finished weeding (check out the massive pile of weeds I pulled in less than an hour!)
After about a month of heat and humidity, Dave and I unanimously agreed that we were giving up and would just let the weeds grow.
It might not have been the best decision for our vegetable garden — but it sure was a nice break for us! Needless to say, the garden stopped looking amazing REALLY quickly!
These pictures honestly make the garden look better than it is… I can't figure out how to really show the massive amount of weeds that have completely overrun our garden. In fact, there are many weeds that are taller than our corn and you can't even see our pepper plants right now because the weeds are so thickly covering them.
Even the Marigolds are getting choked out by weeds.
Hey, 2 out of 3 goals isn't bad… right!
.
I'm certain our garden would produce more veggies if we had kept it weed-free (and I know it would look a whole lot nicer) but it just wasn't worth it for us to devote THAT much time and energy to weeding the vegetable garden that no one saw except our family… especially since we were getting plenty of veggies!
The picture below is after about 30 minutes of picking on ONE day!
I've already canned 3 batches of dill pickles, a bunch of tomatoes, pickled jalapeños, pepper jelly, and candied jalapeños. Plus, I've shredded and frozen a boatload of zucchini and given buckets of veggies away to friends, relatives, and neighbors.
Our garden might not be the prettiest garden around, and we might not have followed through with our goal to keep it relatively weed-free, but the kids had so much fun planting seeds, learning a bunch of new things about growing food, and picking the ripe veggies. I think they were truly amazed at how many veggies we got from just a few seeds and tiny plants.
There will be plenty of years for pretty, weed-free vegetable gardens, but I have a feeling our vegetable gardens will have a good amount of weeds these next few years.
It was still our best and most prolific vegetable garden yet… and for that, I say it was an amazingly successful vegetable garden!