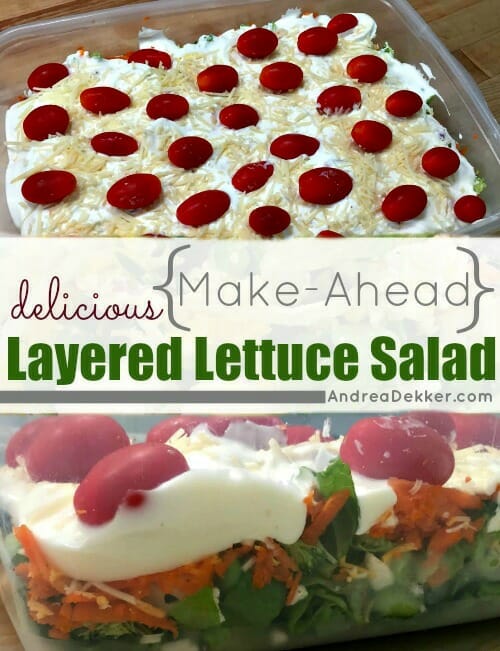 POST UPDATED: June, 2019
Over the summer months, one of my business-related goals is to update many of my recipes posts with a new recipe card plugin I'm using to make the recipes easier for you all to read, print, etc. etc. The recipe card will also include approximate nutritional information — which many of you have requested over the years!
Throughout this process, I have come across several recipes that I've decided to completely revamp and re-write in an effort to healthily and/or simplify them. In those situations, my plan is to re-share the new and improved recipe with you in an updated post.
Today's recipe for our family's FAVORITE Make-Ahead Layered Lettuce Salad is one I've been very excited to share with you for some time now.
I originally shared it over 4 years ago, and since then, I have made some very simple changes that have drastically cut calories without sacrificing any of the flavor!
This is one salad our kids will actually eat (in small quantities) and I think it's because everything is chopped up so small with a thicker dressing already in place. They often eat it with spoons! 🙂
I've made this salad countless time over the year (both for our own family and to bring to various parties, potlucks, BBQ's and other special events) and it always goes over well.
I'm often asked for the recipe, and I rarely ever have leftovers to take home — however, if we do end up with leftovers, they keep well in the fridge for a couple of days (which is one of the many reasons I love this make-ahead salad!)
If you're looking for an EASY, delicious, family-friendly lettuce salad that you can make ahead, and/or use an excuse to "clean out your vegetable drawer", this salad should cover all your bases!
Yield: 8
Make Ahead Layered Lettuce Salad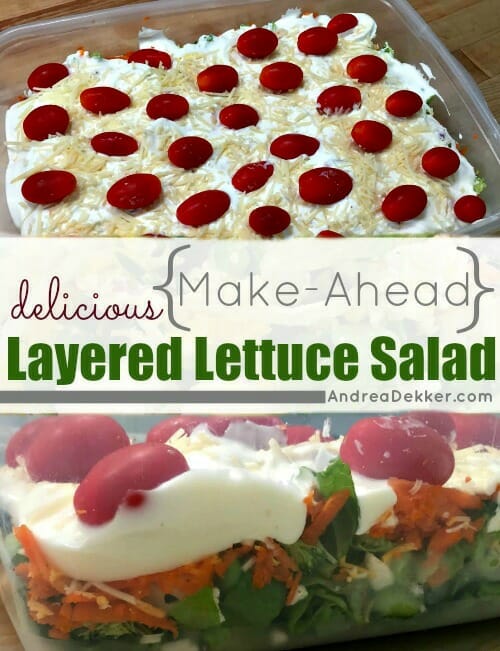 This is one of our family's most favorite salads. Since it can be made ahead, it's a great option for Spring BBQ's, Summer picnics, holiday parties, and more!
Ingredients
6 c. chopped lettuce (I used 2 heads of Romaine lettuce)
1 c. chopped broccoli or brocoslaw mix
1 c. chopped cauliflower florets
1 c. frozen edamame or peas
1/2 red onion; diced
1 large carrot; shredded
3 hard boiled eggs; crumbled
1 c. shredded cheddar cheese
1 c. bacon pieces (cooked and crumbled)
1 1/2 c. plain Greek yogurt
1/4 c. mayonaise
1/4 c. white vinegar
2 T. granulated sugar
1/4 t. salt
1/2 c. shredded parmesan cheese
cherry tomatoes and/or cucumber slices for garnish
Instructions
Chop lettuce and spread in the bottom of a 9″ x 13″ pan
Layer lettuce with all veggies, eggs, cheese, and bacon
FOR THE DRESSING:
In a small bowl, mix yogurt, mayo, vinegar, sugar, and salt.
Pour/spread dressing over salad mixture.
Sprinkle parmesan cheese over the dressing and top with cherry tomatoes and/or cucumber slices.
Cover and refrigerate until ready to serve.
Notes
This salad works well with SO many different veggie combinations -- feel free to use up whatever you have in the fridge.
If you want to serve with nuts, seeds, or croutons, put those in a small bowl on the side as they will otherwise get soggy.
Also, if you don't like the idea of a thicker dairy-based dressing, leave the dressing off and instead, serve this salad with your own favorite store-bought or homemade dressings or vinaigrettes (keep the dressing separate instead of pouring it over the top.)
Nutrition Information
Yield
8
Serving Size
1
Amount Per Serving
Calories

417
Total Fat

25g
Saturated Fat

9g
Trans Fat

0g
Unsaturated Fat

15g
Cholesterol

121mg
Sodium

841mg
Carbohydrates

21g
Fiber

8g
Sugar

10g
Protein

28g
Nutritional information is approximate and does not account for additional ingredients or added toppings.
I can confidently say (after much personal experience) that this salad tastes fabulous even when made the day before. In fact, I've eaten it as leftovers 4 days later and it still tastes just fine.
And as I mentioned above, feel free to mix and match your favorite salad toppings.
You really can't go wrong with this simple recipe!
Do you have any favorite make-ahead salad recipes?
Visit my virtual recipe box for more simple, delicious, family friendly recipes!