Delicious (Make-Ahead) Layered Lettuce Salad
posted by Andrea | 01/13/2015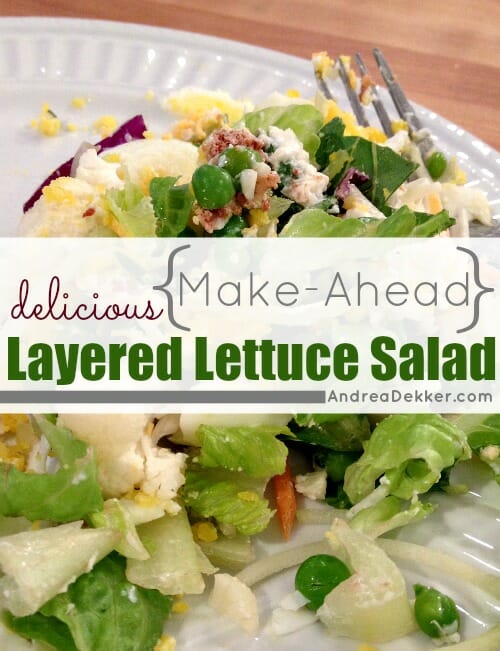 Remember… about a month ago, when I shared 10 tips for bringing food to potlucks or other holiday-type parties?
Do you also remember when I shared that I rarely ever take lettuce salads to potlucks because they are nearly impossible to make ahead and they won't last as leftovers?
Well, the day after I published that post, I was asked to bring a lettuce salad to an upcoming party 🙂
The party was on a day I was going to be gone and/or very busy most of the day so I knew I wouldn't have much time to prep anything that day. I also didn't have time to get to the store before making my food — so yes, my options were slightly limited!
I did a little searching around on Google, Pinterest, and AllRecipes.com, and I came up with a SUPER SIMPLE, make-ahead, taste-great-as-leftovers, lettuce salad that just so happened to taste fabulous.
Oh, and best of all, the ingredients can easily be swapped in and out depending on what you have in the fridge!
This Layered Lettuce Salad was a huge hit at our party — I actually ended up making it again for Dave's family party, and we enjoyed the leftovers for a couple days after.
Recipe for Make-Ahead Layered Lettuce Salad
Serves 12
INGREDIENTS:
**These are approximate measurements of the ingredients I used based on what I had in my fridge. Please feel free to mix it up with any of your favorite salad toppings.
4-6 c. chopped lettuce (I used 2 heads of Romaine lettuce)
1 c. dry brocoslaw mix
1 c. chopped cauliflower florets
2 c. frozen peas
1-2 c. shredded cheddar cheese
1 c. bacon pieces (cooked and crumbled)
3 hardboiled eggs
1.5 c. mayonnaise
1 c. sour cream
2 T. granulated sugar
1 c. parmesan cheese
DIRECTIONS:
Chop lettuce and spread in the bottom of a 9″ x 13″ pan (I prefer one with a tight-fitting lid)
Top lettuce with brocoslaw, cauliflower, peas, cheese and bacon (and any other toppings you choose)
For the dressing, mix mayo, sour cream, and sugar. Spread over salad mixture (it will be thick)
Sprinkle parmesan cheese over top of the dressing
Peel and slice or chop hard boiled eggs and reserve for later (I serve the hard boiled eggs in a separate bowl since many people I know don't love hard boiled eggs on their salads)
OTHER OPTIONAL TOPPINGS:
diced onions (white, yellow, purple, etc.)
diced tomatoes
olives
shredded carrots or cabbage
dried cherries or cranberries
nuts, or sunflower seeds
chopped grilled chicken (if you want to make it more of a meal)
pretty much anything you like eating on a salad!
I can confidently say (after personal experience) that this salad tastes fabulous even when made the day before — and honestly, I ate some of the leftovers 4 days later and it still tasted very fresh.
This 9″ x 13″ salad took me less than 10 minutes to whip up and was WELL worth the effort.
I just love that I finally have a lettuce salad I can make ahead of time, customize to the ingredients I have in the house, and enjoy any leftovers that don't get eaten (instead of throwing it away).
As I mentioned above, feel free to mix and match your favorite salad toppings. And if you don't like the idea of a mayonnaise-based dressing, leave this dressing off and instead, serve this salad with your own favorite store-bought or homemade dressings — however, if you do this, I would keep the dressing separate instead of pouring it over the top.
You really can't go wrong with this simple recipe!
Do you have any other make-ahead salad recipes?
Visit my virtual recipe box for more simple, delicious, family friendly recipes!