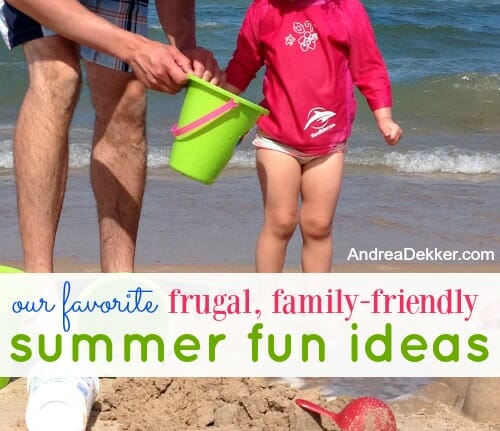 Summer is here (it's actually been here for a week for our family already!)
Are your kiddos bored yet?
Are you wondering what on earth you will do to keep them busy and occupied for the next 2-3 months?
While I certainly don't think it's our job as parents to entertain our children all summer long, I DO think the summer months at home together can be a lot more enjoyable if we try to plan a few fun (special, different, out-of-the-ordinary) activities each week.
A couple years ago, we made a Summer Fun bucket list and tried to do one "extra fun" thing each day. Some days were bigger events like a mini day trip to visit relatives. Others were super small (ice cream cones on the porch).
Whatever the case, it was so much fun (and so simple to implement), that we've decided to try it again this summer!
We don't go crazy assigning certain fun things to specific days — but rather, we just try to plan various fun and different activities into each day and each week.
If you're looking for a few frugal, simple, family-friendly (especially for younger children) activities to add a little life to the otherwise lazy days of summer, this list should give you a good start!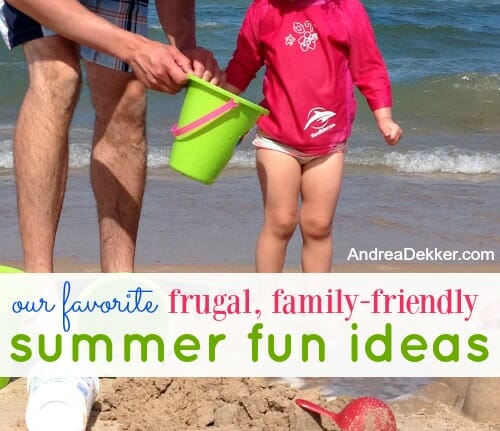 GET WET:
Oh my word — anything with water is high on my children's list of summer fun activities ANY day of the week. Rain or shine, warm or cold, they love being in and around water!
Let them go out in the rain and get their clothes wet
Set up sprinklers (or let them run through underground sprinklers)
Fill up a kiddie pool
Let them help you wash the car (or bikes, scooters, outside toys, etc.)
Fill up buckets of water and have a squirt-gun fight
Have a water balloon fight (these balloons are AMAZING)
Go to a splash pad (they are all free in our area)
Set up a tarp and make a slip 'n slide or a big "puddle-like" area for small kids to play (see photos below)
Let them play in the bathtub with special toys (we do this in the winter sometimes!)
Consider buying a small above-ground pool (like our Costco swimming pool)
BE CRAFTY:
I regularly search Pinterest for fun, frugal, age-appropriate craft and project ideas for my kiddos. They have so many doable craft ides, science experiments, and more!
Here are some of our favorites:
Countdown chains (for any reason at all — birthdays, a vacation, special event, or for the whole summer)
SHOP YOUR HOUSE:
I don't know about you, but I find that our kids play with something for a couple months, and then lose interest. The items get tossed in the bottom of a drawer or the back of the closet and forgotten about for a while (or forever!)
One thing I like to do in the summer (and on any school break) is go through all the toys, games, crafts, books, etc. and see if we have any "long-lost treasures" the kids might be interested in again.
It's amazing how many new "favorites" they find this way — meaning they now have new things to occupy them without spending a dime.
This is also a great time to purge, clean, evaluate, and reorganize the things we have!
Here's a list of some of the recent "forgotten" treasures we are now using again:
UNO (the card game)
Kerplunk (another game)
A variety of dress-up clothes
A container of magnetic blocks
A stack of newish coloring books and a new package of markers
A handful of stuffed animals
3 Books that got shoved behind the bookshelf
We now have a nice supply of "new for now" toys and activities that feel more exciting to them than their other toys. Plus, our kid spaces are more organized and less cluttered than before — win win!
BAKE or COOK SOMETHING:
My kids love baking and cooking… ALWAYS! And even if you don't want to eat the foods you make, you could always give them away to friends, neighbors, elderly people at church, new moms, etc.
We bake or cook together at least once a week, and although it's not always as enjoyable or as efficient for me, it's a way I can keep our pantry and freezer stocked with yummy treats, help teach my children the basics of making food, and occupy them for 20-30 minutes.
We usually try to bake in the morning so we can enjoy the treats for a snack later in the day! 🙂
Here are some of my favorite kid-friendly recipes:
EAT or SLEEP SOMEWHERE ELSE:
Maybe it's because our kids are still quit young, but they get SO excited about eating or sleeping anywhere but at our kitchen table or in their beds. Even just sleeping on the floor in their own room is exciting for them!
This is such a simple (and free) way to make the summer weeks feel a little bit more special.
Here are a few ideas we like to use:
EAT:
eat dinner outside — either at your house or anywhere else
have snacks on the front porch
pack a picnic lunch and eat at a park (or even just someone else's home)
go out for donuts (SO much cheaper than ice cream or a full meal) and then deliver donuts to a couple friends and relatives
make a fort or a "nest" (blankets on the ground) and eat in there
have breakfast in bed
visit a parent or grandparent at work and bring lunch along to eat with them
have popsicles or ice cream cones on the back deck
walk or bike to the dollar store and let everyone pick out a special treat… then eat it outside
enjoy popcorn, peanuts, candy, and a movie on the couch
pack a special snack in the car on a longer drive or while running errands
make s'mores and eat them outside
bring trail mix, dried fruit, and special water bottles (not their everyday water bottles) along on a hike through the woods
SLEEP:
Put up a tent in the backyard
Put up a tent IN the house (perfect for bad weather or for really young children)
Have a family slumber party in the living room (or in any rooms of the house)
Let the kids switch beds
Let the kids sleep on the floor in their own room (or in a sibling's room)
Built a fort and let the kids sleep in the fort
Sleep in a camper or trailer in your driveway (if you have a camper)
Let the kids have a sleepover at Grandparents' houses (we aren't big on sleepovers, but the older kids usually spend the night at each grandparents' house once each summer)
FIND FREE LOCAL ACTIVITIES:
This might be a no-brainer, but I couldn't make a list of frugal summer fun ideas without mentioning it. I'm always amazed how many free (or extremely frugal) events are going on within walking distance of my house.
Even if you don't live super close to everything, there is probably a wealth of family-friendly activities within a short drive… you just need to do a little research to find them!
Kids Bowl Free summer bowling program
library programs like reading competitions, play groups, music and motion, crafts, etc.
free (or $1) movies at the local movie theater
free days at the zoo or the children's museum
hot air balloon festivals
fruit picking (and sampling!) at local orchards
window shopping at the mall (with a stop by the play place)
thrift store or dollar store shopping where everyone gets to pick a treasure to bring home
free project days at Home Depot (typically the first Saturday of every month)
events and activities at local farms
kid's days at the mall, at the zoo, and various restaurants
free concerts in the park
local parades
local Vacation Bible Schools
potluck or picnic meals with church, school, or neighborhood groups
GO SOMEWHERE… for the day:
Not up for overnight stays or week-long vacations with young children? I TOTALLY understand! We're not either!
Instead, we've enjoyed taking day trips (or even just hour-long trips) to many local attractions — most of which are quite frugal, especially compared to a full-blown vacation.
various parks, splash pads, water parks, and nature centers
local fairs or 4-H events
zoos and aquariums
play centers (PlayWorld, Rebounders, Chuck E. Cheese, etc.)
open gym times for gymnastics centers, dance studios, or fitness centers
open swim times at area pools and aquatic centers
local outlet malls or special shopping centers
local greenhouses (let the kids each buy a flower to plant at home)
free play times at local churches, libraries, community centers, malls, etc. (you might be surprised how many of these are offered)
If all else fails, contact a friend or relative who lives slightly further than you'd normally travel and see if they'd like to have visitors for a morning or afternoon. Then pack a lunch and "hit the road" for a mini road trip!
I'm certain I could continue to list ideas until everyone was tired of reading! The point is, there really are quite a few simple, frugal things you can do at home (or close to home) to keep your kiddos occupied this summer.
Also, I do want to emphasize the fact that Dave and I are BOTH HOME all day with our kids — so it's a lot easier for us to do some of these activities than it would be if we were working outside of the home for most of the day.
For the past several summers, we developed a habit of taking turns going somewhere or doing something with the older children each afternoon while the younger child(ren) were napping. Clara still takes an afternoon nap, but I'm guessing this will be the last summer we have someone who naps everyday — then we'll be able to do even more fun outings! Maybe we'll even go on vacation (maybe!)
What are/were your favorite frugal family-friendly summer fun ideas?