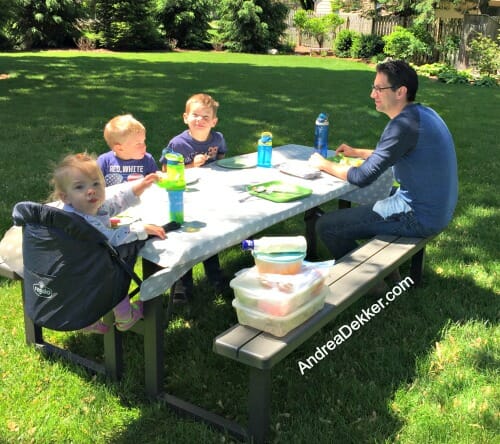 Summer is here… well, almost!
Nora has 2 more days of school left, but Simon has been finished for 2 weeks already and Dave ended his school year this past Friday — with the staff party at our house!
This year was by-far the earliest Dave has ever been finished with school — of course, it means he started the earliest he's ever started in August too. And although my opinion doesn't matter, I would much rather end school in mid June if it meant starting school again after Labor day — but alas, I'll just enjoy the fact that he's home for 10 weeks every summer!
In my head, I have SOOOOOOOO many things I want to accomplish this summer, but in reality, I know I probably won't get to half of them!
I haven't decided what "half" I'm going to accomplish, but I hope it involves a Laundry Room renovation, a few blog/website updates, several loaves of whole grain and sourdough breads, and lots of downtime to relax!
We hope to do a decent amount of relaxing these next couple of weeks as we don't have much going on and we aren't quite ready to start on our laundry room project.
It will be a welcome break after a VERY full and busy last month of school!
Here are a few of the end-of-school highlights for our family…
Finishing out the Sunday School year at church.
Simon's preschool program and preschool graduation.
Nora's half birthday 😉
Buying and making various gifts for our teachers
Buying and planting 500+ annuals.
TONS of yard work (we moved a bunch of trees and shrubs around and expanded a few planting beds)
Memorial Day festivities, parades, etc.
Setting up our pool for the 2nd year.
Making and baking massive amounts of cookies for the freezer and to give away.
Dave's staff party at our house.
Nora's class party and various special days at school.
Finally washing all the winter coats, hats, gloves, etc. (fingers crossed it doesn't snow again!)
Planning our vegetable garden (we haven't planted anything as it's been quite cool yet)
Simon requested a "mini Oreo cheesecake" as his special graduation treat, and I was happy to oblige. I'll take any excuse to make (and eat) cheesecake! I made this Oreo cheesecake recipe and made one small 6″ cake pan of cheesecake (no crust) and then 8 mini Oreo cheesecake cupcakes WITH an Oreo for the crust.
YUM!
Nora decided on chocolate cake with pink and aqua frosting (the pink is inside) for her half birthday "half cake". I added 7 little marshmallow flowers as a tribute to her 7th half birthday — she was thrilled!
Seriously, how is she SEVEN AND A HALF already!
Dave was happy with boatloads of chocolate and peanut butter for his end-of-the-year treat! Here's the recipe for this Reeses' Peanut Butter Brownie Cake!
Daily Life:
James and Simon stay busy playing cars, playing with Gak, and coloring for huge parts of the day (we've had SO much rain lately, we've been inside a lot).
They love it when I print or draw requested items of their choice. Best Coloring Pages For Kids offers an insane number of FREE children's printable coloring pages. I have it bookmarked on my computer and visit daily! 🙂
I also send them out to the front porch regularly — even if it's cold and rainy. The fresh air does them good (and Clara and I can enjoy a little peace and quiet!
Speaking of Clara, she must be growing because she's sleeping and eating like crazy… especially when she gets yummy ice cream treats at the staff party!
She regularly asks to sit on the potty, so while I don't expect any over-night potty training miracles, I'm hoping she takes after James and basically just potty trains herself one of these days! HA!
In The Kitchen:
I've been cooking and baking like crazy the past few weeks. Along with all the half birthday and last day of school treats, I've also made countless cookies for school, church, and other groups. We've had so many people over for meals and I've brought several meals away to others too.
AND… I got a sourdough starter from a friend who has been making sourdough bread for 6-7 years!
We've enjoyed sourdough pancakes, waffles, quick breads, and yeast breads over the past 2 weeks… no "flops" for me yet (knock on wood!)
I've been "feeding" my starter with King Author's unbleached all-purpose flour, but I've still been baking with whole grain flour I grind myself. So, for example, I'll add 1 cup of starter to several cups of freshly ground flour (and various other ingredients) to make my breads, pancakes, waffles, etc.
Now I'm interested in getting a whole wheat or whole grain starter and feeding it with my freshly ground grain.
We've also been eating a bunch from the freezer again as there are several days when I've been away from home in the afternoon and I just need something I can pull out of the freezer in the morning and shove into the oven later that day.
Here are several of the meals we've eaten over the past 2-3 weeks.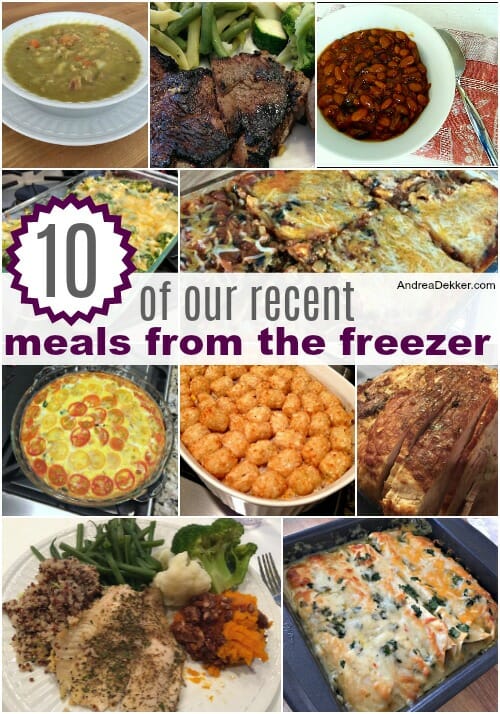 .
The kids are working on their "summer bucket list" which includes simple things like:
go bowling
visit the library
play at various parks
eat ice cream cones on the front porch
have friends over for a picnic
have a pool party
visit the zoo
go out for donuts
ride bikes to various destinations
I'm sure we'll be able to cross most of their things off our list over the next 10 weeks.
The kids don't know it yet, but we are planning to go camping with my sisters' families for 3 days later this month! My sisters both have nice campers and a big tent we can use. If the weather is nice, we'll be sleeping in the tent. If the weather isn't nice, we'll split up between their 2 campers.
This will be my 2nd time camping in my entire life (the first time was when Dave and I were dating and his parents basically did everything), so we'll see how it goes with 4 little kids!
We'll also be spending a weekend at Dave's parents' house with Dave's siblings' families in July — but other than that, we have no plans to actually GO anywhere this summer (which is fine with us!)
The lazy days of summer are (almost) HERE!