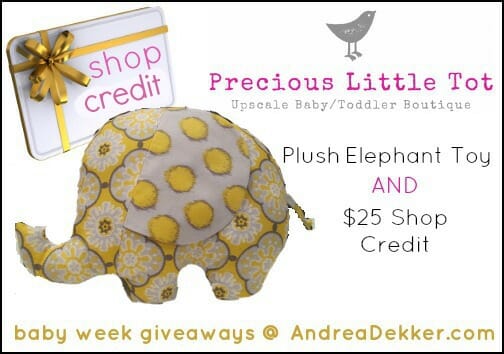 It's time to celebrate Baby Dekker #2 here on the blog, and what better way to do that than with a week of fun baby-related posts and giveaways!

Click here to view the 12 fabulous giveaways — all geared to make life with a new baby a little simpler, more organized, and more fun!
As I've mentioned MANY times here on my blog — I am sometimes very CREATIVE, but I'm rarely ever CRAFTY — and yes, there's a huge difference between the two. You can be CREATIVE with painting furniture, renovating a kitchen, designing a landscape, or decorating a room… but being CRAFTY is just a whole new ballgame (at least in my opinion).
So because I lack certain crafty skills (and because I never want to accumulate mass amounts of craft supplies) I frequently visit various handmade shops, like Etsy, to see what all those crafty people are up to.
One of my favorite Etsy shops is Precious Little Tot — because everything Jaclyn makes is so, well… crafty! I mean seriously, look at how cute her sewing creations are!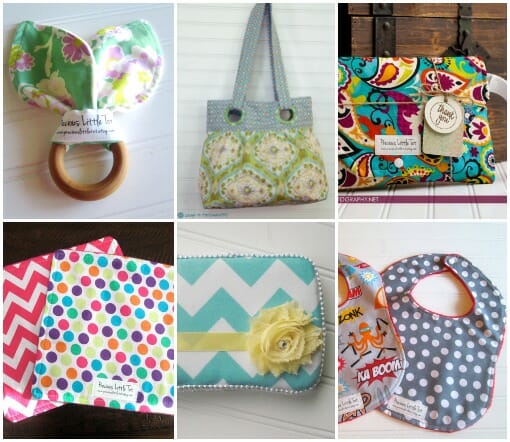 Bunny Rabbit Teethers | Diaper Bags | Small Diaper Clutch
Baby Wash Cloths | Diaper Wipes Cases | Toddler Bibs
Jaclyn also makes those adorable Raggie Quilts that are on my "to-do before baby list" — we'll see if I get around to it or not!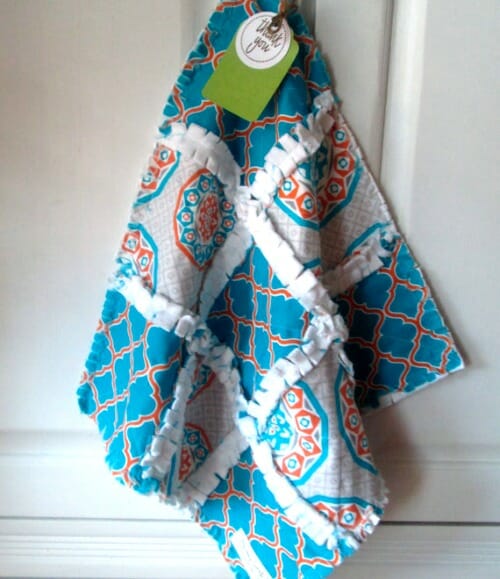 However, the thing that originally drew me into the Precious Little Tot Etsy shop were Jaclyn's adorable Plush Elephant Rattle Toys. And believe it or not, they are even cuter in real life than they are in the photos 🙂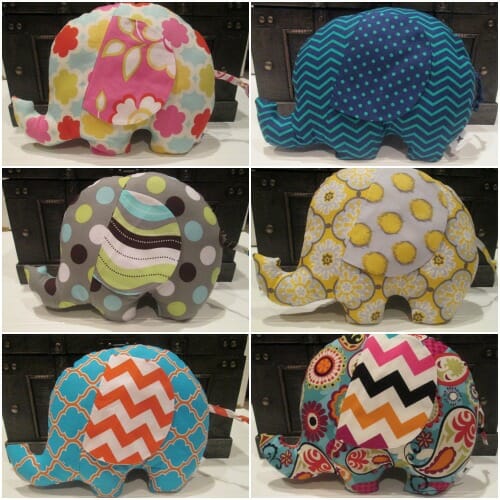 I have a blue and green striped elephant waiting for baby boy — and Nora is absolutely obsessed with it (she loves elephants right now). She's super concerned that her baby brother is going to take "her" toy elephant away… so imagine how excited she'll be when she get's her VERY OWN flowery toy elephant the day she comes to visit baby brother in the hospital!
Yeah, I'm just a little excited to give it to her!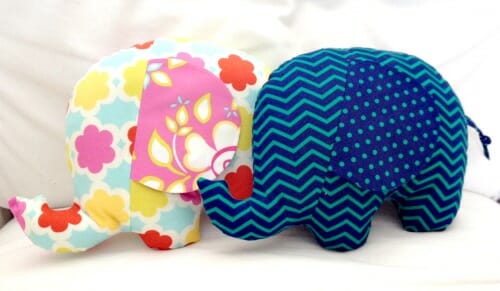 It will be her first gift from her brother — and hopefully it will promote a little bonding!
More about Precious Little Tot:
All items in the Precious Little Tot shop have been hand sewn with love and care by Jaclyn Kostzewa — work-at-home-mom to two adorable boys under 3!
Jaclyn's passion for sewing began when she had her first son and learned how to make her own bibs, burp cloths, and blankets. It became an instant hobby and she began to sew a lot more once she was pregnant with her second son.
At that time, she decided to expand her sewing hobby into a small business to create items for moms that were convenient yet very stylish and trendy at the same time. Now she spends hours sewing every day to keep up with the busy demand of the shop, and believes in providing nothing but the best quality in her products.
Visit Precious Little Tot on the web:

Website: www.preciouslittletot.com
Etsy Shop: Precious Little Tot
Facebook: Precious LIttle Tot Boutique
Pinterest: Jaclyn Kostrzewa
Pinterest: Precious Little Tot Boutique
Enter To Win This Giveaway!
Today, one lucky reader will win an adorable Plush Elephant Toy with rattle AND $25 a credit — good towards anything in the Precious Little Tot shop!
Precious Little Tot is also offering a 20% discount code for every order of $25 or more. Just type in code: ANDREADEKKER at checkout. Offer good through 2/28/14.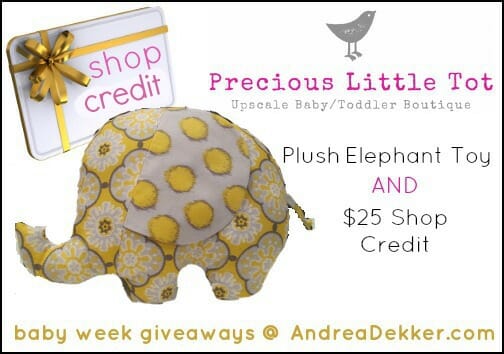 To enter, simply use the Rafflecopter widget below (it might take a second to load). This is a new way of entering giveaways on my blog but it will hopefully make things easier for me AND simpler for you!
First, enter your name and a valid email address (so I can contact you if you win) and click "log in" (you are logging into THIS specific giveaway, and I will be the only one who sees your email address.) Next, click "Enter to Win". Finally, click the big green ENTER button!
a Rafflecopter giveaway

All baby week giveaways end at 11:59 pm EST, Sunday, 2/16/2014 and are open to US residents, 18 years or older. The winners will be randomly selected via Rafflecopter and notified via email. I received a duplicate prize package in exchange for hosting this giveaway — but all opinions are 100% my own. Please see my full disclosure policy and contact me with any questions you have. Good luck!