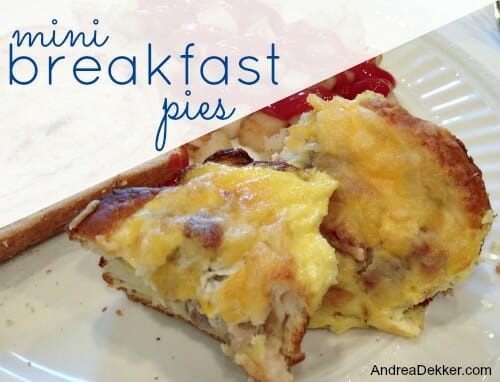 I know I share a lot of breakfast recipes on the blog — but that's because we absolutely LOVE breakfast foods in our house.
My kids could eat bacon and sausage for every single meal, they love eggs, and my "perfect pancakes" are requested almost daily for breakfast!
Once you factor in how inexpensive many breakfast foods are and how quick and easy they are to make, it's no wonder we eat them so often. Plus, when I make any type of baked egg dish, there are always leftovers for breakfast the next morning!
These mini breakfast pies are a quick, filling, protein-packed meal that would work any time of the day (in my opinion). I'm certain you could easily make a double batch for a larger group… or just for more leftovers the next day (they really do warm up fabulously).
Recipe for Mini Breakfast Pies
Makes 10 pies
INGREDIENTS:
1 (12 oz) container of refrigerated biscuits (a 10 count package)
1/2 – 3/4 pound of sausage, bacon, or other COOKED breakfast meat
1 small onion; minced
1/4 c. bell peppers and/or mushrooms; minced (optional)
1/2 c. shredded cheese
3 large eggs
1/4 c. milk
salt and pepper to taste
DIRECTIONS:
Preheat oven to 400*F and grease a regular 12-cup muffin tin
Open can of refrigerated biscuits and press biscuits into 10 muffin cups (this is a great job for kids to do)
Scoop the meat and minced veggies evenly into each muffin cup
Sprinkle a bit of cheese over the meat and veggies
Mix eggs, milk, salt, and pepper in a pourable container
Pour egg mixture over meat, cheese, and veggies
Bake in preheated oven for 18-20 minutes, or until eggs are set
Refrigerate leftovers in a sealed container
One word of caution — as you can see by my "finished product" picture above, these mini pies do tend to poof up and can spill over the pan. I usually put another pan under the muffin tin to catch any drips 🙂
That said, once you lift them out of the pan, they look totally normal and presentable — even for company or taking to a brunch (I promise!)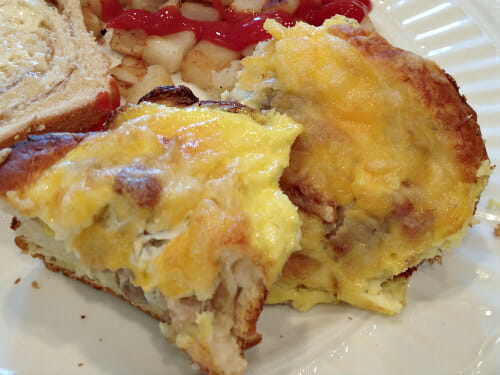 Like I mentioned above, these mini pies are fabulous any time of day — and you can certainly mix and match ingredients to make the type of breakfast pies your family will like. Often, I'll make 5 pies with sausage, mushrooms, peppers, and onions, and then 5 pies with just bacon and ham. It's a nice variety and can be a great meal that satisfies everyone's tastebuds.
When I serve them for dinner, I usually make hash browns, fruit salad, and some type muffin or bread to go along with them. For breakfast, they are fabulous on their own, and they are a perfect brunch "finger food" if you don't have silverware handy. I would even serve these as a protein-packed after school snack.
The possibilities are endless 🙂
Are you a fan of breakfast for dinner?
Visit my virtual recipe box for more simple, delicious, family friendly recipes!