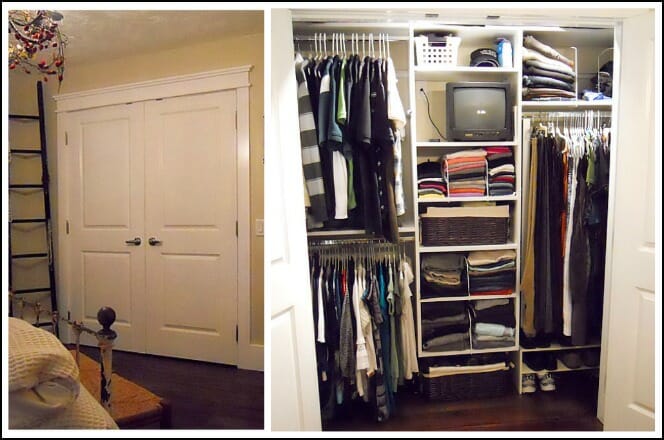 I'm sure you can imagine the number of emails I receive asking for advice on the best ways to design a closet.
Yeah… it's a lot!
And while I don't mind the questions, I decided that it would be much easier (and save me a bunch of time) if I could simply direct these people to a blog post with my best closet design tips and tricks.
So, if you're planning a closet renovation, or if you'd just like a few tips to better utilize the closet you already have, keep reading…
Step 1: Measure Your Closet
Whether you have a huge walk-in closet or a tiny reach-in closet, the first step in designing your space is to know the measurements of what you're working with — especially if you need to order any supplies.
Our reach-in closet is 8 ft. wide.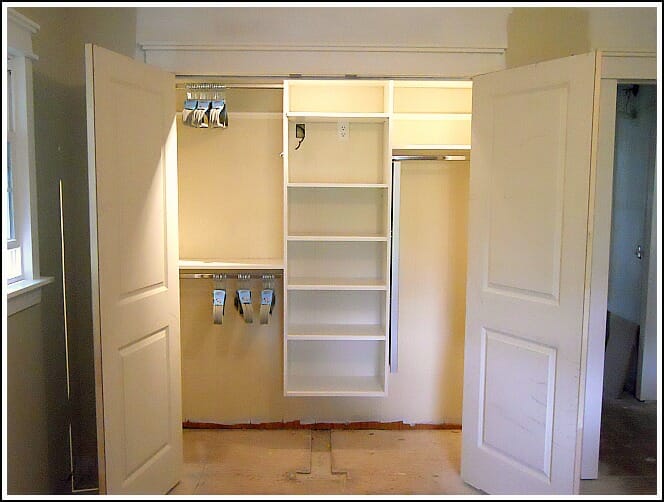 Step 2: Measure Your Clothes
Yes, you read that right — before you design or install any type of closet systen, you'll want to measure the amount of clothing you plan to store in your closet.
Obviously, if you're planning to get rid of anything, now would be the time to do that as well. Then, when you're finished purging, go through and measure the number of folded piles you have, the number of inches of "short hang" and "long hang" you have, the number of accessories you want to store in your closet, etc.
These measurements will determine the eventual design of your closet, so they are important.
Out of the 8 feet of space we had, we used 3.5′ for short hang, 2′ for shelves, and 2.5′ for long hang.
For example, you can see in this picture that I have 7 piles of folded clothing and Dave and I each have about the name number of "short hang" items (on the left).
By knowing exactly how much space we'd need for folded items, short hang items, and long hang items, I was able to design our small closet to meet all our storage needs.
Step 3: Develop a Design
Now that you know how much space you have to work with and how much stuff you need to put into that space, you can start to develop an initial design. You can read more about how I decided on our closet design — as well as the company we used to implement our design.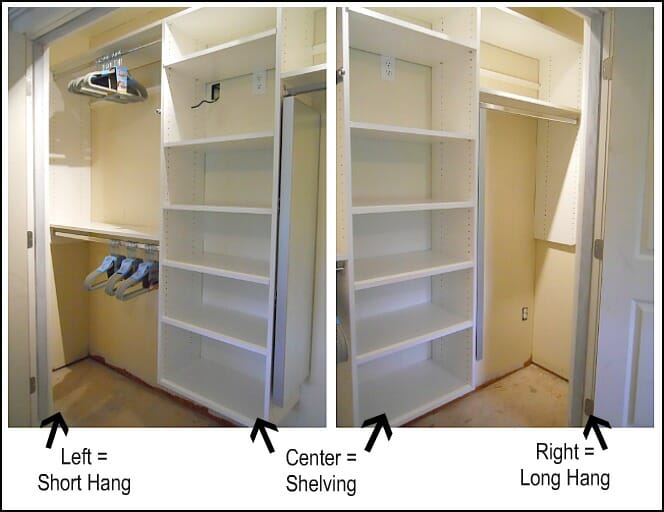 We really wanted to incorporate a small TV into our closet design (and since we were starting from studs, we could easily run electrical and cable outlet wires to our closet.
We also wanted to have a place to hang a shoe organizer for our accessories and hooks for our robes — which is why we went with French doors instead of the traditional (and much cheaper) bi-fold doors.
I wanted a basket for my shoes; Dave wanted shelves for his shoes. Dave also wanted somewhere to hang his ties.
Step 4: Choose your materials:
Personally, I prefer solid materials to the wire stuff sold in most home stores. Not only is it much sturdier, but it also looks so much nicer! Plus, in my opinion, if you're going to invest in a new closet design, it's worth it just to spend a bit more and have it look and function so much better.
You'll also need to purchase the correct amount of shelving, rods, and other accessories to complete your design. I absolutely love the custom features we added to our closet design.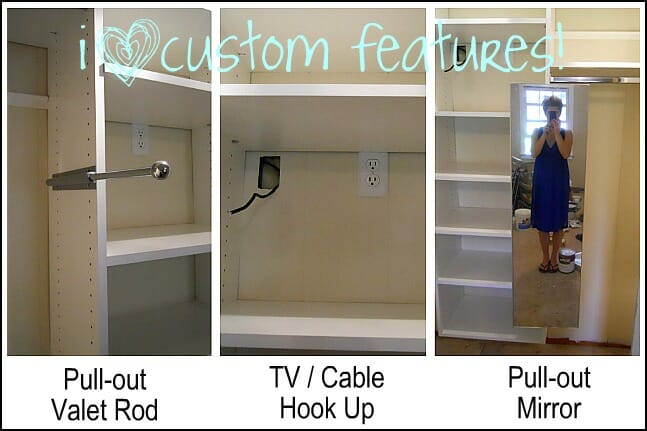 Step 5: Install your closet system:
In our old house, my dad built our closet system exactly to my specifications (yes, it's really nice to have a handy dad). However, our current closet was installed by ORG West Michigan — a company that specializes in custom closet design.
Even though I had my design ready for them, they will come out and measure/design your closet for you (based on your needs) and then install the finished product. Our closet was installed in about 2 hours.
And of course, once your closet system is in place, then the real fun begins!
I suppose I get a little more "geeked" than most people when it comes to closet organization, but if you have a brand new, completely empty closet, I guarantee you'll have at least a little bit of fun filling it back up again!
A Few More Tips:
When planning for shelves, consider that a folded stack of clothes (sweaters, jeans, etc) takes up about 12″ of space (width wise). So, if you want your shelf to fit 3 stacks, you'll want it to be 36″ wide.
When planning for hanging bars, you probably don't want to go much longer than 3.5′ – 4′, especially if you jam your closets full. The bars just can't hold that much weight with out a divider (which is why we put our shelves in the center of our closet design.)
Use as much vertical space as you can. We put another shelf across the top of our closet (about 10″ from the ceiling) to store items we don't use that often (beach bags, out of season clothing, etc) We also installed hooks and organizers on the back of our doors — which would otherwise be lots of wasted vertical space.
Use baskets to corral cluttery-looking items liks shoes, large belts, purses, scarves, etc. This will automatically make your closet LOOK neater. I found the baskets in our closet from World Market.
And of coures if you really want a clean, decluttered, fantastic looking closet, my BEST tip of all is to purge anything and everything you don't need, use, want, love, wear, or feel great in!
What are your best closet design tips?