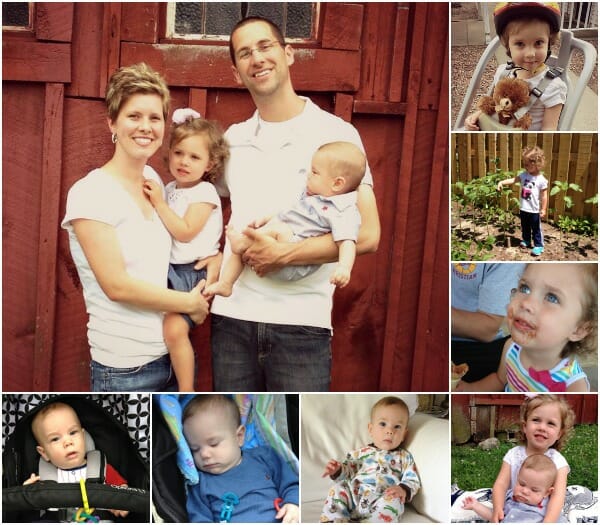 I'm excited to be back from my two-week blogging break — of course it went by way too fast (as is evident by the many items still on my to-do list).
We packed a lot of work and a lot of play into my two weeks away… here's the break-down.
1. We went on vacation with Dave's family.
This was probably the most anticipated activity of my blogging break — I'll be sharing LOTS more about our vacation (and a ton of pictures) later this week.
2. We potty trained Nora!
Yay –finally!
We had hopes of doing this over Dave's spring break (in April) but she was sick, so we decided to wait until summer.
I was pretty intimidated by the whole potty training process. Dave and I didn't really know where to start or what to do, so we just fumbled our way through it. I'm sure I'll talk more about this in a future blog post, but I will say that we didn't read any potty training books and we didn't try to do what anyone else told us would "for sure" work. We just did what we thought would be best for Nora (which was actually the exact opposite of what many people told us to do) and it worked!
We also bribed her with a bike! We told her that she could only ride the bike if she keep her new undies dry. So after lunch, we rode the bike if her undies were dry. Then after dinner, if they were still dry, we road it again. I guess she REALLY wanted to ride that bike because she kept her undies dry day after day 🙂
3. I purged lots of clothes.
I was somewhat impulsive with this last-minute desire to purge all our closets, but I'm SO glad I took a couple hours to weed through our clothes. I got rid of a bunch of stuff from my closet and also went through both Nora and Simon's closets. They outgrow their clothing so quickly so it was good to get all that "too small" stuff out of there.
I also took inventory for fall to see if there's anything they might need. Simon is growing like a weed and is currently wearing almost all 9 mo. clothes with some 12 mo. sleepers so I ordered him a few "new" things from ThredUp.com. But seriously, who even needs clothes when you're this cute!
4. We made progress on house projects.
I honestly thought we'd get a lot further with our house projects — but we didn't.
We still need to put the closet system in our mudroom (so it might be another week or so before I share that post with you) but we did make some progress on the landscaping around our deck. I'm continuing to look for deck furniture on Craigslist, but I'm not super optimistic that I'll find something before the summer is over. And holy smokes — I did not realize how expensive outdoor furniture is! WOW — I might need to find a 90% off clearance sale before I'd be willing to buy it brand new!
I'm hoping to have the final deck and mudroom posts to share with you in the next couple of weeks — but don't get too anxious on me. As is often the case, things are taking longer than we expected, we're waiting on a couple other people to finish some of the steps, and we're definitely moving at a slower pace this summer (and I'm OK with that!)
5. We relaxed.
I know this might sound like an obvious point… I mean, who takes a vacation and doesn't relax, right?
Well, as obvious as it might sound, "relaxing" is not the easiest thing for me to do. I like being busy, having projects on my to-do list, and getting stuff done. I have to be very intentional about relaxing — otherwise I won't do it.
I personally feel like I was very successful at relaxing while I was away from my blog. Not only were there days when absolutely nothing "productive" was accomplished, there were also many days when I didn't even turn my computer on until mid-late afternoon!
We went for long walks, played at the park, went out for ice-cream, went to the library, swam in the pool, played on the swing set, etc. etc. We did all those fun summer activities that can actually be a lot of work with 2 little people — but at least Nora had a lot of fun!
This blogging break was just what I needed to refresh and recharge. In fact, I already have a bunch of blog post ideas swirling around in my head!
Thanks for sticking around, friends!