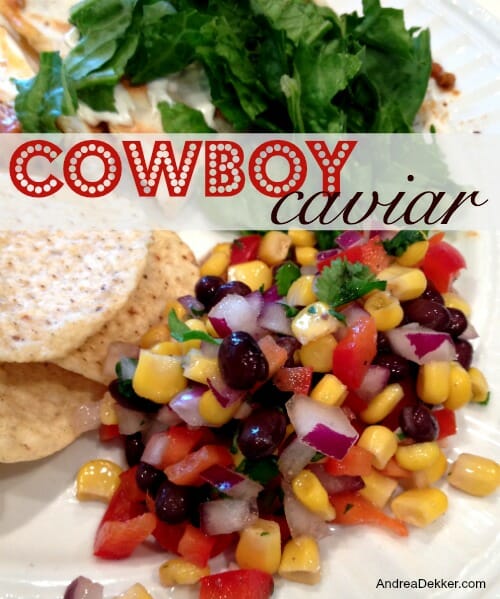 During the warm summer months, I often get into a rut of making a lettuce salad as a side dish to almost EVERY. SINGLE. MEAL.
It might be because the weather is hot and I don't feel like eating hot veggies — or maybe because salad does actually taste good with most of our meals. However, even the best tasting salad gets old after a few nights in a row!
Several weeks ago, I started hunting around for yummy side dish ideas that didn't require the oven or the stove or a steamer — and almost like magic, an email entitled "Cowboy Caviar" showed up in my inbox! A reader thought it might be a recipe Dave and I would like… and boy was she right (thanks Tracey!)
I'm fairly confident I've eaten a similar fresh salsa before — I've just never had the recipe, so I've never made it myself.
If you're looking for a super simple summer side dish (say that 6 times fast) that doesn't require any heat in your kitchen, THIS Cowboy Caviar is for you!
Recipe for Cowboy Caviar
Serves: 10-12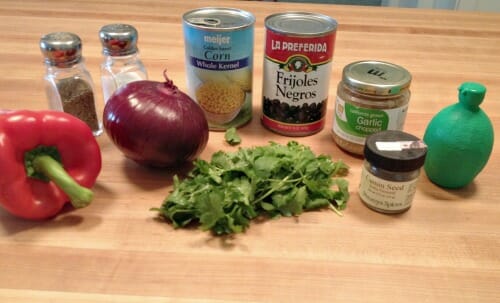 INGREDIENTS:
15 oz. can black beans; rinsed and drained
15 oz. can sweet corn; drained
1 small red pepper; finely diced
1/2 red onion, finely diced
1/4 c. chopped fresh cilantro (not dried)
2 T. lime juice (approximately 1 lime, juiced)
1 t. minced garlic (probably about 2-3 cloves)
1 t. cumin powder
1/2 t. salt
black pepper to taste
DIRECTIONS:
Mix all ingredients in a large bowl.
Serve with tortilla chips and enjoy!
Refrigerate leftovers in a tightly sealed container.
This is such a yummy fresh salsa for chips — or even as a topping for quesadillas, tacos, nachos, etc.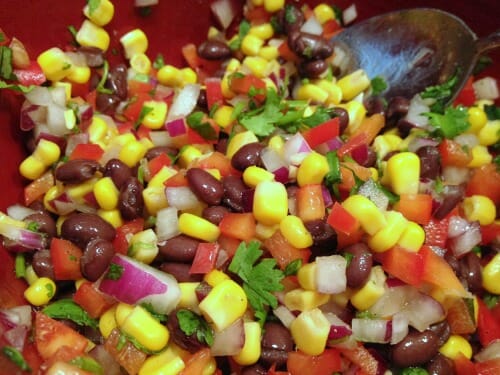 One thing I really like about this "salsa" is that there are no tomatoes. I actually didn't even realize there were no tomatoes until I was almost finished making it — and thought, did I just forget them? Nope, they were not in the recipe I was given. I even looked up a few similar recipes online and some of them didn't have tomatoes either.
The reason I like the lack of tomatoes is because it keeps the salsa from getting overly watery and soggy.
However, as with almost all the recipes on my blog, PLEASE feel free to change them up to suit your taste buds!
If you like tomatoes, add a can of petit diced tomatoes. If you only have yellow peppers in the house, add those instead of the red pepper. If you don't have minced garlic, use garlic powder or even garlic salt. If you don't love cumin, leave it out (I tried it that way too and it's still yummy). If you don't have lime juice, that's fine too. You really can't mess this up unless you forget the beans and cilantro 🙂
The only bad thing about this recipe is that if you bring it to a party or potluck, you probably won't come home with any leftovers!
One other note: I'd suggest waiting to make this salsa until shortly before you're ready to eat it — that way it will be super fresh. If you want to work ahead, you can do all the prep of chopping and dicing ahead of time, store everything in separate containers, and then simply dump it all together at the last minute.
Cowboy Caviar is a fabulously simple summer side dish that would be the perfect addition to almost any backyard BBQ (or whatever you're making for dinner tonight!)
Do you have any awesome fresh salsa recipes?
Visit my virtual recipe box for more simple, delicious, family friendly, recipes!