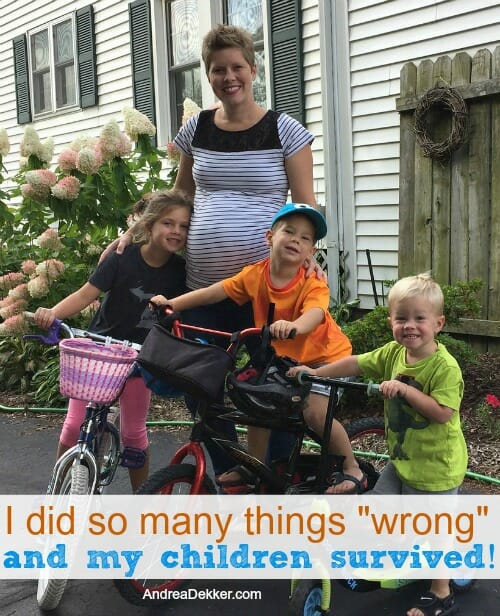 Now that I have a few years of parenting experience with multiple children, more and more people are asking ME for parenting advice (instead of the other way around). And whenever anyone comes to me for advice — whether it's a close friend or relative, or a blog reader whom I've never met, I'm always SUPER DUPER careful with how I respond.
I know how harmful so much of the advice I got from more experienced parents was for me — so many "nevers" and "always" and "can'ts" and "musts" — I basically felt like no matter what I did, it would be "wrong" in someone else's option.
And even though I'm usually not one to be bothered by what other's think about me, I was VERY concerned with being a "good mom" and doing things the "right way" for my new baby.
I read the books, I listened to every piece of advice people gave me (even the unsolicited stuff), I constantly questioned myself, and I always felt sure I was messing things up.
However, looking back, I can see there were also lots and lots of times when I did what I thought and felt was best for my baby, for me, for our family, and for our specific situation — even though SO many "experts" and books and other people in my life told me it wasn't right.
According to them, I was probably doing everything "wrong"…
I let my babies sleep in my arms, in the stroller, in the carseat, on my chest, in the swing, in the bouncer, in a bed with me, on the couch, wherever they would sleep — that's where they slept.
I let them sleep on their stomachs, I used blankets, and I used bumper pads so their heads didn't jam into the bars of the crib.
I fed my babies to sleep ALL. THE. TIME. (even when they were older — like 18 months)
I let my kids have pacifiers. Nora never took one, but I basically forced them on Simon and James!
I didn't follow any sort of sleep, eat, play schedule — although I desperately tried with Nora.
I didn't let them "cry it out".
I used formula, and store bought baby foods, and sugary snacks.
I allowed some juice and more than enough candy, desserts, and goodies (as Simon calls them!)
I used the TV as a babysitter.
I didn't force them to leave me if they weren't comfortable — even though people told me my kids would end up being too clingy.
I didn't feed them organic foods or totally-made-from-scratch foods.
I didn't force them to eat foods they didn't like. They had to try one small bite, but that was good enough for me.
I didn't get them involved in every single play group or learning opportunity — in fact, we almost did nothing like this.
I didn't plan sensory activities, educational crafts, super nutritious snacks, or amazing playdates.
I didn't stress about teaching my kids everything I possibly could so they'd be ahead of the game come preschool time.
I didn't have potty charts with stickers or rewards.
I didn't force my super little kids do household chores.
.
Now, obviously my children are far from perfect, BUT… Nora, Simon, and James are all relatively well-adjusted, "normal" children (at least in my opinion!)
They eat 3 fairly balanced meals a day with small snacks between.
They drink TONS of water and some juice.
They are happy the majority of the time.
They all go to bed marvelously 99% of the time, and sleep 11-12 hours through the night about 95% of the time.
They all sleep in their own beds with no issues, complaining, bribes, or other "tricks" required from Dave or me.
They function normally (or above normally) for their age group.
They potty trained relatively quickly (once they were ready).
They are very active and nowhere near being even slightly "overweight" or unhealthy.
They love reading, and drawing, and singing, and dancing, and have amazing imaginations… they also love watching TV.
They play well with each other and other children; and although they are often initially shy around adults, they almost always warm up and have great relationships with many adults from church, our neighborhood, Dave and my friends, extended relatives, etc.
.
I did so many things "wrong" (according to the books and experts) and my kids still turned out pretty OK!
Have no fear, mamas — you cannot, and will not, completely ruin your child by holding them too much, by feeding them to sleep, by letting them watch a little TV, or by giving them a piece of candy.
Do what you have to do to keep your sanity. Do what YOU feel is right for your baby, your toddler, your children, yourself, and your family. Ask a few close friends what their opinions are — but be sure to remember YOU KNOW YOUR KIDS BEST!
You know what I did RIGHT?
I tried my best every day and kept trying day after day.
I loved my little people fiercely — and I made sure they always knew it.
I made sure they got as much sleep as possible — no matter how or where it happened.
I made sure their bellies were full — no matter what type of food went in them.
I kept them warm and safe.
I stood up for them and for our family when people criticized my/our decisions or actions.
I prioritized my own family above everyone else in my life — and I made sure they knew they were MY priority too.
.
There are many benefits from seeking advice from others — whether parenting advice or any other subject — but only if you take the advice with a grain of salt (as the old saying goes).
Some of the advice might work; lots of it will not work. Some of the advice won't work, but it will lead you down another path that helps you find the answers you were looking for.
Whatever the case may be, all of your trial and error (and error, and error) does not mean you're doing it "wrong" or totally messing up. In fact, it might mean you're doing it RIGHT — just in a different way.
Do you love your children? And do they know it?
Do you try your best?
Do you get up every single day and do it all over again?
Do you keep them fed, clothed, bathed, and safe?
If so, you are doing a whole lot of important things RIGHT!!
Give yourself some credit and stop worrying about the books, the experts, what you read on Facebook, what you hear in the news, and all the other advice you've gotten over the years.
File it away somewhere in the back of your brain so you can reference some of the ideas if you feel they will ever help… but don't let all the conflicting advice paralyze you from doing what YOU think (and probably know) is best for your family right now.
How's that for some practical, no-nonsense parenting advice?