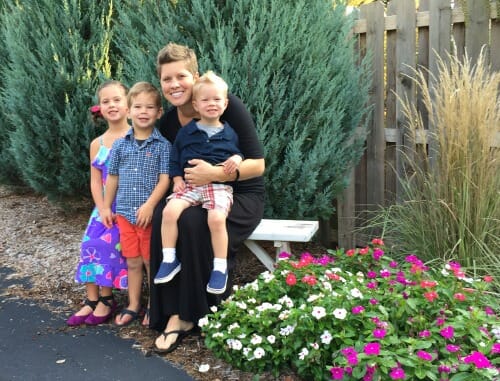 It's my due date — but if you are reading this post today, it means my little girl is still tucked safely inside.
I have my 40 week Dr. appointment this morning, but based on my history of going quite late with my pregnancies, I doubt there will be any talk of an induction for at least another week (which is totally fine with me).
I've had real contractions on-and-off for several days now already — and we honestly thought this lady was going to be a 9/11 baby!
I woke up at 12:05 am Monday morning (9/11) and felt the first contraction, then about 10 minutes later I felt another one, and another one. This went on for about 2 hours, when I finally decided to get out of bed around 2:30am, since I wasn't able to sleep anyway.
I immediately started thinking of everything I was planning to do that day (I never thought this baby could be early) and got to work on my to-do list.
I made pancakes and sausage for the kids breakfasts
I packed lunches for all 3 kids so they could eat wherever they ended up for the day
I filled juice cups, water bottles, and snack containers and made sure the diaper bag was fully stocked
I pulled a casserole out of the freezer and wrote out instructions for whomever would be feeding my kids dinner
I wrote a blog post and edited pictures for another post
I zeroed out my inbox and responded to any semi-urgent emails
I renewed library books online to avoid making an extra trip to return them
I charged my phone, my laptop, and the iPad
I packed the last few things I needed in my hospital bag
I even did a load of laundry so I wouldn't be too far behind after staying in the hospital for a couple days
When Dave's alarm went off at 5:30am, I told him I was going to lay down for a little bit and that he should email his principal to find a sub for the day.
Miraculously, I actually feel asleep for just over an hour (even through the contractions) and woke up around 7:00. The kids were awake and Dave got them the breakfast I had made ahead of time.
I was still having regular contractions when I woke up, so I decided to hop in the shower and get ready for my trip to the hospital.
Then… I got out of the shower and all contractions stopped completely!
Dave ended up going back to school and we went on with our day as normal (besides the fact I was basically a zombie from getting no sleep the night before).
I kept waiting and waiting and waiting for the contractions to pick up again — but I felt absolutely nothing for the rest of the day.
Thankfully, I was able to get to bed before 9:00pm Monday night and I slept like a rock until around 5:30 the next morning. I told Dave it was the best night of sleep I've gotten since before we found out I was pregnant.
Since then, I've been getting to bed pretty early each night, so I'm hopeful all this extra sleep will help with the sleep deprivation that's just around the corner.
.
My Geeky Math-Birthday Story:
I still have my finger's crossed that she'll arrive today — mainly because I think it would be really cool if her birthday were 9/18…
9 + 9 = 18 — so 9/18 is double
Nora's birthday is 11/22 — 11 + 11 = 22
James' birthday is 7/14 — 7 + 7 = 14
Simon doesn't fit — his birthday is 3/4, but 3 out of 4 doubled birthdays isn't bad 🙂
Dave says I'm a total math geek for even thinking of that — but I do think it would be kind of cool.
She will come eventually. My babies always do!
Any guesses as to when she'll finally arrive?