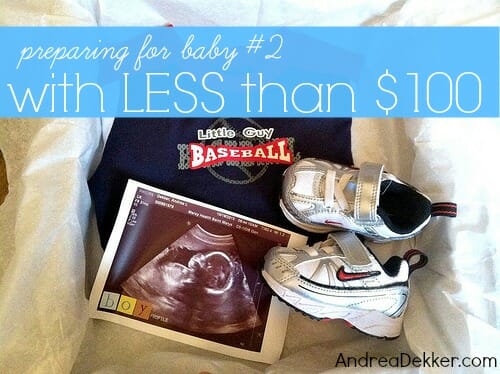 It's time to celebrate Baby Dekker #2 here on the blog, and what better way to do that than with a week of fun baby-related posts and giveaways — all geared to make life with a new baby a little simpler, more organized, and more fun!!

Click here to view the entire Baby Week schedule of events (including a sneak peek at the 12 fabulous giveaways that start tomorrow!)
Since most of you seem to like a good "frugal-living" post, I'm kicking off Baby Week with a detailed post about how I acquired everything we needed for our newest addition with a self-imposed budget of $100 — and that includes the nursery renovations I'll be sharing later this week!
When we found out we were pregnant with Nora, I made it my goal to see how few dollars I could spend preparing for her arrival. I didn't necessarily do this because I HAD to… but more because I simply didn't want to give into the crazy amount of pressure new parents feel to go WAY overboard buying stuff for their newborn babies.
I had a very modest gift registry, borrowed a lot of things we might only need for a short time (like maternity clothing), made a bunch of stuff myself, and purchased everything else used.
I enjoyed being thrifty and seeing how frugal I could be — and believe it or not, I was able to get pretty much everything we needed for less than $300!
NOTE: If you're interested in lots more specific details of exactly how I saved so much money on baby things, you can read my series about "Raising an Infant on a Budget"
So, when we learned that baby #2 was on the way — and that it was a "he" not a "she" — I knew I'd probably want to invest at least a few more dollars to get ready for a boy.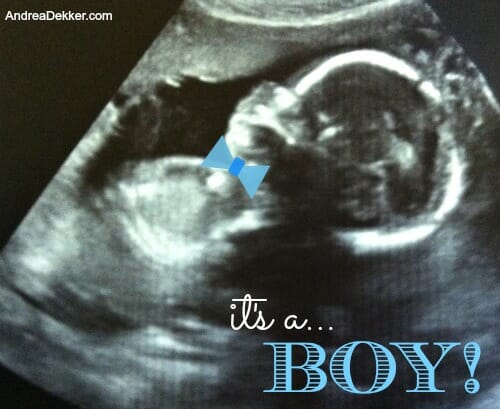 I knew I didn't HAVE to do much, but since I generally enjoy renovating, decorating, and planning, I figured preparing for a baby boy would be really fun for me (and it has been!)
HOWEVER, I was adamant that I would once-again do it as frugally as possible.
Here's a breakdown of the different costs we incurred the 2nd time around.
Maternity Clothing:
As I mentioned a couple weeks ago, I pretty much borrowed ALL my maternity clothing from my cousin and a couple friends (I was fortunate to do this with Nora too). I did purchase a few staple items (one pair of jeans, one pair of comfy pants, and a few tank tops) from ThredUp.com — and was able to use a little credit I had built up to pay for those items.
Total out-of-pocket cost = $0.00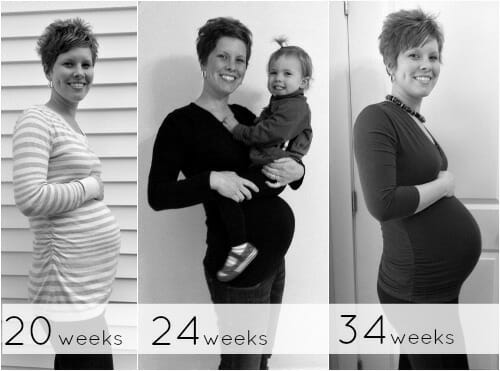 Baby Clothing:
One of my cousins had a baby boy on February 26, two years ago, so since she was ready to purge some of those clothes, she let me pick through her stuff and I ended up buying just under $30 worth of Newborn – 9 mo. clothes (they're SO cute)!
We also got a pile of freebie hand-me-downs from another friend… and my mom made out like a bandit at a local 2nd-hand sale (she gifted those clothes to us as a baby gift).
I also saved a bunch of gender-neutral items from Nora — like white onesies, neutral sleepers and sleep sacks, socks, slippers, a baby snow suit, and a couple outfits that would work for boy or girl — so yes, we are set with clothing through about 9 months for a VERY minimal out-of-pocket cost.
Total out-of-pocket cost = $30.00
Nursery Items:
I'll be sharing LOTS more about the nursery on Thursday (with a ton of pictures of our mini renovation) but I can tell you that I spent very little on the whole project!
We freshened everything up with a coat of Frost paint (Behr from Home Depot). It's the same paint we used for Nora's new room — and since we had some paint leftover, we only had to buy 1 additional gallon (about $25).
We used all the same furniture, bedding, etc. and simply decorated with items we already had in the house.
I did spend $3 on a DIY baby mobile for above the crib, I purchased a few small items for inside the closet, and I bought a rug from Target with a Christmas gift card… but that's it!
Total out-of-pocket cost = $45.00
Baby Feeding Essentials:
We already have plenty of bottles, teethers, pacifiers, sippy cups, snack cups, etc. — most of which Nora never used and some of which are even still in the packaging.
At this point, I'm planning to nurse the baby (or pump) for at least the first couple months — so until then, we're set with feeding essentials.
Total out-of-pocket cost = $0.00
Baby Gear:
We really didn't have to purchase anything in this category — we already have a swing, bouncy seat, jumper, baby carriers, baby bath tub, high chair, pack-n'-play, carseat, stroller, etc. (all purchased 2nd-hand when I was pregnant with Nora). I'm guessing that at some point we'll need to upgrade to a double stroller, but I'm avoiding it for now!
In the beginning, I'm planning on just wearing the baby in a carrier and pushing Nora in the stroller. Then, if we go for walks with Dave, we can each push a stroller (read more about our favorite strollers) — and before we know it, Nora will be walking on her own or riding a bike — so I'm just holding off on buying any sort of double stroller until I'm sure we absolutely need it (and I'll definitely buy from Craigslist or another 2nd hand venue).
We were gifted a bunch of handmade boyish burp cloths and washcloths, and Dave's mom is currently making us a few boyish blankets — however, many of the blankets I got for Nora were white, tan, brown, and cream, so they'll all be totally fitting for a boy too.
Total out-of-pocket cost = $0.00
Baby Toiletries, Diapers, Medicine, etc:
We already had most of this stuff in the house — lotion, baby wash, baby wipes, butt cream, baby powder, infant medicine, vaporizers, humidifiers, thermometers, etc. etc. However I did purchase a few packages of newborn and size 1 diapers with a super amazing sale at our grocery store about a month ago. I also bought some gas drops since we haven't used those in a long time but they were really helpful with Nora.
Obviously diapers, wipes, and other toiletries will be an ongoing expense, but I'm usually able to find really good deals so it's more time and cost effective for me to use disposable versus cloth.
Total out-of-pocket cost: $15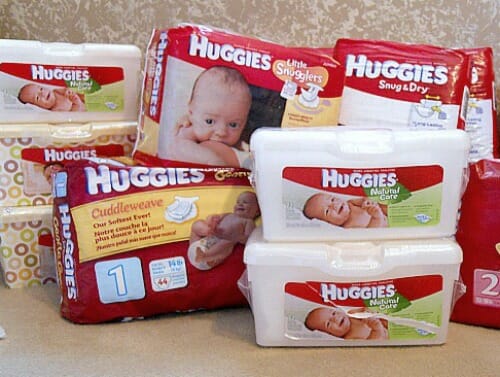 Toys, Books, and Misc:
Although I'm positive we don't have nearly as many toys or books as a lot of people, we have plenty for our needs, and I definitely don't plan to purchase anything else just for the baby.
I do know it's going to be difficult for Nora to share her toys, but she'll learn! She has recently started playing with all the newborn baby toys again — she pretends like they are her baby's toys and already told me that baby brother can't play with her baby's toys!
Total out-of-pocket cost: $0.00
Photography:
We did have some maternity photos taken when I was pregnant with Nora — and they turned out SO awesome. I'm super happy we had those pictures taken, but I really had no desire to do them again with #2. Maybe I'll regret that later, but it just wasn't something I wanted to do.
We will for sure be getting newborn pictures taken again — but I obviously haven't paid for that yet 🙂
Total out-of-pocket cost: $0:00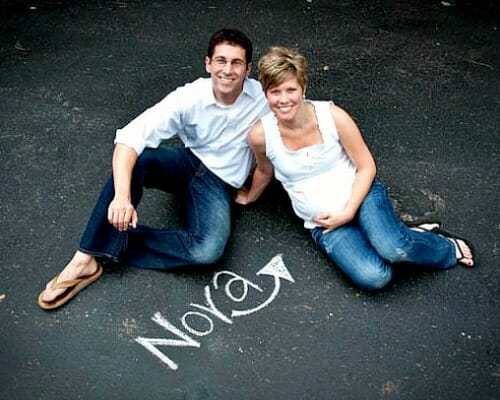 I think that's about it — and if you add up the sub-totals from above, it only comes to $95.
However, since I'm sure there are a few little things I might be missing (and because $100 is a nice round number) I just said we've spent less than $100 — not too bad considering everything we did with that money!
.
I feel ready — well at least ready with all the tangible things we "need" for this baby. And I'm definitely physically ready to have my mid-section return to a more normal size!
I'm still preparing myself mentally and emotionally for another tiny baby and life with 2 kids… but I also realize that there's really no way to fully be prepared for another person to enter your life.
My due date is 3 weeks from tomorrow (yikes!) and although I feel huge, I'm honestly hoping to make it all the way to the end because Dave's basketball season isn't over until the end of February and it would be SO nice if the baby could wait until that huge time commitment is over!
Cheers to waiting!
Oh, and don't forget to check out the entire Baby Week schedule of events — and scope out the 12 giveaways. Then come back tomorrow at 8:00am EST for the first of 12 amazing giveaway opportunities!!

It's going to be a super exciting week and I'm so happy you're here to join in on the fun!