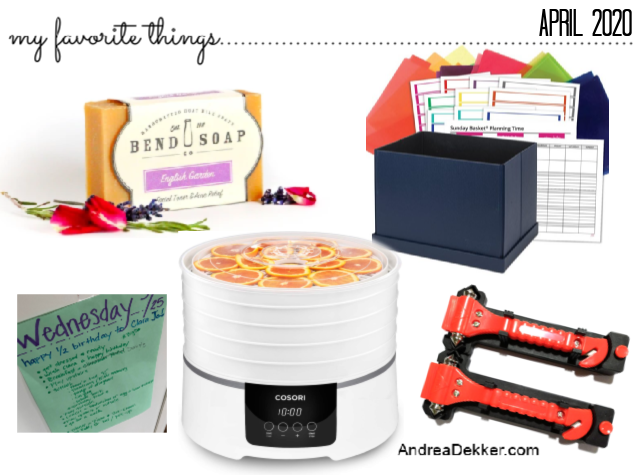 Although I love time at home together with my family… I also REALLY love wonderful teachers who work so hard to teach my children.
I love fantastic schools where they can learn and play with friends and have so much fun. And let's not forget the fun bus drivers who take my children to and from school every day!
Yes, they are all my favorite things!
However, since school, and teachers, and bus drivers are unfortunately not in the plan for our family any time soon, I'm sharing a few more of my favorite things today!
Bend Soap's New Spring Scents
I've been using and enjoying the delicious all-natural goats' milk soaps and lotions from Bend Soap for almost 6 months now — and I have no intention of going back to traditional body wash, shampoo, lotion, deodorant, or lip balm any time in the near future.
My skin is SO soft, the scents are absolutely wonderful, and there are only a handful of natural (usually all edible) ingredients in each product.
If you haven't given the Bend Soap products a try yet, NOW IS THE TIME!
They just launched their brand new spring scents TODAY — and I can attest to the fact that they are absolutely fantastic.
My favorite spring scent is Lemon Lavender. Oh my word — it's glorious!
The soothing smell of lavender with just a hint of the "Lemon Pledge" smell that I absolutely love (is that weird?)
I recently tried the Lemon Lavender sugar scrub. It' was the perfect way to slough off rough, dead skin to get my feet, elbows, and knees ready for spring and summer!
And speaking of summer, the Coconut Lime lip butter is like a mini tropical vacation for my lips.
The first time I put it on, Simon immediately asked: "what smells like Florida?" Kids are so funny!
Bend Soap is a family-owned and operated company with extremely high standards and excellent customer service. I highly recommend ALL their products.
They have free shipping on orders over $50, and you can get 10% off by using the code: AD10 today!
.
Seatbelt Cutter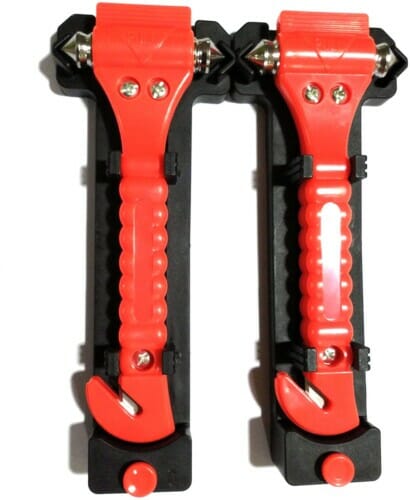 It has taken me a while to feel "ready" to share this story online… but I do want to share it in hopes that it will help someone else be more prepared for a similar situation.
Several months ago while running errands Simon decided to pull his seatbelt all the way out and wrap it around himself several times.
When he let go, the seatbelt slack retracted… and the seatbelt LOCKED (because he had pulled it all the way out).
He started to panic and said he couldn't get out.
I didn't believe him right away, but I did pull over into a parking lot to see what was going on.
I immediately realized he was, in fact, TOTALLY stuck in his seatbelt — and it was REALLY tightly wrapped around him.
Being highly claustrophobic myself, I immediately felt the panic and anxiety rising in me as I had no idea what to do.
Then I remembered A LONG time ago, I had purchased this Emergency Escape Tool with Seatbelt Cutter for the van!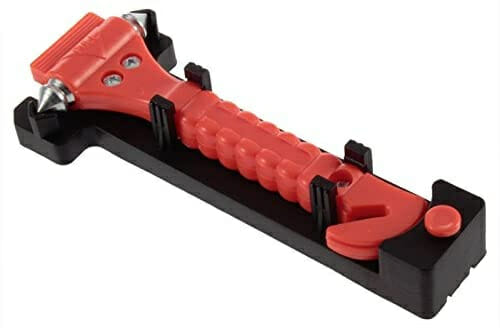 Thanks to a helpful brother-in-law who knows how to fix anything car-related, we were able to get Simon out of his seatbelt and have my brother-in-law fix our seatbelt again right then and there (we were close to his work).
I know that in the grand scheme of life, this was a very minor "incident" but at the time, it was REALLY scary.
We felt fortunate that the seatbelt was wrapped around Simon's stomach and ribs and not around his neck… and that he stayed very calm throughout the entire process.
I don't want to cause unnecessary fear or "alarm" (especially not in our current climate) but considering this Escape Tool + Seatbelt Cutter is less than $8 (FOR A 2-PACK!), it's definitely something I recommend adding to your Amazon cart and stashing in every vehicle you own!
.
Food Dehydrator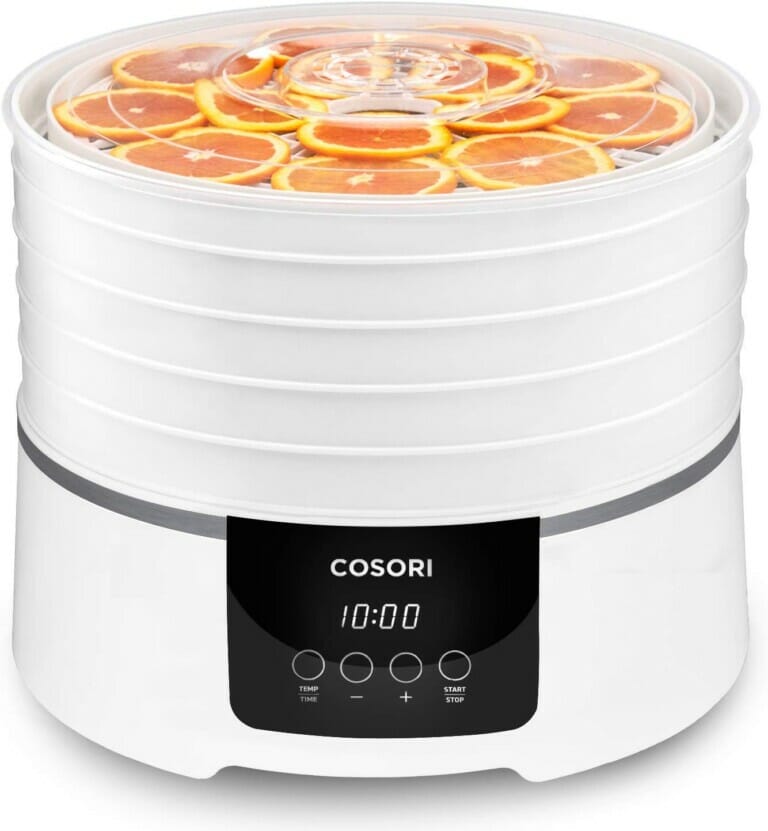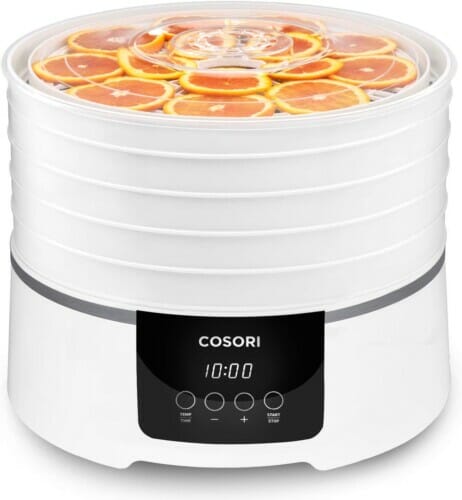 This is one kitchen gadget I've wanted for a REALLY long time but never justified buying one because I didn't want to store it in my kitchen.
After rearranging a few of my kitchen cabinets a while back, I decided I had plenty of storage space for a food dehydrator!
I got this Cosori food dehydrator and so far, I am very happy with it.
Of course, I don't have experience with any other dehydrator, so I can't compare — but the price was super reasonable and it fully meets my needs right now.
The "footprint" is actually relatively small, and it comes with 5 trays, a fruit leather sheet, and a mesh screen.
I haven't even come close to utilizing its full potential yet, but I'm excited to continue learning. I'm confident this appliance will be an excellent addition to my kitchen and my goals to move towards more nutritional, produce-heavy food choices.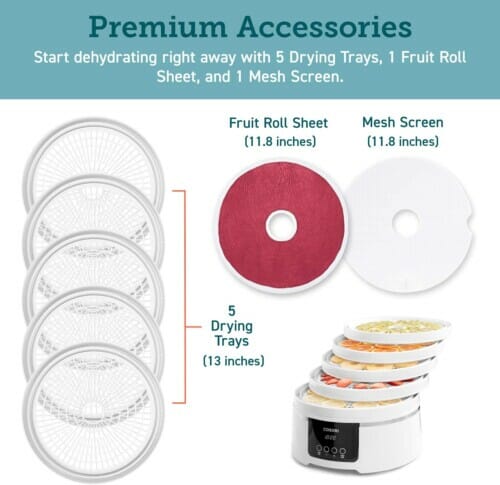 I plan to make LOTS of dried apples next fall. These are one of Dave's favorite snacks from his childhood but I can't make them well in the oven.
I also hope to make some dried citrus decorations next Christmas — I think these would be fun for the kids to help with, and SO "farmhouse"! 🙂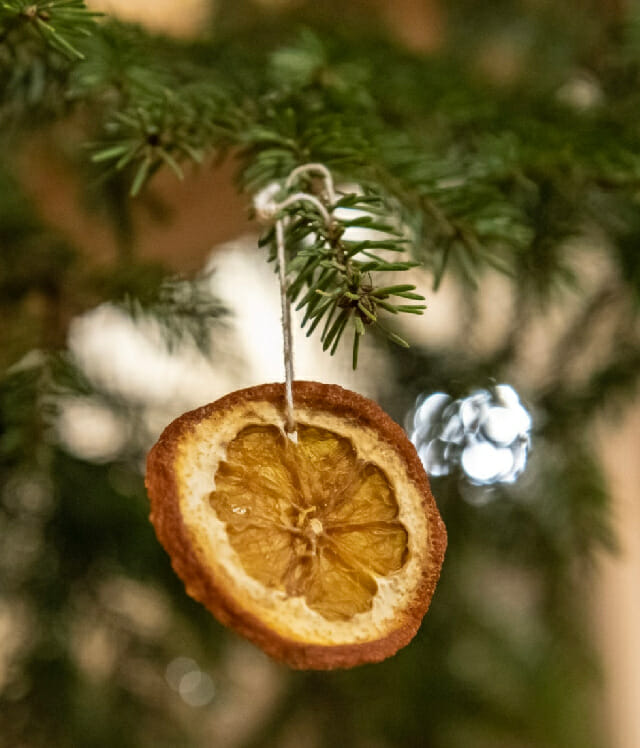 If I feel really ambitious, I might even try soaking and sprouting some of my grains and then dehydrating them to make sprouted flour. I know it's a lot of "busy work" but I'm mainly just curious and want to try it!
.
Daily "Fun To-Do Lists"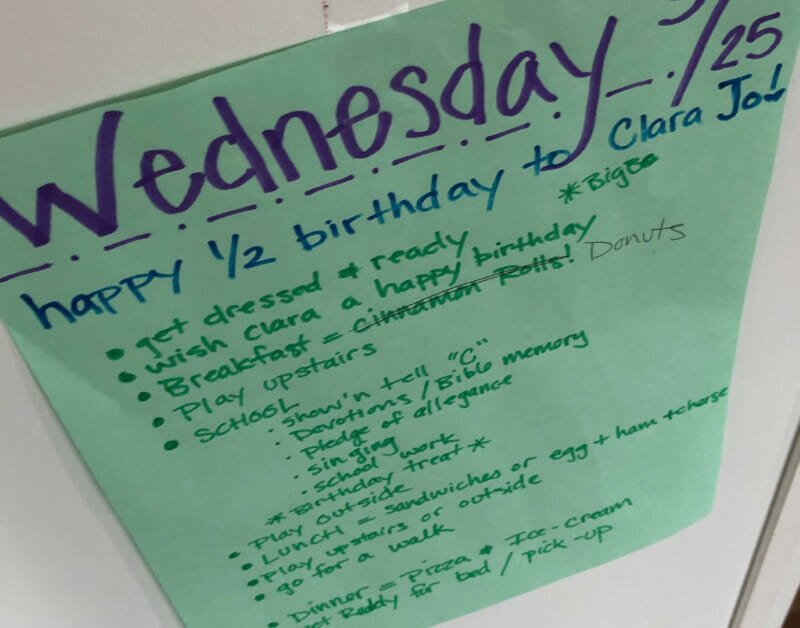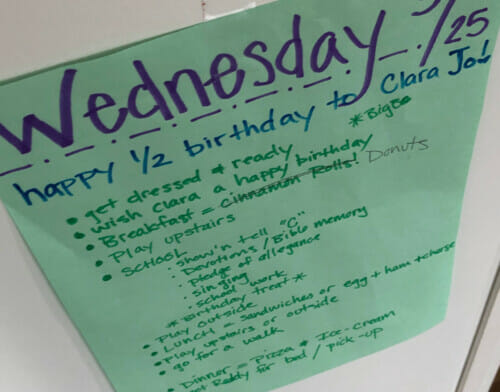 A couple of years ago, during summer vacation, Dave and I were tired of being asked "what can we do next?" and "can we have a snack?" ALL. DAY. LONG.
Since Nora was just learning how to read at the time, we decided to make a very detailed "to-do list" for the kids the following day.
We wrote down EVERYTHING we planned to do, what we would eat for every meal, when we would have snacks, when they would get to watch a show, etc. etc. and taped it to the side of our kitchen cabinets.
To our surprise, it actually worked! The kids almost never asked us "what to do" — instead, they asked Nora to read the to-do list for them!
They thought it was THE BEST thing ever and immediately asked us to make a "Fun To-Do List" every day.
Obviously, we don't make one every day, but we try to make Fun To-Do Lists a couple of times every week throughout the summer. We also make them quite often over Christmas break, Spring Break, and any other school breaks.
So over the past few weeks, we've made the kids a Fun To-Do List every weekday… and it's the very first thing they check when they wake up.
The funny thing is, we really don't put that many amazingly fun things on the list…
everyone picks a game to play
go outside or go for a walk outside
Simon gets to pick the show to watch while we have a snack
build a fort upstairs and then play upstairs for a while
make cards/pictures to mail to people
help mom make dinner
clean out closets and go through toys
play with gak
jump on the tramp
bake cookies
Just normal, every-day things that are apparently SO much more exciting when they are on a list!
These Fun To-Do Lists have become one of Dave and my favorite things as they keep our children occupied and drastically reduce the number of nagging questions we get on a daily basis!
Seriously, who would have thought something SO simple, could make such a big difference?
Have you ever tried this before?
.
Organize 365's Sunday Basket System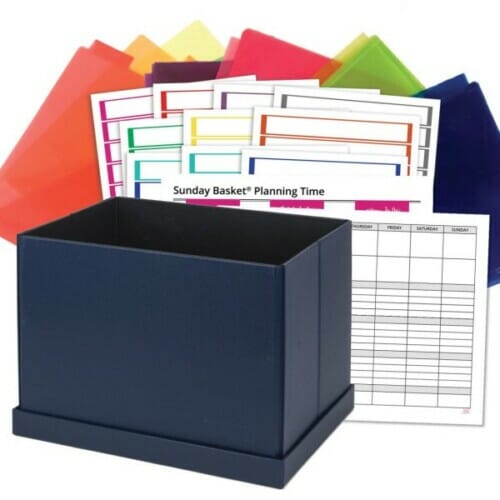 Lisa Woodruff from Organize 365 is one of my LOOOOOONG-time blog readers and blogging friends — way back to 2011/2012 when we were both just getting started.
Lisa is a wealth of information when it comes to paper management and productivity.
The "Sunday Basket®" System is her amazing paper organizational system that walks you through the process of creating a system to organize every piece of paperwork in your home and life.
And when I say "walks you through the process" I REALLY mean it! You get ALL the tools, resources, and materials you need.
Upon purchasing the Sunday Basket® System, you will receive the physical "Sunday Basket" + slash pockets used to organize your paperwork (you may choose the color of your basket).
You also get loads of printables, instant access to her motivational workshop teachings, and several video and audio files (all in your online dashboard) to help you set up the ideal system for YOUR paperwork.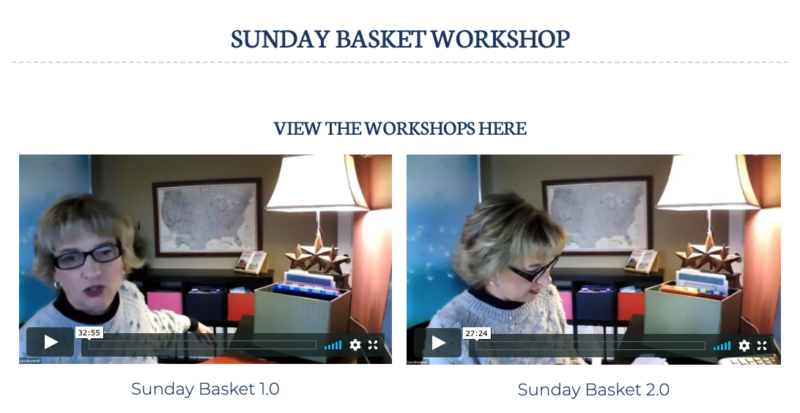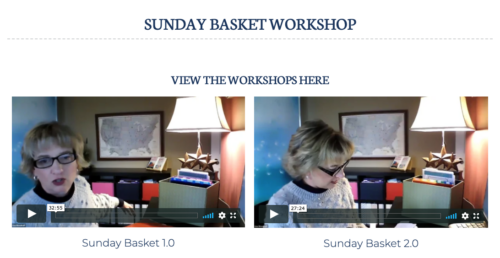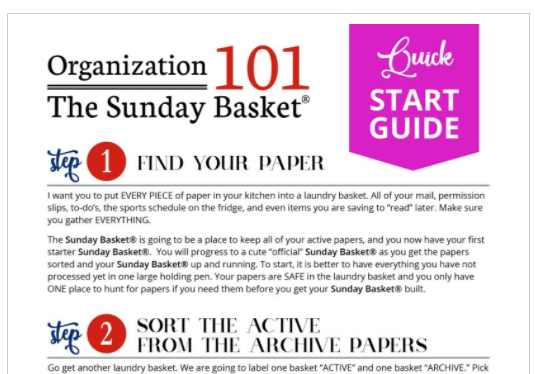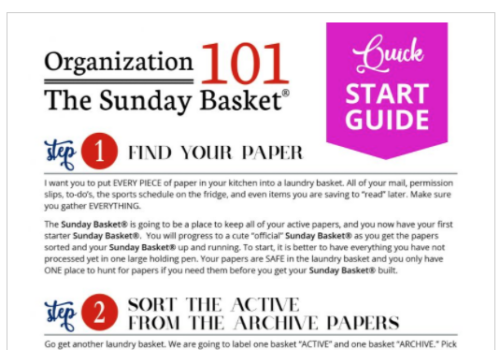 I joked with Lisa when she first came out with her Sunday Basket® System because it was essentially the system I had been using for years in my own personal life. She just figured out how to package it into a really fantastic offer and sell it!
Seriously though, the idea of a Sunday Basket® (or a portable location to put your paperwork throughout the week, with the intentions of dealing with it on a specified day — namely Sundays) is the exact method I use to stay on top of all the paperwork that comes into our home each week.
My basket lives in the dining room and I go through it every Saturday or Sunday afternoon, taking action on every piece of paper in my basket.
Then I start over again the next week.
It's so simple… but SO effective!
If you're struggling with disorganized paper clutter taking over your home, I highly recommend Lisa's Sunday Basket® System. It's a perfect "stay-at-home" project to tackle over the next few weeks — one you will benefit from for years to come!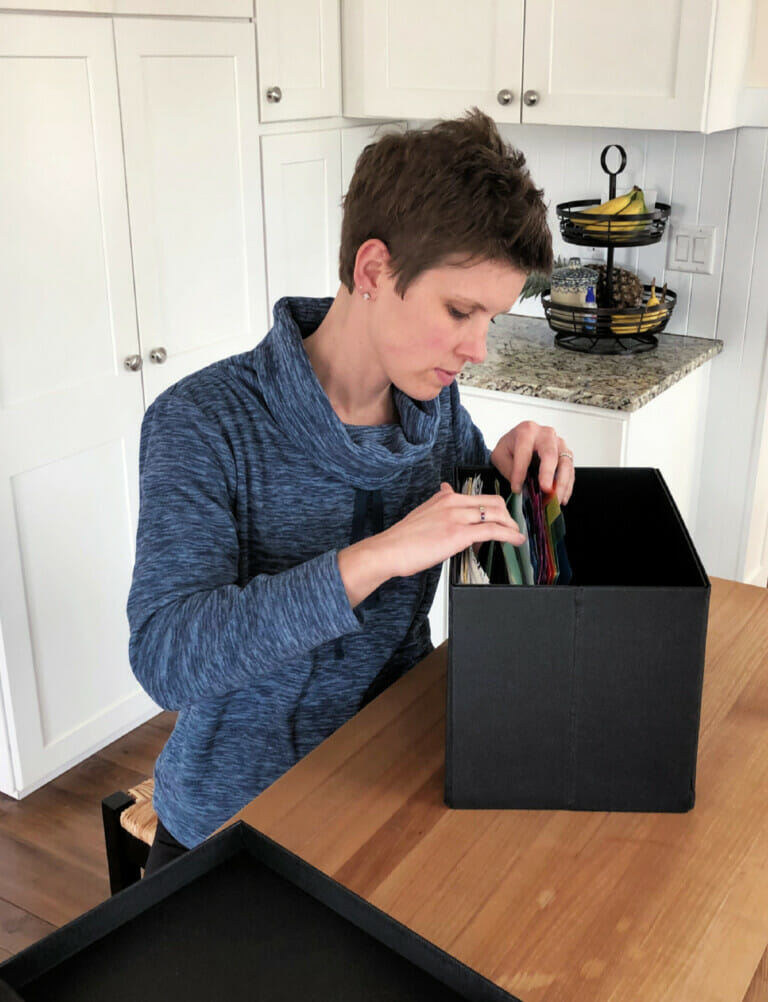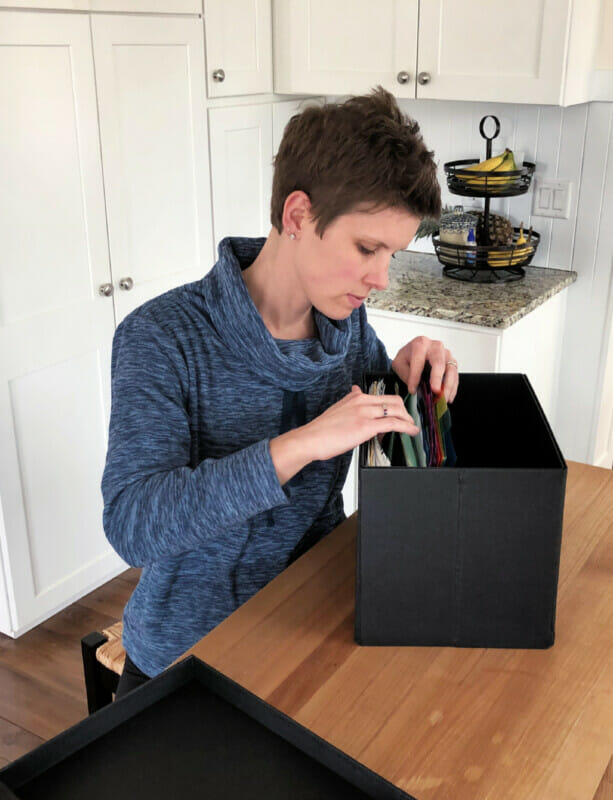 .
That's all for me this month.
Check out my previous months' favorite things — and feel free to share some of YOUR favorite things in the comments below!
Also, check out my Amazon Market for all my favorite things.