Our New Outhouse Garden Shed
posted by Andrea | 07/22/2014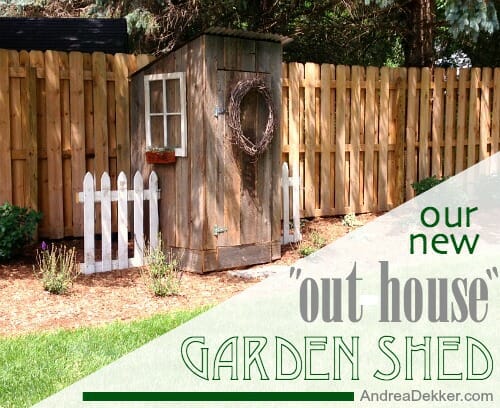 When I was growing up, one of my friend's lived in an old farmhouse — and in their back yard, they had an outhouse garden shed. I remember thinking the little shed was SO cool and that someday, when I had my own old farmhouse, I too wanted an outhouse garden shed. The outhouse shed has been on my to-do list since we purchased our farmhouse 3 1/2 years ago — but I knew we needed to focus our renovation efforts on the inside of the house first. Last year when we started our yard projects, I excitedly planned for where we would eventually put an outhouse. And as of a couple weeks ago, we have a finished outhouse garden shed! I couldn't be happier without how it turned out.
The plan has always been to put the shed along side the fence on the west side of our property. We figured it would break up the planting bed along the VERY long fence line and look really cool from our bedroom window (see view below).
Shockingly, I didn't have too many opinions on what our shed should look like — as long as it was the approximate size of an outhouse (and I'm honestly not even sure what the size of a real outhouse is so we just guessed). Our shed is about 3 ft square. I thought that would potentially be too small to be functional, but it's actually working pretty well so far. We have plenty of room for our various garden tools and it looks just a about perfect from the outside. NOTE: I will eventually put hooks on the wall for our tools — but for right now, they are just setting in there as I'm not exactly sure what we'll want to keep in the shed long-term.
I realize that right now, the shed kind of looks like it's plopped awkwardly in the middle of teeny tiny plants against our fence. However, in about 2 years, the plants will be nice and full all around the shed.
We have a grouping of larger hydrangeas to the left of the shed, a bunch of tall ferns to the right of the shed, and purple Salvia in front. I'm also planning to put a few annuals around the shed area for more bursts of color.
Probably one of the coolest things about this shed (at least for Dave and I) is that the wood on the outside of the shed is wood from the big old barn that used to live on our property many years ago. Long before we purchased this home, the barn was torn down to make room for more houses. The homeowners were smart enough to salvage lots of the barnwood — which they used to line our basement walls. All we had to do was pull it off the walls to build our shed. Not only did this save us a bunch of cash, it's also a nice little "sentimental" detail — almost like a tiny piece of the old barn is back where it belongs! Cool huh?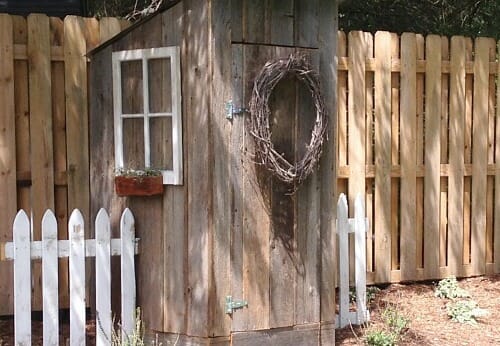 I was originally thinking of doing a step-by-step 'how we built it' post — but then I realized that would involve a lot of boring pictures and explanation. I also realize that most of you probably just want to see the "after" pictures. So, I won't be sharing all the details, but here's a general run-down…
We built the frame in out of treated 2″ x 4″s and treated plywood in our garage.
Once the frame was built, we moved it to the location by our fence (it was SOOO heavy) and then we put the old barnwood on the outside.
We put the door on after everything else was finished.
We used one 2′ x 26″ piece of corrugated steal (from Lowe's) for the roof. We cut it in half so it was roughly 4′ x 4′ and overlapped it to cover the roof.
There is no cement foundation — just an extra thick treated plywood floor that sits up on top of a treated 2″ x 4″ frame.
I think we spent just under $100 for materials — which I don't think is bad for a really cute shed 🙂 I'm so happy with how this project turned out. Even though we have plenty of storage space in our garage, it's nice to keep some of the yard tools in this shed which is closer to the majority of our planting beds. And also… Nora LOVES her "outside house" 🙂