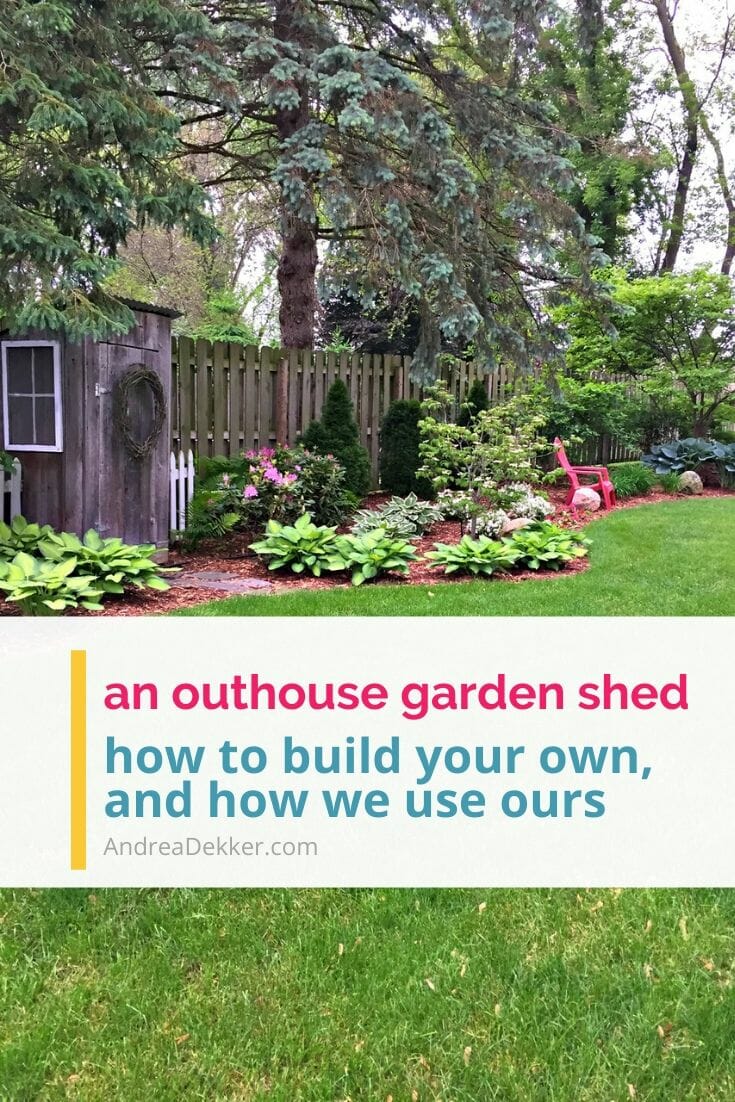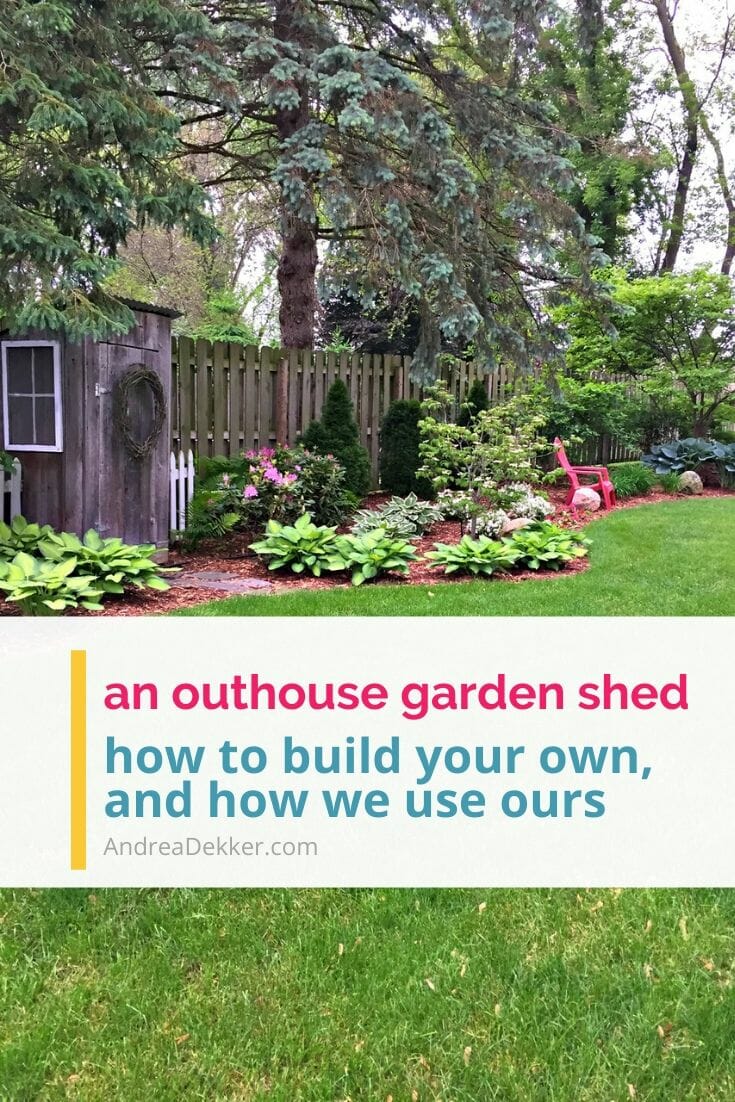 I've always loved the idea of utilizing a fake outhouse garden shed as extra storage in our very large yard.
In fact, even when I was quite young, I remember thinking how cool it would be to live in an old farmhouse and build a pretend outhouse that would double as extra storage for gardening tools, hoses, fertilizer, etc. etc. Yes, I realize that's a strange thought for a little girl!
Now that I'm "all grown up", I'm still totally in love with the idea of an outhouse shed tucked back behind hydrangeas, hostas, and azaleas.
It fits the landscaping of our 130-year-old farmhouse just perfectly!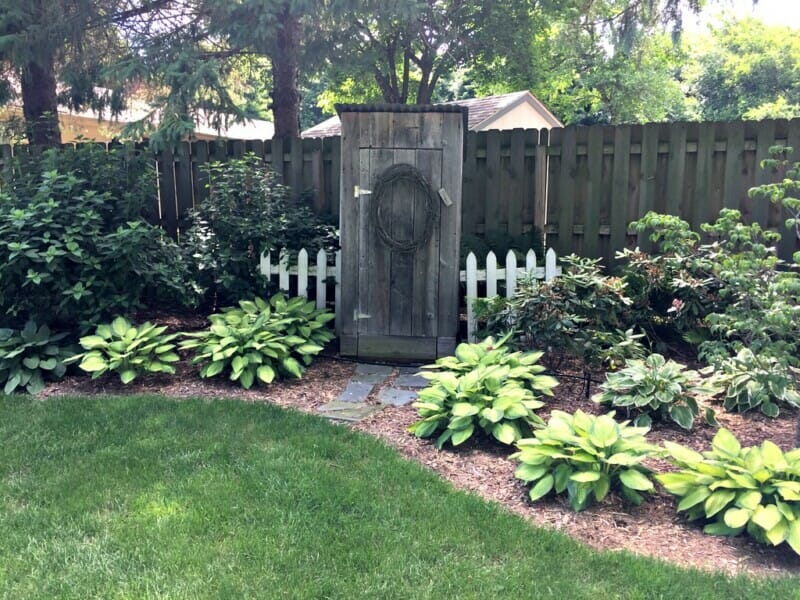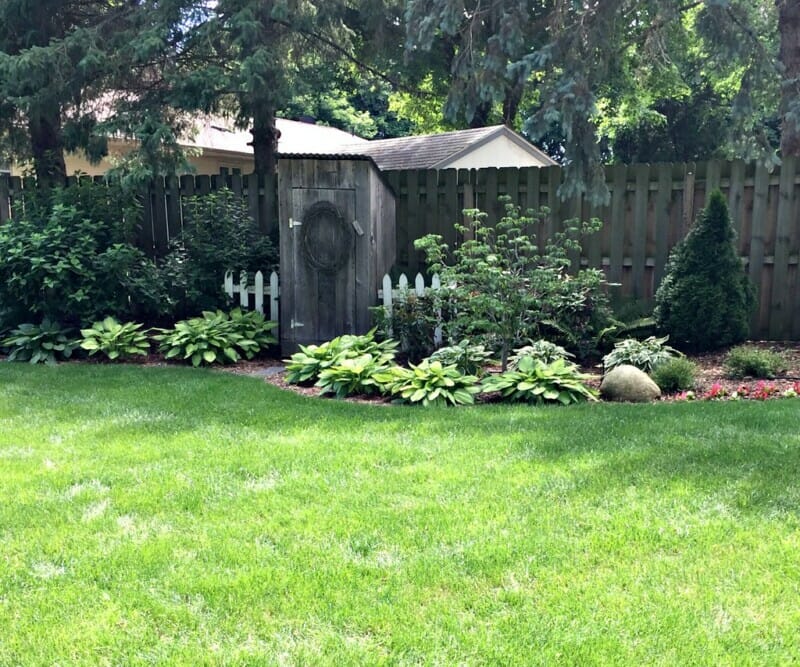 Our outhouse garden shed is SO stinkin' cute and it's a great conversation-starter whenever new visitors notice it!
Many believe us when we say it's "original to the house" — LOL!
If you've contemplated building your own outhouse garden shed (or just buying one), I highly recommend it!
Even if you don't have an old house, an outhouse shed is such a fun addition to any size yard and any type of landscape design.
Here are a few more pictures of our outhouse garden shed: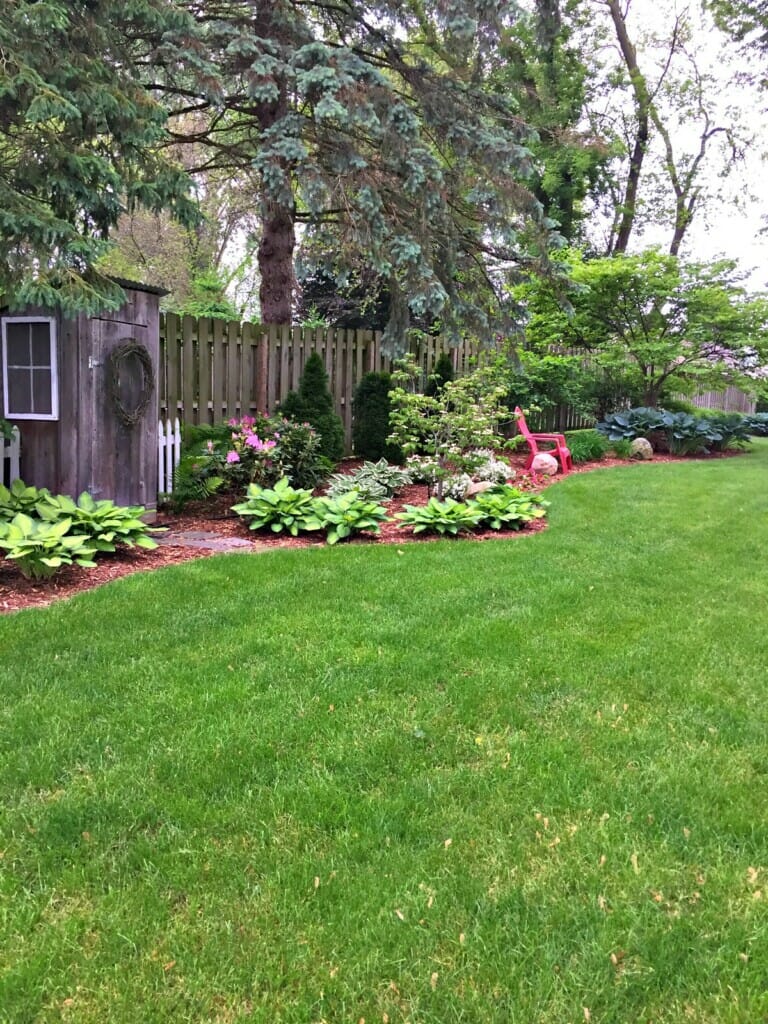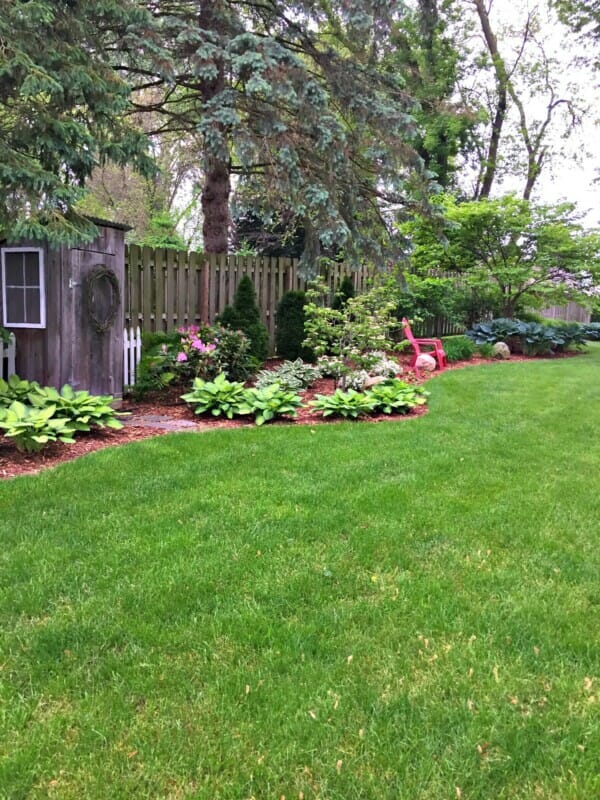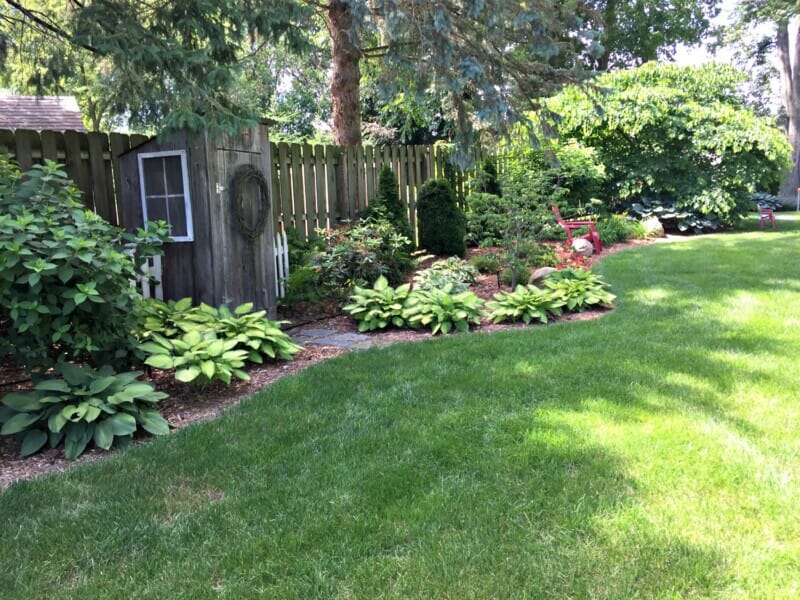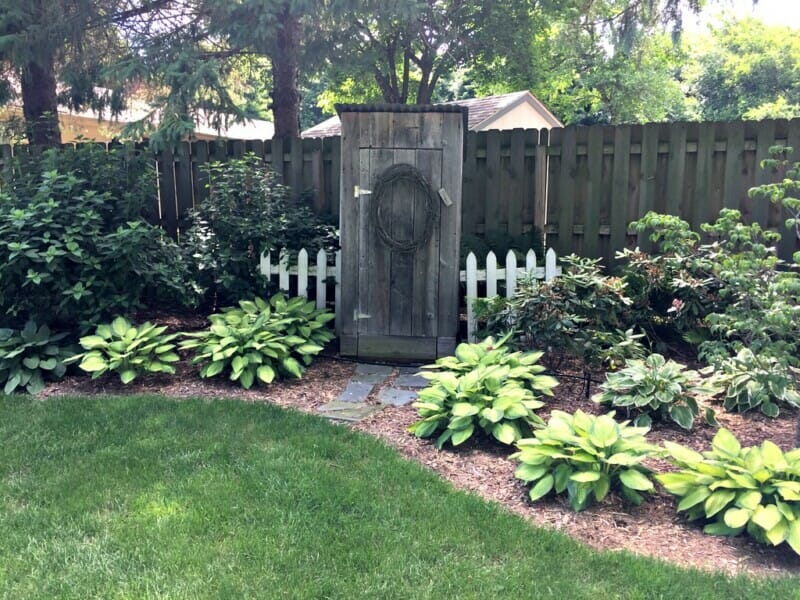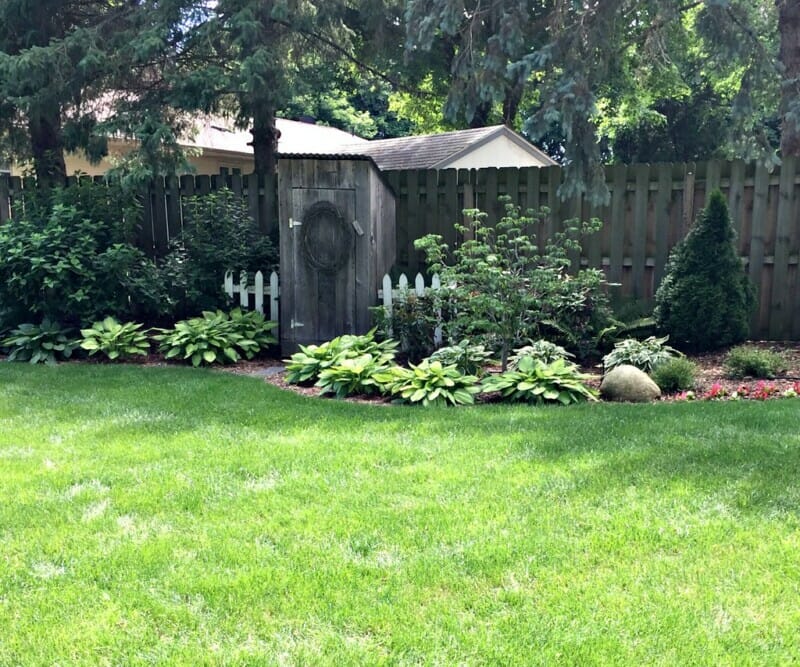 Of course, the landscaping wasn't always so "full" back when we first built our shed.
Here are a few pictures of what our little outhouse shed looked 6 years ago.
And one more "current" picture from last year.
The landscaping sure has filled in nicely over the years!
How to Build an Outhouse Garden Shed:
We built a 3 ft. x 3 ft. "shell" from treated 2″ x 4″s and treated plywood.
Once the frame was built, we moved it to the location by our fence (it was SOOO heavy). Then we covered the plywood frame with old barn wood on the outside.
Honestly, if we had waited to move it until after we put the barn wood on, I'm not sure we would have been able to carry it!
The door went on last after the barn wood — I just love this style of door (these are the hinges we used).
The pavers were all found on our property!
I wanted a corrugated steel roof, and thankfully 1 sheet was plenty. We borrowed a special saw from our neighbor to cut the steel. And since we only used half the sheet, I was able to sell the unused half on Craigslist!
If I did this project again, I probably would have tried to find USED corrugated steel so it had an aged look — but over time, our roof has gotten more of an aged look (which I love).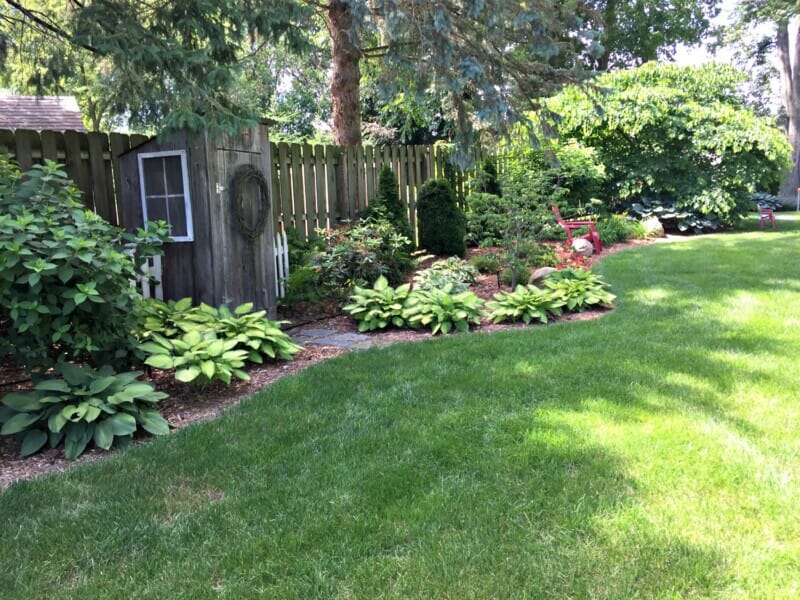 We did not think a cement foundation was necessary. However, if your shed is larger, this might be something to consider. We simply used treated plywood for the floor and screwed it on top of a treated 2″ x 4″ frame.
It's been almost 7 years, and our shed shows no signs of rotting.
More Shed-Building Resources:
Here's a video tutorial (not my video) that shows the process of building an outhouse garden shed almost exactly like ours.
Here's a set of FREE written plans to build a shed like ours — with the sloped roofline.
And here are more FREE plans for 18 different types of tiny sheds (seriously, they are all so cute — I want to build more!)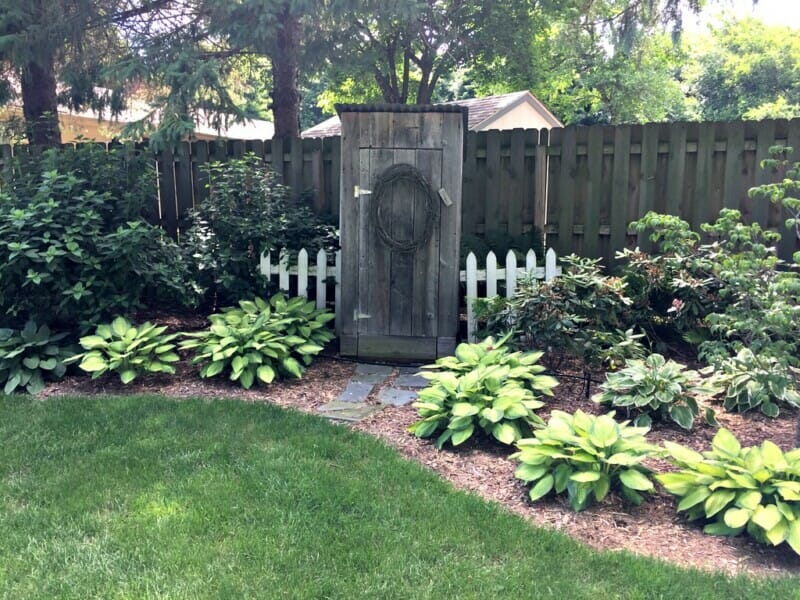 How we use our outhouse garden shed:
We have used this shed for SO many purposes over the years…
smaller yard tools
hoses, watering cans, and sprinklers
extra pots, soil, fertilizer, and other potting needs
kids toys
lawn games
a stack of lawn chairs
There's more space inside our tiny shed than you might think!
Plus, we've added hooks and shelves as necessary (depending on what we want to store inside).
The "history" behind our outhouse shed:
Probably one of the coolest things about our shed is that the wood on the outside of the shed is salvaged wood from the original barn (many years ago).
Long before we purchased our home, the barn was taken down to make room for more houses. The current homeowners were smart enough to salvage lots of the barn wood — which they used to line the walls in our basement.
All we had to do was pull several chunks of wood off the basement walls to build our shed. Not only did this save us a bunch of cash, it's also a nice little "sentimental" detail.
Plus, it made our shed INSTANTLY look old and loved!
It's almost like a tiny piece of the old barn is right back where it belongs.
Cool huh?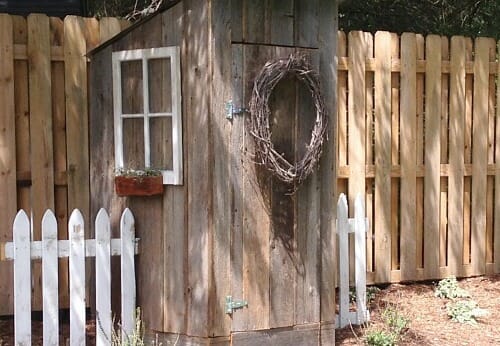 How much we spent on our outhouse garden shed:
We spent just UNDER $100 for all the materials. Not bad for a really cute shed!
Of course, we got the barn wood for free — and I already had the window, the wreath, and 2 sections of picket fence.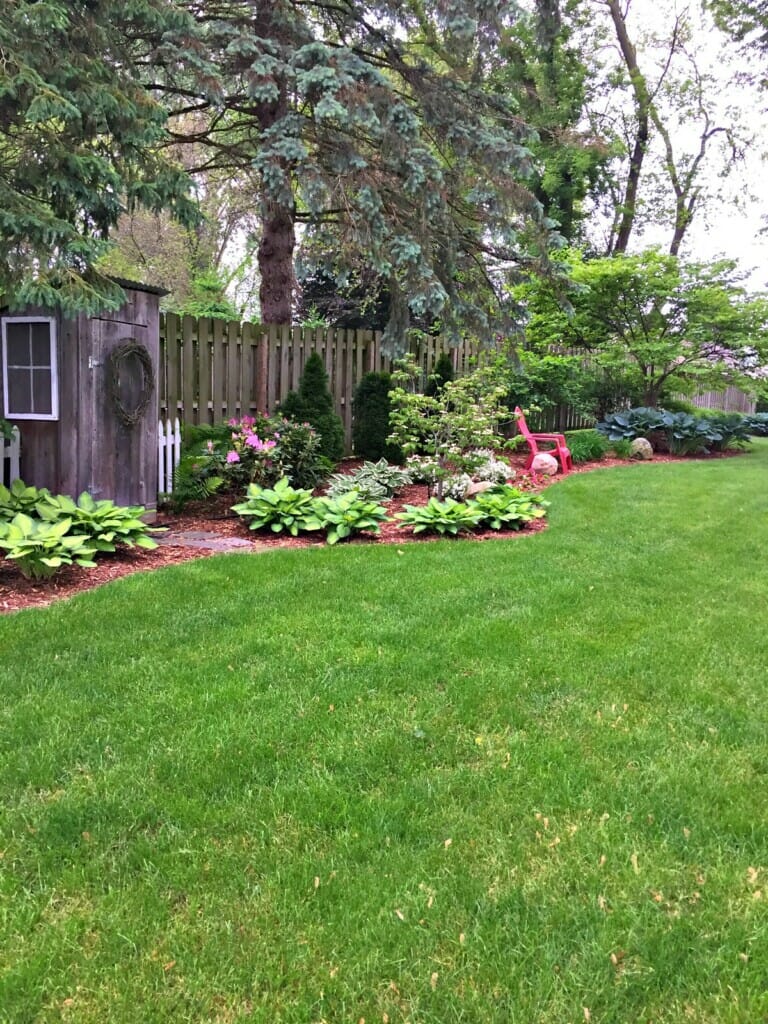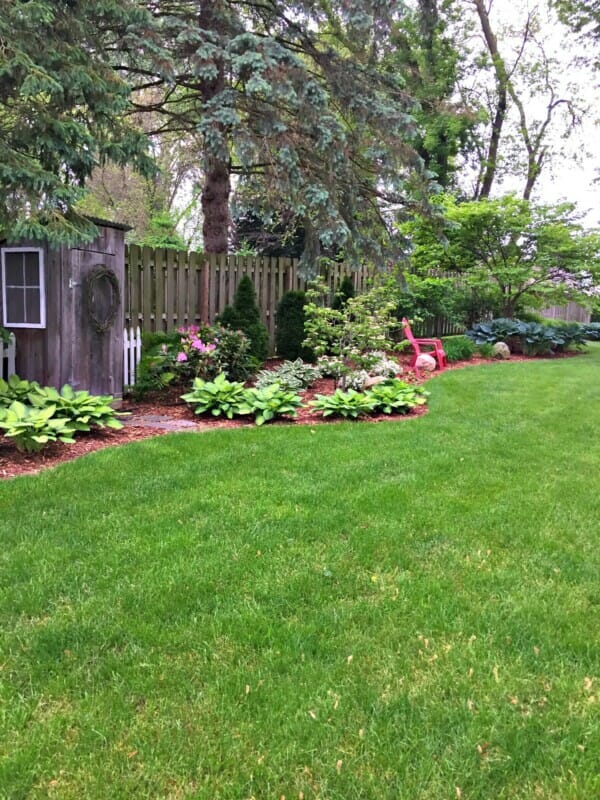 Related Reading:
We are so happy with how our outhouse shed project turned out. It's truly exactly what I envisioned so many years ago!
No matter what type of house you have, how big or small your yard is, or what your landscaping style is, I'm convinced there is a place for a tiny outhouse shed SOMEWHERE!