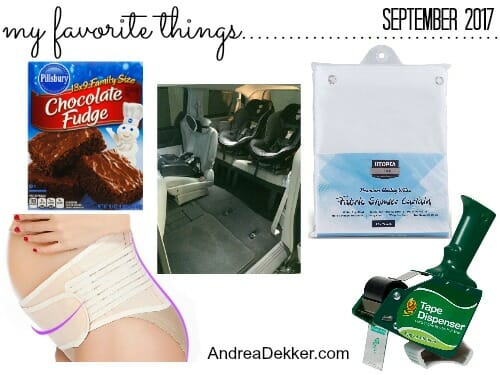 Since my due date is September 18(ish), I think I can officially say that it's "Baby Month" here in the Dekker house!! Even with my history of going almost 2 weeks late, I really don't think there's any way my doctors would let me go until October… at least I hope not!
I'm honestly trying to soak up these last couple weeks of being pregnant — not because I just love feeling huge and uncomfortable so much, but because there's a decent chance these will be the last moments of my life I'll ever be pregnant. I'm not sad or emotional about it (at least not right now!) but I do think there will come a time when I think "I wish I could feel a baby move inside me again" so I'm trying to enjoy all her moving (one of my favorite parts of being pregnant) instead of bemoaning the fact that it keeps me awake A LOT at night!
With that said, here are a few more of my favorite things!
DISCLOSURE: None of these products are sponsored; however, some of the links below are affiliate links — which means that at no cost to you, I may get a small commission. Please know that I use these products daily in my own home and life. Read my full disclosure policy for more information.
Fabric Shower Curtain: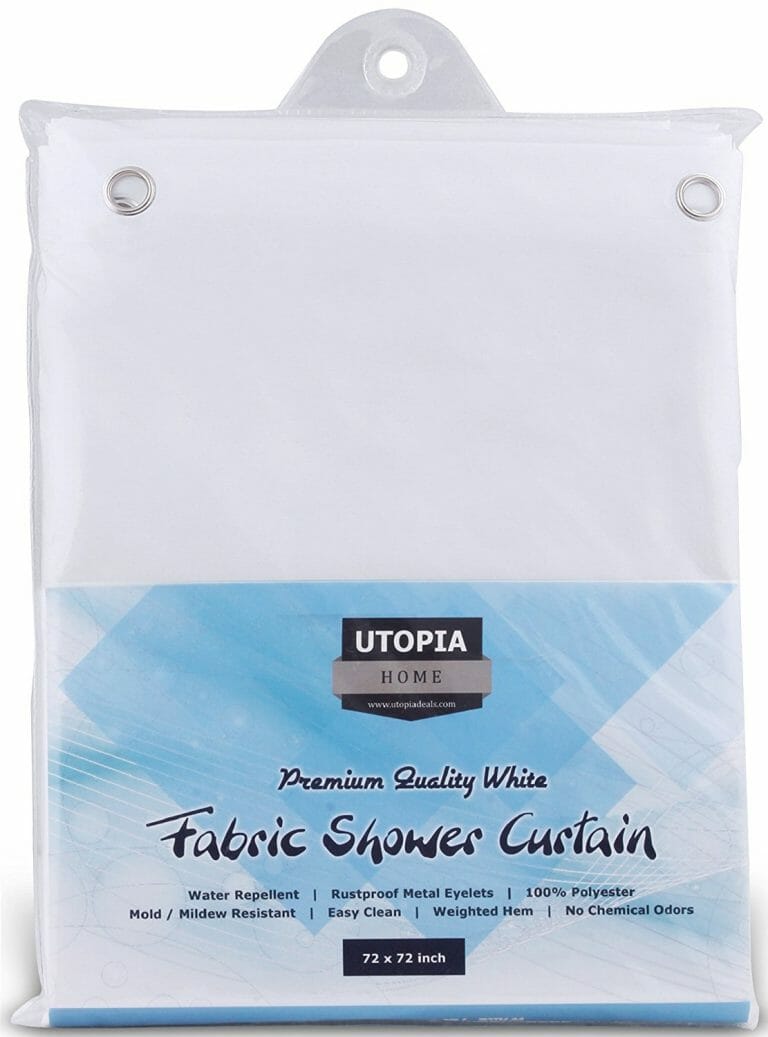 Up until about 3 months ago, I had always used a vinyl or plastic shower curtain — replacing it every few months (or whenever it got gross). I know you can technically scrub them down and reuse them, but I never felt like scrubbing them down, and they were so cheap that I just tossed them.
I had been interested in trying a fabric shower curtain for several years already — I liked the look and the feel much better than the plastic curtains, and they could simply be tossed in the washing machine when they got dirty.
The only issue was I could only find fabric shower curtains that were 72″ tall (usually 52″ or 72″ wide), and our master shower needed a curtain that was 84″ tall, but only about 30″ wide.
So I kept using the extra long plastic curtains I found at our grocery store… until I finally decided to simply "alter" a fabric curtain to fit our shower.
Back in May, I purchased a really nice fabric shower curtain, cut it in half, and sewed panels of extra fabric to the bottom of the curtain to create a layered effect that made the curtain 84″ long.
I love the look and I love how easy it is to keep clean!
NOTE: I have since found a fabric curtain on Amazon that is 84″ long 🙂
.
Stow 'n go Seats in our Van:
One of the main requirements when we searched for a minivan a couple years ago was that it have stow 'n go seats so we could easily fold seats down into the floor when we weren't using them.
Some of our friends (all of whom drive SUV's) thought we were nuts for having that as a main requirement — but Dave and I have never regretted that decision because our stow 'n go seats are absolutely AMAZING.
Since we purchased the van, we have kept the driver's-side bucket seat "stowed" to make it SUPER easy for all the kids to get in and out of the van — and extremely convenient for Dave and I to climb into the van to buckle car seats.
Not to mention we have a massive amount of floor space for groceries, bikes, scooters, my latest Craigslist find, or even to change a diaper!
And if we "stow" all the seats, I can easily fit large furniture items in our van (we hardly even want a truck anymore!)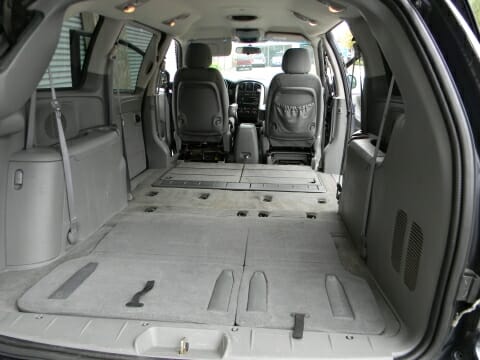 I think the extra space in our van is the one thing Dave and I are both sad about now that we'll be adding a 4th carseat in a couple weeks. Since we can't fit 3 carseats in the back, we'll need to use both bucket seats for the next several years.
At least Nora can get herself buckled in and usually helps with Simon too 🙂
.
Pregnancy Support Belt: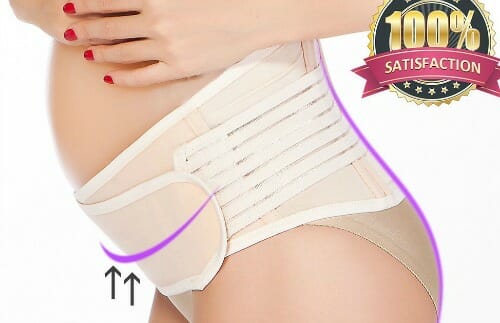 After 3 pregnancies, I finally broke down and purchased a Pregnancy Support Belt this time around.
There are claims that these types of belts will prevent stretch marks, varicose veins, and diastasis recti, but I'm not super optimistic about any of that. I just wanted something to alleviate some of my lower back pain and "lift" my big belly up a bit!
This support belt does that for roughly $15 — and for that, I am very grateful!
It's pretty comfy to wear, you usually can't tell I'm wearing it (even under tighter shirts), and it honestly doesn't make me extra hot.
I don't wear it all the time — usually for a few hours in the morning and then again for a few hours in the afternoon. I try to wear it if I know I'll be moving around a lot, lifting or bending a lot, or just on my feet a lot.
Definitely a good buy, and something I'll pass along to my sisters once I'm finished being pregnant!
.
Store-Bought Brownie Mixes:
I know, this is a weird one — and I promise, it's not a pregnancy craving!
I grew up on boxed brownie mixes, and I honestly almost never make brownies from scratch (even though I really enjoy baking). It's just SOOOOOOO easy to add an egg, water, and oil (and usually a handful of chocolate chips). I can have the brownies ready for the oven before it even finishes preheating — and they always taste so delicious.
Perfectly done, chewy with a crunchy "crusts" around the outside, and easily customizable with a few extra ingredients.
Add in chocolate chunks, peanut butter, M&M's, a layer of caramel, cream cheese, or place flattened cookie dough on top of the brownie mix for an extra special treat — and then, of course, there's always frosting!
I do make a lot of things from scratch, but "semi-homemade" brownies are much preferred over homemade in our house!
Oh, and I'm not brand loyal — whatever is on sale works for me!
.
Packaging Tape Dispenser: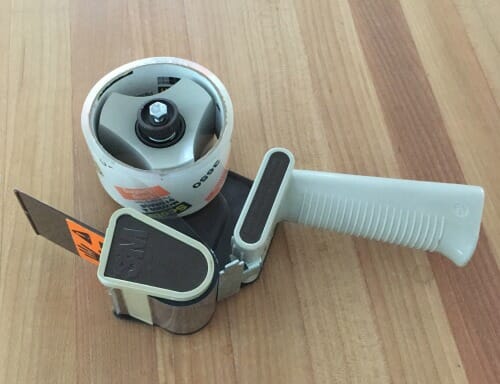 I get a lot of packages — partially because I order a lot online, but also because bloggers often get LOTS of packages!
This also means I send a lot of packages in return, and I need a way to securely close those packages.
Thankfully, I purchased a packaging tape dispenser back when we first moved to our farmhouse — thinking I'd probably never have another use for it again after we moved. Little did I know I'd still be using the same tape gun on a weekly basis 7 years later!
Definitely a good use of my $6 or $8 — or whatever I paid for it back then!
.
That's all for me this month.
Make sure you check out my previous month's favorite things — and feel free to share some of YOUR favorite things in the comments below.