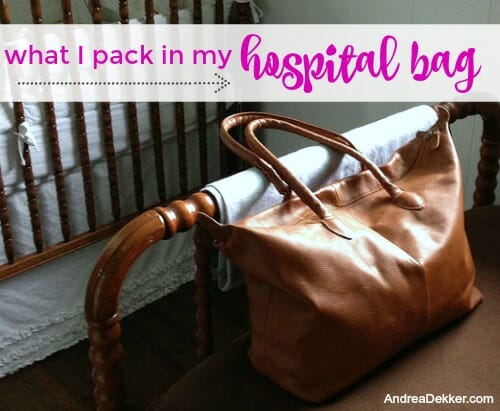 Today marks 1 month until my due date — YIKES!
Nora and James were both almost 2 weeks late and Simon was born right smack on his due date. So far, this pregnancy has been MUCH more like Simon's pregnancy than Nora's and James' pregnancies — so although I definitely wouldn't be surprised if I go past my due date, I also won't complain if this little lady decides to arrive nice and on-time like her big brother did 🙂
No, I don't actually have my hospital bag packed a full month in advance, but I've gotten SOOOOOOOOO many questions asking what I pack in my hospital bag that I figured now was a good time to share… considering I'll be getting my bag packed very soon!
.
First of all, I should mention that the hospital we deliver at is absolutely AMAZING and takes very good care of their new moms and babies. They practically have everything — meaning I truly need to take very little of my own things.
Also, I am not picky. I have NO birth plan, I don't need my own music or candles, I don't mind the thin toilet paper and tissues, and I actually love the hospital food (everything is better when it's served via room service, right!).
And finally, I'm usually only at the hospital for 48 hours or less — and I feel I can make due without most things for 48 hours (maybe everything except my phone!)
That said, here's a look at what I bring to the hospital when I have a baby.
FOR MOM:
The clothes I wear to the hospital (usually yoga pants, a maternity tank, and a cardigan)
2 Nursing Tops (the Glamourmom ones are my absolute favorites and the only ones I wear now!)
One comfortable "outfit" to wear home
A few toiletries (toothbrush, toothpaste, deodorant, mascara, lotion, chapstick, hair wax, hair spray)
Cell phone and charger
Laptop and charger
Our hospital provides comfy robes, slipper socks, water bottles, shampoo, bodywash, mesh underwear, pads, ice packs, all meds, and pretty much anything else I need during my stay.
Also, I use my phone for a camera and for reading ebooks, so I literally don't need to take any "entertainment" for myself. Just nap, read, hold my baby, take cute pictures, watch HGTV, and order room service! I can handle that for 48 hours!
.
FOR BABY:
Infant carseat (we usually have this ready to go and in the car about a week before my due date — just to be safe!)
1 outfit to come home in (including a pair of socks)
1 thin blanket for the ride home
Newborn-size MAM pacifier
Caldesene baby powder — my babies ALWAYS get diaper rash right after they're born, and this powder is amazing. I use it from day 1!
Our hospital provides all diapers, wipes, Vaseline, rash cream (although I still prefer the powder), onesies, hats, receiving blankets, sleep sacks, bulb syringes, and anything else I might need for the baby. They actually do provide a pacifier too, but I just love the MAM pacies so I bring my own!
.
Yes, I'm sure I end up paying for all the "free" things my hospital provides, but since insurance covers a lot of it, and since it's basically standard procedure for our hospital to give all new moms and babies these items, I just make it easy on myself and pack as minimally as I possibly can for my brief hospital stay.
I've never been a hospital patient for anything other than having my 3 babies (and I have been fortunate to have 3 relatively easy and uneventful deliveries) — but I can honestly say that my 2-day hospital stay is basically like a mini vacation for me.
I don't have any visitors except Dave and my immediate family members, I sleep and/or read as much as I possibly can (usually while snuggling my baby), I make sure to order a chocolate milkshake and slice of cake each day, and I ask the nurses to check on me as minimally as possible.
It is GLORIOUS!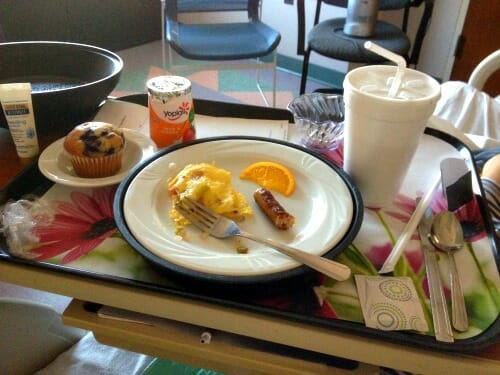 Of course, I'm a sobbing mess on the drive home as my hormones usually kick in right at 36-48 hours, but at least I'm able to enjoy a few super-relaxed hours to snuggle my brand new baby away from everyone and everything else.
I'm back to reality soon enough!
In the meantime, I have a really small bag for Dave to carry to and from my hospital room 🙂
What do you (or did you) pack in your hospital bag?