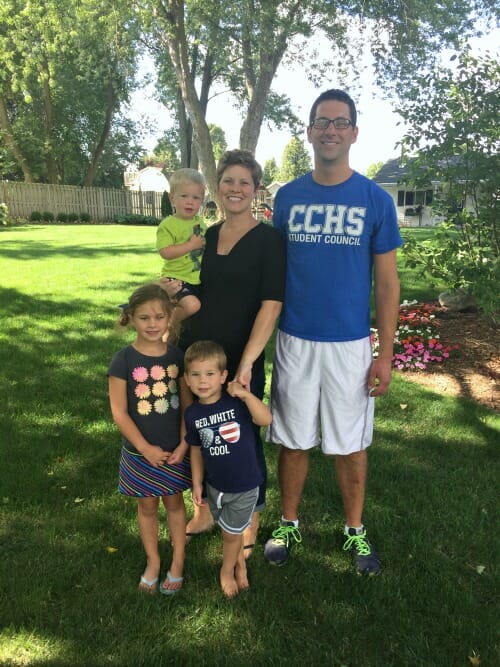 This week is our last official week of summer vacation as Dave's teacher meetings starts up again next week Monday. 🙁
I'm sure you can imagine how glorious it is to have our extremely helpful and hands-on husband and father home for 10 weeks every summer. I feel like I start the countdown to summer the day after Spring Break because I'm just so happy to have him home.
Of course, I'm very thankful that he loves his job (and that he has a job!) but man, are we going to miss him!
I personally feel like I got an extra huge break this summer, because for the first time ever, all our children are old enough that they don't "need mom" all day. They might still LIKE to be by me… but none of them require me or my presence for their survival (a.k.a. no nursing babies for the first summer since 2011!!!!). This means Dave can take all 3 kids to the park, to grandparents' house, or simply just play in the kiddie pool outside without the baby needing to stay back with me.
We hung out a lot together as a family this summer, but we also "traded" on and off taking all 3 kids so the other person could have breaks throughout the week. However, I'm positive Dave gave me more breaks than I gave him! And honestly, it was just perfect timing. With baby #4's arrival just a few weeks away, I'm starting to feel so huge and uncomfortable, hot, out of breath, and have much less energy than my normal, not-8-months-pregnant self!
Although we really didn't DO all that much this summer, this was one of the most enjoyable summers for me, and I appreciate all the time and effort Dave put into making it fun and memorable for our kids (and for me).
With that said, here's a look back at what I blogged about this week in previous years.
2010:
August in West Michigan means LOTS and LOTS of zucchini squash — in the grocery store, at the farmer's market, and in home gardens everywhere.
I shared my newest zucchini recipe last week… but back in 2010, I shared one of our family's favorite zucchini recipes — Chocolate Zucchini Brownies!
They are so yummy, no one will EVER guess they have zucchini in them!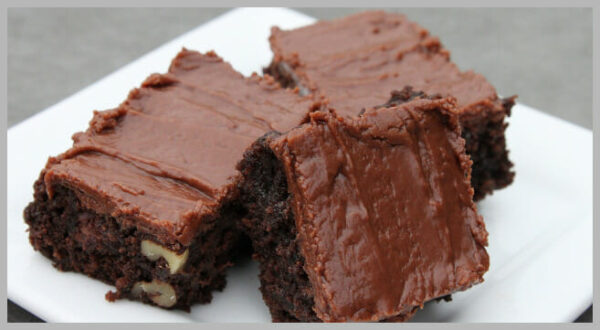 If you're looking for a completely different recipe — something savory instead of sweet, you might be interested in my Greek Orzo.
Orzo is a nice change of pace from traditional pasta or rice side dishes — and it's surprisingly very easy to make!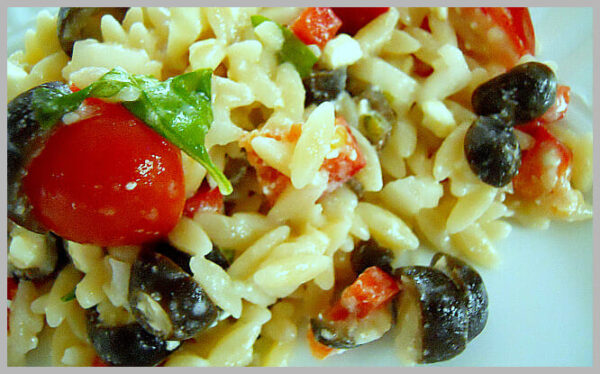 I also shared a handful of little ways I save time — and yes, even 7 years later, I still utilize most of these time-saving tips!
.
2011:
One of my most favorite posts in all my years of blogging was this one about how I organize all my accessories. I still use almost all of these fun organizing ideas — and I ALWAYS get compliments on my "necklace" ladder that serves double duty as a decorative element in our bedroom AND a great organization tool for my necklaces!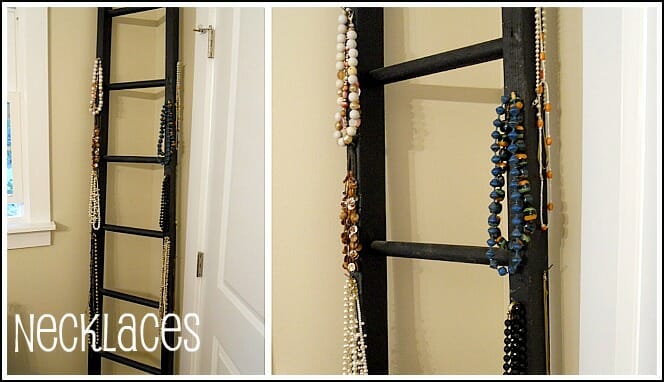 I was in the middle of a clothes clutter series, and I'm happy to say that this post about how to organize kids clothing is still quite relevant, even though I wrote it before having my own children!
If you still have lots of paper recipe cards, you might be interested to see how I organized all my recipes. I no longer have many paper recipes as I find almost everything I need online, but I do still have a few handwritten recipes in my kitchen!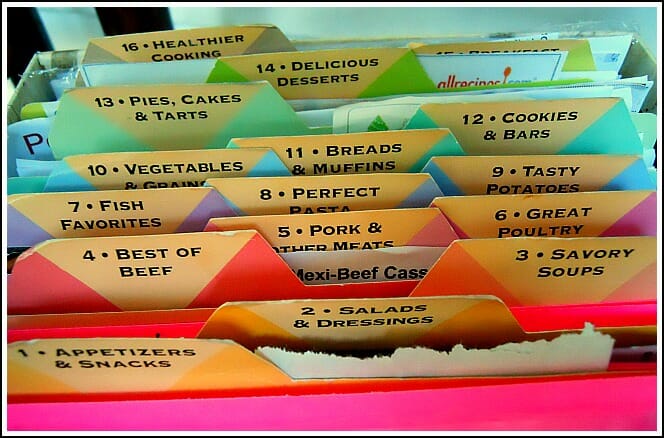 Also, if you're looking for a SUPER yummy, SUPER simple punch recipe, this one is my all-time favorite!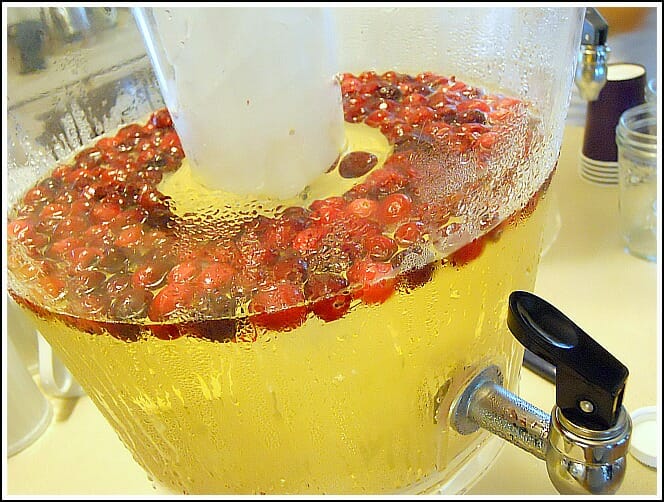 .
2012:
One of my friend's homes was featured in a magazine back in 2012, and after hearing more about her experience, I was even more convinced that we should NEVER compare our homes to the pictures in magazines.
Everything was staged, the magazine brought in fresh flowers, different decorations and props, and they had a whole team of professionals working to make her already amazing house look "picture perfect" just for the magazine. There's no way she would have actually been able to live comfortably in her house that way!
I also shared the customizable version of my Daily Planner.
I honestly don't use these planner pages much anymore — but wow, were they handy for many years of my life!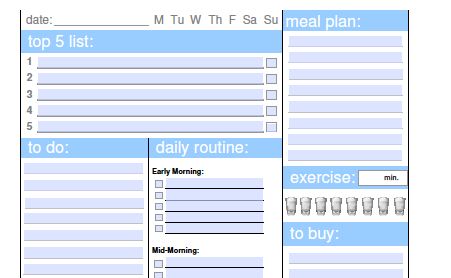 .
2013:
No posts this week as I took the entire month of August off for my blogging break!!
I spent much of the week canning peaches and jam and freezing blueberries (all while feeling super nauseous as I was about 10 weeks pregnant with Simon).
Dave spent the week killing off all the horrible Bent Grass in our front yard, and then re-seeding it.
.
2014:
Another zucchini recipe (yummy Grilled Zucchini!) — because it's August in West MI!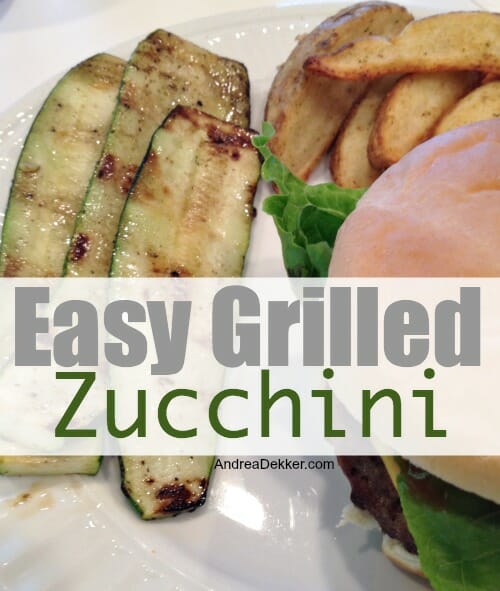 It's no secret that I LOVE online shopping! So it was only a matter of time before I shared several of my favorite ways to save money AND simplify my life with online shopping!
(yes, this really is a package I got on my front porch 5 years ago… whoops!)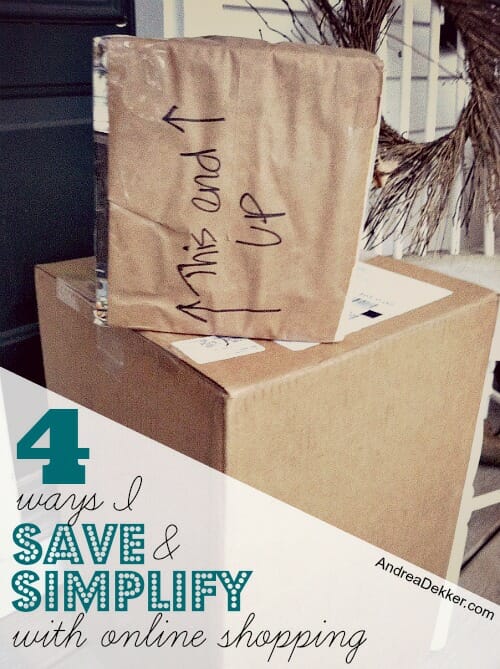 I'm often asked why I don't do more massive purges of my home — I shared 2 of the main reasons in this post.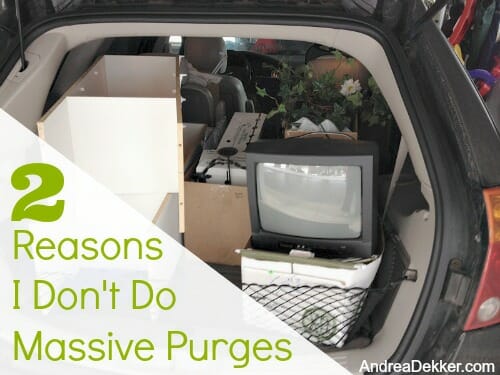 Do you have stinky towels? If so, read this post — it has LOTS of good tips and idea to prevent those nasty-smelling towels!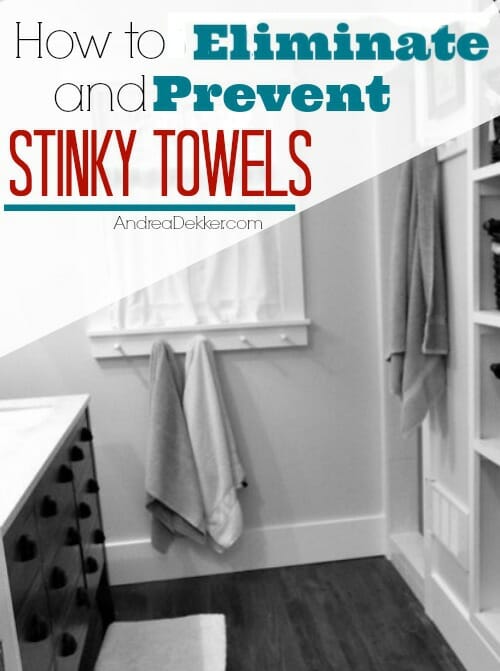 And another one of my favorite posts (and one of my all-time favorite pictures of me with Nora and Simon) — all about how my grocery budget has changed over the years.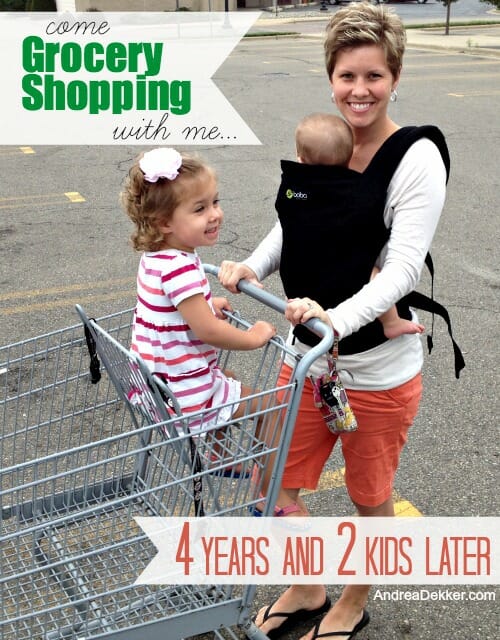 I'm probably due to write another one of these after baby #4 arrives — I seriously can't even get over how much more we spend on groceries now than when Dave and I were first married!
.
2015:
James celebrated his 1-month 'birthday' and I shared a bunch of pictures from his first month of life… wow, does that seem like a LONG time ago already!
I also shared our kid's bathroom renovation — not a complete overhaul, but more like a mini refresh to get us through the next few years. We eventually want to totally gut this space and potentially rearrange the layout — but not right now!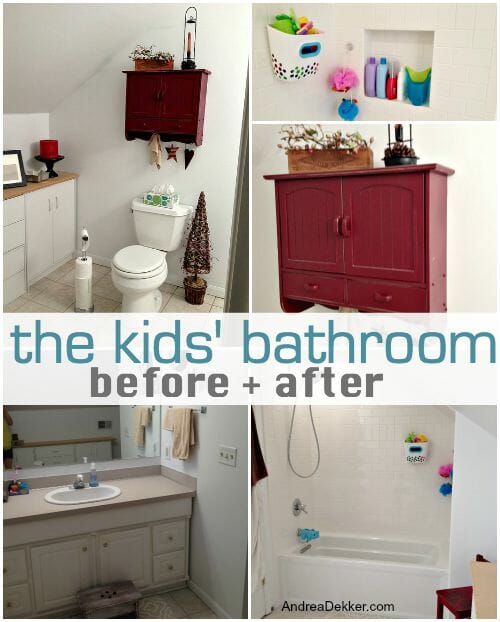 I really enjoyed writing this post about those of us who might not have all that big of life goals — maybe we're just content to be "normal"… and that's OK. The world needs people like that too!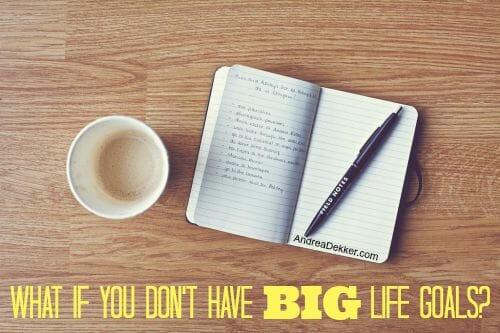 .
2016:
If you're looking for a quick, simple, frugal way to incorporate more veggies into your diet, this little trick might work for you!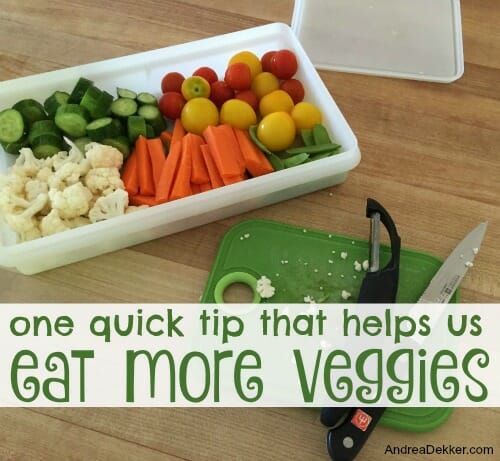 And if you're feeling burnt out after a busy summer (or by the start of another school year) I'd suggest focusing on planning ahead and making gradual progress.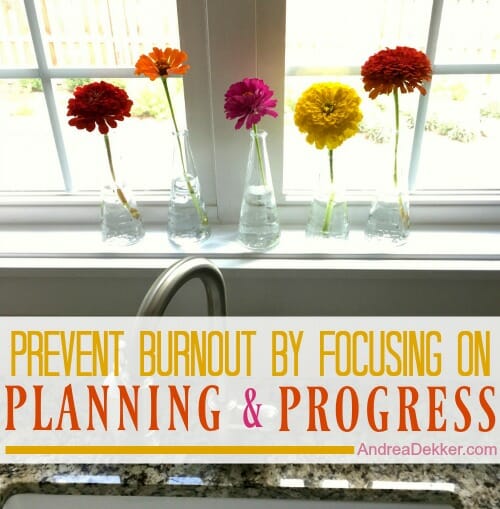 And finally… one more reason to say "NO" — and it's a good one!
.
2017:
The drywall project in our master bedroom is finished — yay!
Dave and I are thrilled to have our normal bedroom back again — although it was fun having a "slumber party" upstairs, we like our bedroom on the main floor much more, especially now that the drywall is fixed!
We had to take everything out of our room AND our closet so it wouldn't be covered with drywall dust, so we took the opportunity to do a little back-to-school purging for Dave, and just general "I'll never look good in that again" purging for me! I cannot wait to remove all my maternity clothing in another month or so and enjoy a less full closet again!
I ended up touching up the paint on all the trim in our room, and then repainting the ceiling and parts of the wall where the drywall was fixed. Then we cleaned our room from top to bottom, washed the windows, washed all the bedding, pillows, quilt, etc. and reorganized our less full closet. Our room feels so fresh and clean!
Along with finishing our bedroom, we also made a LOT of progress in the landing area upstairs — I'm planning to share more photos of the new space next week (so I won't spill the beans now!) Thanks for all your helpful suggestions and ideas!
A Few More Pictures from this week:
This kid… he wanted to dress up like a police officer and THIS is what he came up with. Dave and I laughed so hard — maybe if he was a hipster police officer!
Simon LOVES my flowers and is always looking for bees on the flowers — then he tries to get as close as he can without touching the bee. Miraculously, he hasn't gotten stung yet!
Speaking of my flowers — almost everything in our yard is in full bloom right now, and it really looks fantastic. All our hard work is paying off!!
.
I ordered a few back-to-school clothes for Nora (and a few things that will hopefully look cute on me after the baby is born) via ThredUp. And Nora's new backpack arrived in the mail — she was just a little bit excited!
I feel like I should be more emotional about sending her off to school… but honestly, the only thing I'm worried about is the bus. It's going to be a longer bus ride than I'd like, she needs to get on earlier than I'd prefer, and she'll most likely be riding with middle school and high school kids (although the bus driver makes all the little kids sit up front).
I know it will probably be fine, and I certainly cannot get out of the house with a newborn and 2 sleepy boys at 7:30am just to bring her 1 mile to school… so I'm just REALLY REALLY hoping the bus ride goes well and she doesn't completely hate it!
.
It's August and James is still rocking his winter boots — good thing I ordered them a little big!
We stopped by to visit my sister and her new baby — I had to laugh at this picture of Nora clearly telling the boys what to do and James trying to sneak just a little bit closer 🙂
Soon enough, they'll all be fawning over their new sibling!