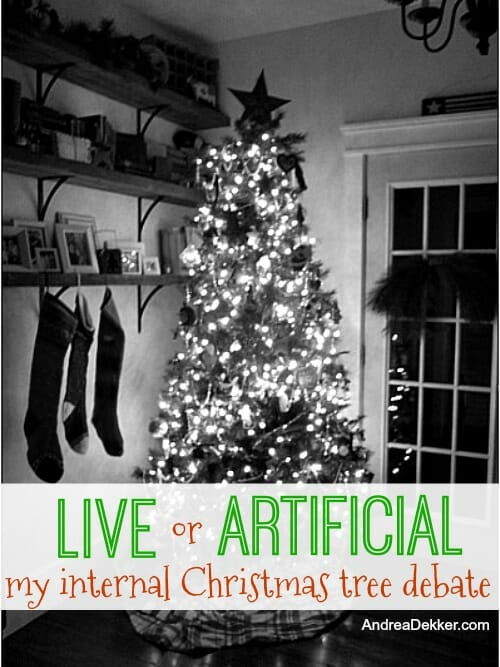 Growing up, my parents used the same artificial Christmas tree for 25+ years. I didn't have any issues with it, but I was fairly confident that after I moved out on my own, I would get a live tree.
However, after Dave and I were married, someone gave us a decent-looking artificial tree a month before our first Christmas (November, 2006) — and since I was extremely frugal back then, I decided to just use the freebie tree for a year (yeah right!)
We ended up getting rid of that tree right before we moved into our farmhouse (November, 2010) and since we moved the week before Christmas, we didn't have a big tree set up that first year.
The next Christmas, I found a REALLY nice, slimline 7-foot artificial tall tree for $30 from our local thrift store — it looked so fabulous with our 9 foot ceilings and was much thinner than most trees I saw in stores!
I reasoned that we would use this thrift-store tree until we had hardwood floors since it would be much easier to vacuum up needles on hard floor versus carpeting, However, after we installed our brand new reclaimed barnwood floors, I decided I didn't want a live tree with little kids around as they might pull it over.
Now, 11 Christmases into our marriage, we're still using an artificial tree!
Every year when it's time to put up the tree, I praise myself for sticking with the artificial tree.
"It's so practical," I think to myself. "All I need to do is walk down into my basement, carry the tree upstairs, and put the ornaments on. I am so smart for using an artificial tree!"
And in all actuality, an artificial tree does make a lot of sense for me.
It's frugal (we already bought it, we might as well use it.)
It's easy (I keep the tree fully set-up year-round with all the lights on in our unused basement. I simply put a trash bag over top to keep some of the dust off.)
It's hassle-free (I don't need to bundle up, drive somewhere, find a tree, cut it down, pay way too much for it, wrestle it onto the top of our car, drive it home, get it setup so it won't tip over on the base, clean up after it, water it, clean up after it, dispose of it, clean up after it, etc.
It's more eco-friendly (no cutting down perfectly good trees just to have it in my house for 3-4 weeks)
However, every year when I'm ready to take the tree down, I have a few days where I think, "we should really just sell this tree and buy a live tree next year. Just think how much space you could save in the basement, plus a live tree would smell fantastic and have more of a 'farmhouse' feel."
I toy with the idea of selling our artificial tree for a few days, but then decide it's not worth selling the tree because no one is going to buy a artificial tree a week AFTER Christmas.
So I hang onto the artificial tree with the intent to sell it the following year… but when the following year finally comes around, I realize I could either set up my artificial tree in approximately 20 minutes, or spend the better part of a day driving to a tree farm, cutting down a tree, and struggling to set it up at home.
Obviously, you know what choice I make each year… and as I take a whopping 20 minutes to bring my artificial tree upstairs and put the ornaments on, I once again praise myself for being so practical.
This year, Nora even told me she was certain our tree was "the most beautiful Christmas tree in the entire world."
I love our artificial tree… until I see live trees at friend's houses or in magazines. Then I think about how fun it would be to get a live tree… until I look down at the ground and see a bazillion needles covering the tree skirt.
I truly am NOT an indecisive person (and I really am content with our artificial tree right now), but this internal conflict between "simple and practical" and "farmhouse fabulous" is ongoing every single year!
I suppose we might get a live tree someday — but for now, I have a feeling we'll stick with our artificial tree (At least that's what I'm telling myself right now. I'm sure I'll change my mind in 2 weeks when I'm taking the tree down!)
What type of tree to you have?