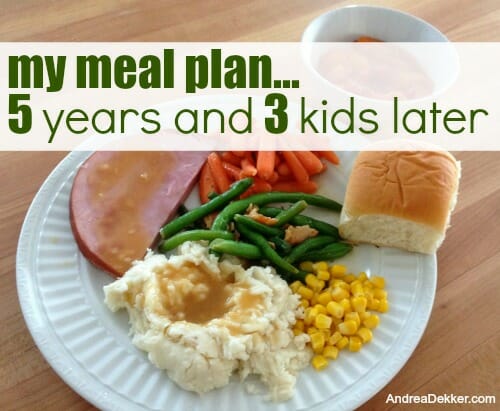 Way back in September of 2011, I shared the brand new way of meal planning I had been using for only a few weeks at that time.
That method revolved around having set "themes" for every night so it wouldn't be as overwhelming to create my weekly meal plan.
For example:
MONDAY – Italian

TUESDAY – Casserole

WEDNESDAY – Breakfast

THURSDAY – Meat (burgers, roast, pork chops, chicken breast)

FRIDAY – Mexican

SATURDAY – Leftovers or out to eat

SUNDAY – meal with friends, family, or at church (for lunch), frozen pizza (for dinner)
Now, 5 years and 3 children later, I'm happy to say that we're still using that same basic meal planning method because it STILL works so well!
The one modification I've made is that I no longer assign specific themes for specific nights of the week — but rather just try to hit each of the themes once per week. This way, we still have lots of variety in what we eat each week, but I have a bit more flexibility as to what night we eat what food.
For example:
Instead of always having some sort of Italian meal EVERY Monday, we now plan some sort of Italian meal once per week.

Instead of having breakfast EVERY Wednesday, we now just have breakfast once per week — whenever it works best in our schedule.

Also, now that we have 3 kids, we rarely go to family or friend's houses on Sundays anymore. Instead, we often just do a simple meal after church — a casserole I can have ready to go before church, loaded baked potatoes in the slow cooker, or even sandwiches. We still usually have pizza at night though!
I still plan our weekly menu out on Sunday afternoon (and I still make my grocery list at the same time), but I plan them based on what our schedule looks like, how much time I'll have to prepare the meal, and how much time we'll have to eat the meal.
If I know I'll be gone most of the day on Wednesday, I'll pull a casserole from the freezer in the morning (or the night before) and have it ready to go in the oven when we get home.
Or if I know we will only have a short time to eat dinner, I'll schedule leftovers or plan to pick up a pizza on that night.
If we have lots of extra time (like we did over the summer) I'll plan to make a more time-consuming meal or use up some of the kid's freebie restaurant coupons they got from the library!
Honestly, I don't really enjoy meal planning… but at the same time, I know how much time, energy, stress, and effort it saves me throughout the week and I'm 100% positive it's worth the few minutes I spend planning our menu on Sunday.
Over the summer, I tried "winging it" a few times and not making a set-in-stone weekly meal plan… it was SO awful! Dave and I were constantly talking about what we could have for dinner — only to find out we didn't have all the right ingredients, we didn't have enough time, or we forgot to defrost a key part of the meal.
It was crazy how much effort it took to plan individual meals the day we wanted to eat them versus planning everything ahead of time and grocery shopping with those meals in mind.
I quickly realized (yet again) how meal planning simplifies my entire day… at least the food part!
Yes, YOU can meal plan!
Even if your meal plan is ridiculously simple (think: spaghetti, grilled cheese, baked potatoes, pancakes, and frozen pizza) I can almost guarantee you will feel less stressed and more "on top of things" if you know what the meal plan is for each day — not to mention it will make grocery shopping so much easier!
And even if your meal plan is to get takeout, order pizza, and hit up your favorite restaurants every week, I honestly still think you would benefit from planning it a week in advance. No more questioning which restaurant to go to, what type of pizza to order, where to get takeout from, etc. etc.
In my opinion, I really can't think of any situation that couldn't benefit from a weekly meal plan (even if it's just a mental meal plan)!
Still need a little more convincing?