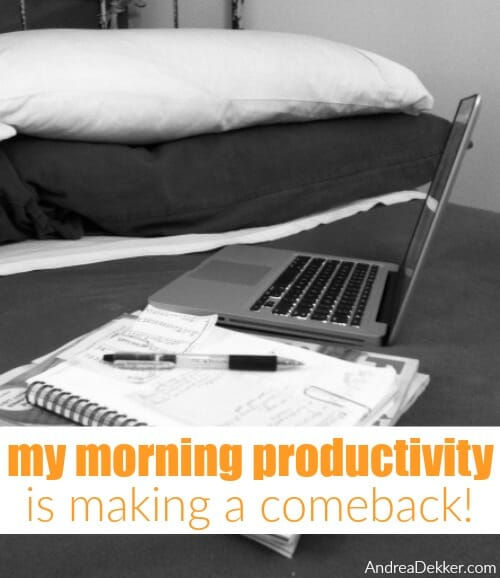 Almost 2 years ago, I wrote a post with 7 of my best tips for a more productive morning… but then went on to explain why I personally was NOT following most of those tips (read the full post here — it's a good one!)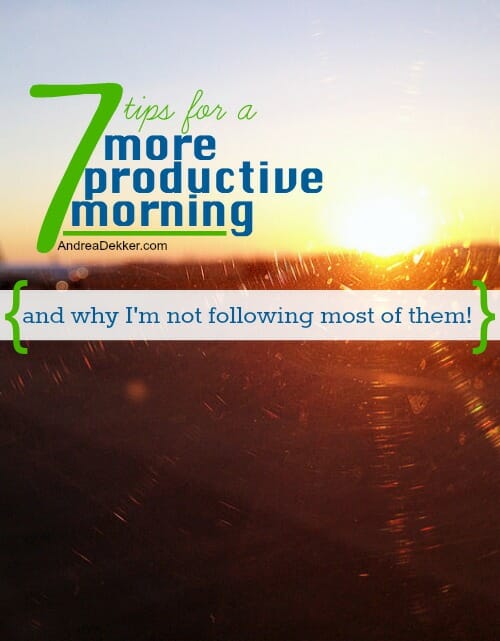 At that time, Nora was almost 3 — but not even close to sleeping through the night yet. She was still fighting bedtime for hours every night, waking up multiple times during the night, and Dave often ended up sleeping on the floor in her room for part or all of the night until his alarm went off at 5:30am.
Simon was almost 7 months old, and although he was going to bed really well (and really early) he was in a weird sleeping phase where he woke up from 4-6am every morning, but then often went back to sleep for a while after that.
And… I was already pregnant with James!
Needless to say, my beloved early morning all-by-myself hours were non-existent back then.
.
Now, just 2 "short" years later, I'm typing this post at 6:30am — fully dressed, completely ready for the day, bed made, emails checked, and actually feeling quite rested after sleeping straight from 11:00pm – 5:30am!
Dave just left for school, all 3 children are sleeping soundly in their own beds (with no adults in their beds with them), and I should have at least another 30 minutes before Nora comes down (she knows she can't come down until she sees a "7" as the first number of her clock).
My, how things have changed!
.
Obviously, there are still nights when the kids fight bedtime, nights when one or more of them get up during the night, mornings when they wake up WAY too early and refuse to go back to sleep, occasional nightmares for Nora, sleepless periods for Simon, and although James often sleeps for 13 hours at night, he almost always wakes up at least once in there.
However… I'm simply amazed how different our evenings and mornings look just 2 years later!
Maybe that whole "long days, short years" thing is actually true! Who would have thought?
.
Dave and I still do the majority of our focused work (grading and lesson-planning for him; blog and VA work for me) in the evening, after the kids are in bed; but the fact that we both can enjoy a little quiet time in the morning feels like SUCH a luxury after more than 4 years without that time!
Dave is almost always awake by 5:30am, and I'm almost always out of bed by 6:00. I make the bed, get dressed, and get ready immediately (read more about my morning routine here), then I usually have a bowl of yogurt while going through emails, replying to comments, scanning my Facebook feed, and quickly checking Craigslist 🙂
It takes me about 30 minutes to do everything I listed above, and then I'm ready to get to work on blog posts or my VA work until the kids wake up.
Sometimes I only get 10-15 minutes of work done, sometimes I get over an hour of work accomplished before anyone else makes a peep!
.
So it appears that after almost 5 years of motherhood, I'm finally able to follow my 7 tips for a more productive morning!
I'm making my to-do list the night before (I've always done this, no matter what)
I'm (usually) getting to bed at a decent hour.
I'm waking up regularly before the kids get up.
I'm getting dressed and ready for the day RIGHT away.
I'm doing something just for me (Craigslist, Facebook, etc.)
I'm completing a few quick tasks (email, blog comments)
I'm diving into my work.
And guess what? My mornings are SO much more productive!
.
Of course, if my children weren't sleeping well or if my own health wasn't great, I would NOT push myself to wake up early and be productive every morning… and Dave and I always sleep in until the kids wake us up on Saturdays.
I love my early morning hours as much as any morning person, but I'm also smart enough to know that it's not worth being dead tired, grumpy, or even physically sick JUST to cross a few things off my list each morning.
If you are where I was 2, 3, or 4 years ago — in a place where you can't even consider waking up 1 minute earlier than you absolutely have to, just take a deep breath and make it your goal to savor that sleep.
Try not to stress about your unproductive mornings — and instead, say 'no' to anything you can say no to and look for another small pocket of time during the day (or in the evening) when you can cross a few of those must-dos off your list.
I can speak from experience that your sleep and your sanity are more important than almost anything on your to-do list; and although it can be SO frustrating at times, I feel very confident that if morning productivity is important to you, you'll get it back eventually! Just give it a couple more years 🙂
I'm about as "type-A" as they come — if I can make it through more than 4 years of unproductive mornings, I think anyone can!
It's now 7:02 and I hear little footsteps coming down the stairs.
I won't be 100% alone again until Dave leaves for school tomorrow morning… but I've reclaimed a tiny shred of my productivity thanks to the fact that my children all FINALLY sleep.
Wow, does it feel good!