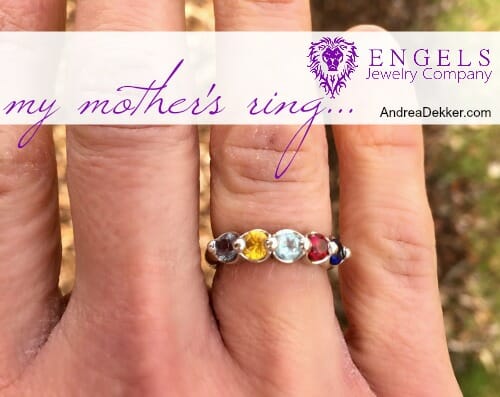 As some of you know, I recently designed and ordered a "Mother's Ring" (a ring with all my children's birthstones)… I LOVE how the ring turned out, and the fact that it's almost identical in style to my wedding ring!
NOTE: I do not have a 5th child! The 5th birthstone is my own (June), which happens to be Dave and my anniversary month too!
Engels Jewelry Company — the local, family-owned jeweler where I purchase ALL my real jewelry — did the "fancy work" for me.
I randomly stopped into their store just after the holidays when I was on my way to an appointment (without the kids) and had 20 extra minutes to kill. I've known I wanted a ring like this for a long time, and I knew I would purchase it from Engels, so I figured it couldn't hurt to stop in and ask a few questions. 🙂
I explained how I wanted the ring to look like my wedding band, so they took pictures and measurements of my wedding band, and said they'd email me a computerized mock-up and price quote the following week.
As promised, they emailed me the picture below… and both Dave and I really liked it. So I told them to move forward with the ring!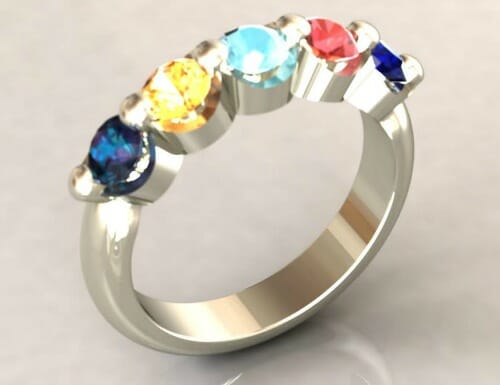 A week or so later, they said I could come in and try on the green plastic ring they print with their 3D printer. It's exactly the same size, shape, etc. as the finished product, just without the stones (or the shine!)
Although it looked REALLY weird, it was nice to be able to try it on, touch it, and actually see what the finished ring would be like in terms of size, shape, design, etc.
The kids thought my "green ring" was awesome!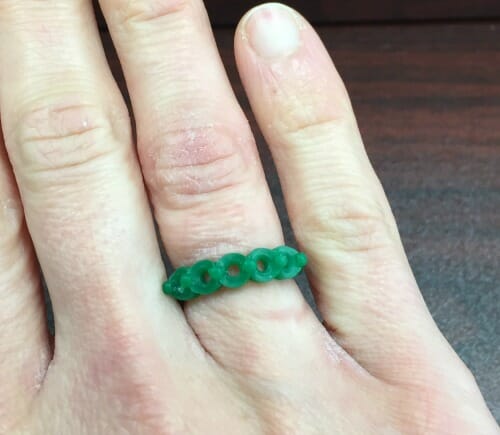 Since everything looked good in my opinion, they then used this green ring to make the mold for my actual ring (they do all the design and finish work within their own store!)
I'd say they did a pretty good job making it look almost exactly like my wedding band!
I'm so happy with how MY Mother's Ring turned out… and since Mother's Day is only a month away, I thought it might be fun to offer a discount for ALL blog readers who are interested in purchasing some type of mother's jewelry from Engels!
And yes, you can design and order jewelry via phone and email — so you don't need to live in West Michigan to capitalize on this discount!
Get 20% off Your Own Mother's Jewelry!

For the month of April, Engels is offering 20% off all mother's jewelry if you simply mention my blog to them. (NOTE: if you want your item by Mother's Day, you'll need to order by April 19).

Simply email them (customers@engelsjewelryco.com) or stop by their store in Grandville, MI.
Here are a few of the other custom mother's jewelry designs they've produced over the years — just to give you some ideas!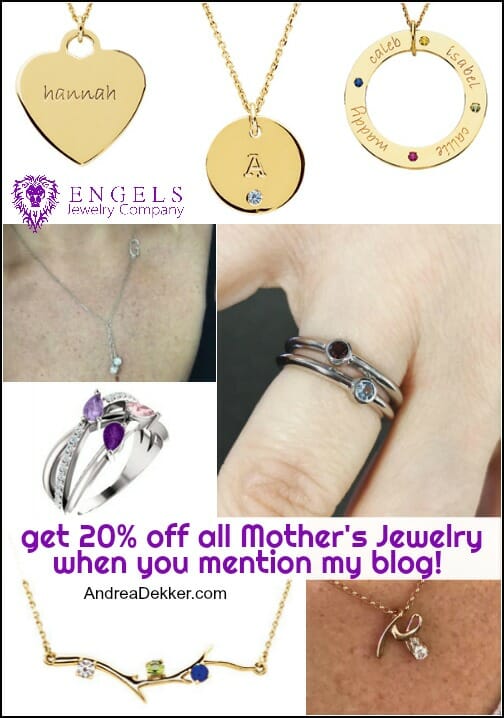 I was gifted my very first piece of real jewelry from Engles when I was 14 (a birthstone ring from my parents).
I was able to customize that ring… and since then, I have custom-designed my wedding ring, Dave's wedding ring, my mother's ring, and a really cool pendant necklace using the diamond I got from my grandma's ring after she passed away (I couldn't get my camera to focus on the diamond, but the necklace is really pretty!)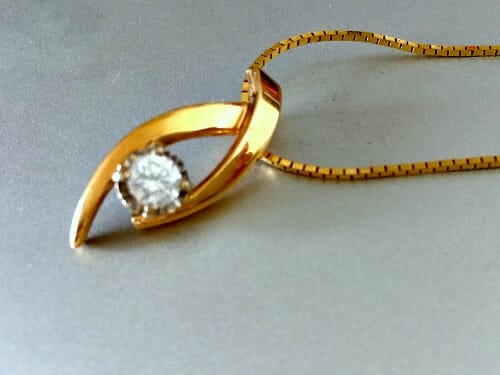 I've had such great experiences working with Engels over the past (almost) 20 years of my life; I'm excited to share their services (and this discount) with you!
Find Engels On the Web:
In my opinion, jewelry is a very personal expression… which is why I often like to customize mine so I get it JUST RIGHT.
If you're in the market for mother's jewelry (or any jewelry) I would highly recommend Engels Jewelry Company!
Do you have any type of "mother's jewelry"?
Thanks to Engels Jewelry Company for sponsoring today's post. Please see my full disclosure policy and contact me with any questions you have!