The motivation behind my Loaded Kale Salad came from a Blue Apron meal delivery kit a couple of years ago.
Kale was one ingredient in our box, and since we didn't enjoy kale all that much, I simply substituted spinach or lettuce for the kale (depending on the recipe).
Then about a year ago, right smack in the middle of my "eat as many veggies as I can" challenge, I got another bunch of kale in my Blue Apron box. I decided I was done wasting food, and I would figure out a way to eat it AND enjoy it, once and for all!
I did some "recipe research" on Pinterest and found a kale recipe that called for roasted sweet potatoes, cooked quinoa, and a smattering of other ingredients I already had in the pantry, in the fridge, and in the freezer.
I decided to try this recipe (with a few tweaks, of course) and I made my own vinaigrette dressing.
When I hesitantly served it as a side dish with our meal that night, I waited for Dave's reaction… and was pleasantly surprised when he said he actually liked it!
And just like that, my Loaded Kale Salad was "born"!
We both enjoyed the salad so much that I made it again the next day for my lunch.
After making loaded kale salad a few more times, I realized it actually tasted better if I let it marinate in the dressing for several hours before eating it (it softens the Kale leaves).
I started making big batches of it to keep on hand for lunches throughout the week or a quick side dish to go along with dinner.
Since then, I've made some variation of this salad on a weekly basis and thoroughly enjoy it every single time!
If you want to like kale but just can't find a recipe you love, I highly encourage you to try my loaded kale salad!!
Yield: 4-6
Loaded Kale Salad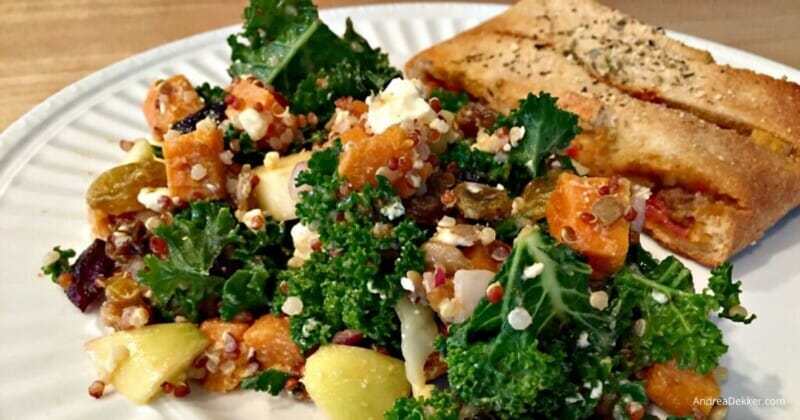 If you want to like kale but just can't find a recipe you love, I highly encourage you to try my loaded kale salad!! 
It's a perfect mix of sweet and salty, crunchy and chewy... and it's SO colorful!
Of course, it tastes amazing too!
Ingredients
For the Salad:
6 c. chopped kale leaves (cut off thick ribs and wash thoroughly)
1/2 c. cooked quinoa*
2 small/medium sweet potatoes (cubed and roasted)*
1 apple; diced
2 green onions; sliced
1/2 c. Craisins or dried cherries
1/2 c. golden or black raisins
1/2 c. feta cheese; crumbled
1/4 c. sunflower seeds
1/4 c. walnuts or pecans, chopped
For the Dressing:
1/4 c. olive oil (not pictured)
1/4 c. red wine vinegar (or apple cider vinegar)
2 T. dijon mustard
2 T. honey
salt and pepper to taste
Instructions
Wash, dry, and chop kale (removing thick stems), place into a large bowl.
Cook quinoa according to package directions, let cool for a bit and add to kale.
Peel, dice, and roast sweet potato (375º for 30 minutes). Cool and add to kale.
Add apple, onion, dried fruit, sunflower seeds, nuts and any other mix-ins you'd like. Mix well.
For the dressing:
Combine all ingredient for the dressing into a container with a tight-fitting lid (I just save a Dijon mustard container)
Shake the bottle to combine dressing ingredients
Pour half the dressing over kale and mix well. Refrigerate until ready to eat.
Pour remaining dressing over salad (if desired) when ready to eat.
Store any leftovers in an air-tight food storage container.
Notes
I almost always have containers of cooked quinoa and roasted sweet potatoes in the fridge -- so this salad takes mere minutes to throw together.
If you don't always have these foods ready to go, the recipe will take you a bit longer... but it's worth it! 
Also, I usually make a double or triple batch of the dressing and store in an extra dijon mustard bottle. Then, whenever I whip up another batch of this salad, I have the dressing ready to go. 
.
In case you still aren't convinced this recipe is worth trying, let me point out that kale is an excellent source of iron (something I've always needed more of) as well as vitamins K, A, and C.
Of course, I'm always in favor of vitamin-rich veggies and greens, but the real benefit of kale (for me) is its shelf-life.
In order for me to stretch my grocery shopping out every 2-3 weeks, I needed some sort of green that lasted 2-3 weeks without getting soggy or "wilty" — kale consistently lasts that long, making it a winner for my current stage of life! 🙂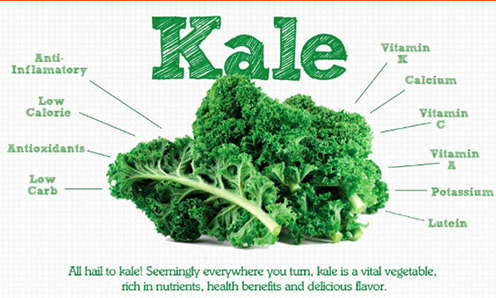 I'm happy to report that I no longer throw my kale away!
In fact, I will actually crave this salad, to the point where I'm bummed if we run out of kale before I'm ready to hit up the stores again!
I hope you love it as much as we do!
Do you have a kale recipe you actually enjoy?
Check out all my delicious salad recipes here.
Visit my virtual recipe box for more simple, delicious, family-friendly recipes!