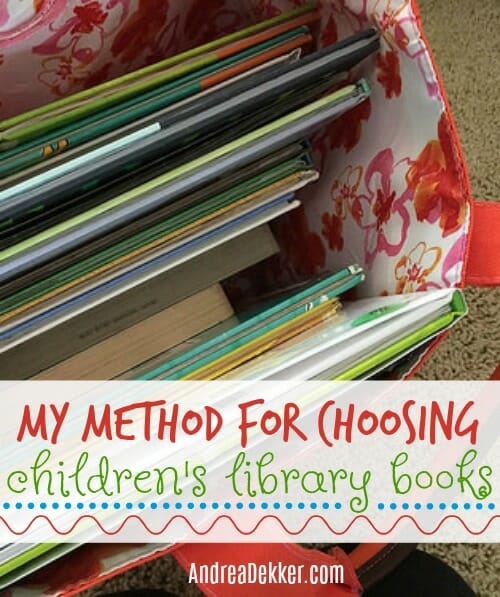 Over the past 7 years of regularly visiting our local library (sometimes multiple times a week), our family hasn't even come close to reading every single book in the children's section.
However, in my opinion, we HAVE done a really great job of reading through a huge variety of books each week — thanks to a super simple "system" I implemented a few years ago.
In our library, the children's books are divided up into 5 sections:
1. Board Books (cardboard books for babies and toddlers)
2. Picture Books (books parents read to young children)
3. Beginner Readers (books for younger readers (K-2nd) and super short chapter books)
4. Juvenile Fiction (chapter books, still easy enough for younger kids — 2nd – 5th)
5. Juvenile Non-Fiction
Currently, I get a few board books for Clara each week, a huge stack of picture books and a few Beginner Readers for the boys, and a mix of picture books, Beginner Readers and JF books for Nora, (I read the longer chapter books to her.)
I let the kids pick out several of their favorites (they know where to look now!) but I usually choose the majority of our books so we continually read a variety of topics and stories each week.
Several of you have asked HOW I decide what books to check out each week.
At first I didn't think I had a great answer to that question, but then I realized that even thought I don't have a specific checklist of books I search for each week, I DO have a really simple method to assure our family reads a wide variety of books on so many different topics each week…
I simply work my way alphabetically through each section of children's books.
In our library, the board books are sorted alphabetically by title, all the rest of the books are alphabetical by author. However, it doesn't really matter to me as I'm usually not looking for books by a specific title or author. I'm mainly looking for different books than we read last week!
I start with the "A" picture books and pull out a good-size pile. Then I move to the board books and grab a few for Clara. Finally, I work my way through the "A" section of Beginner Readers, and by the end, my bag is pretty full (we usually get 20-30 books each week).
For the longer chapter books I read to Nora, we usually work our way through an entire series before moving onto something else. We've read so many series over the last couple of years — American Girl (ALL the girls), Magic Treehouse, Owl Diaries, Little House on the Prairie, Puppy Pals, Rainbow Fairies, and more.
The next week I check out "B" books, followed by "C" books the following week.
This allows us to work our way through the entire selection of children's books twice every year, while continually reading new content each week, and physically looking through all the books so we don't always gravitate to our favorites.
Of course, there are times when I check out several books on one specific theme (birthday, holiday, and seasonal topics, books regarding a certain issue/hobby the kids are interested in, various crafts, how-tos, and DIY books, etc.) This is fun for the kids — and for me!
I also regularly utilize the inter-library loan system, which allows me to request books from many different libraries (all done online from home!) and simply wait for them to arrive at our local library. SO handy!
However, for the most part, I have absolutely NO "rhyme or reason" to how I select children's books – except for the first letter of the author's name!
I know this might sound like a silly system, but it has worked wonderfully for our family over the past few years.
Yes, we've gotten some "dud" books that we read once and put right back in the bag to return, but we've also found and read so many books that have become family favorites — and we probably wouldn't have ever checked them out if I were just searching for a specific title or topic.
So maybe this method will work for you, or maybe it won't…
Whatever the case, I hope it will encourage you to incorporate more library books in your home!
And remember, you can get more than just books with your library card too!
Do you have any clever methods for choosing library books?