I talk a lot about how we save money by keeping our pantry and freezer stocked with extra meals, snacks, baking supplies, cereal, chips, etc. etc.
And for the record, we definitely DO save a lot of money by buying in bulk, pairing coupons with sales, making double batches of our favorite foods, and keeping our pantry and freezer stocked.
However… I personally feel like there's a point when enough is enough and a stockpile becomes "excessive". At this point (which is different for every family) a stockpile becomes a hindrance and somewhat negative. It stops helping you and starts hurting you.
Last year, I watched a few episodes of Extreme Couponing during our spring break vacation. I was appalled by how excessive these people's stockpiles were — some of them had 200 bottles of mustard, 500 boxes of cereal, 400 toothbrushes, 200 bottles of shampoo, etc.
Many of these people had so much food and toiletries that they had to store them in their bedrooms, bathrooms, kids' bedrooms, and even in the garage and/or shed.
Crazy!
Obviously, as the name of the show suggests, those situations were quite "extreme" — but I do think some of the same problems with "excessive stockpiling" can occur on a lesser level in our own homes.
There have been times when I've purchase 4 or 5 bottles of ketchup because I could get them all for free… even though we already had 4 or 5 at home (and honestly how much ketchup do 2 people need!) I also WAY over-stocked our supply of toilet paper and paper towel a few months ago because I forgot about some of the stuff we already had.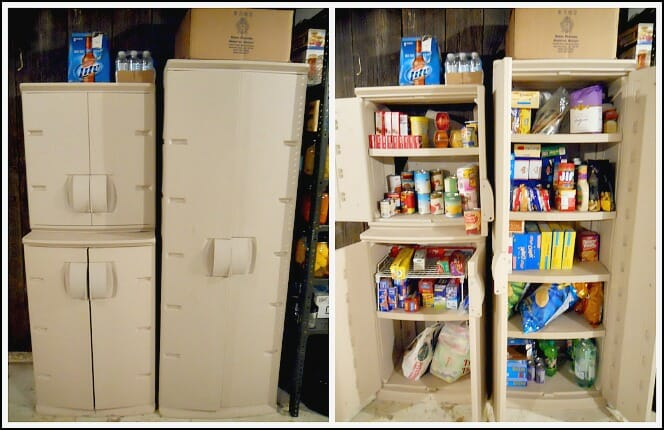 So while I personally don't feel like our entire stockpile is "excessive" (see image above) I do make a conscious effort to keep it under control… here are a few reason why.
It's very wasteful.
Excessive stockpiling wastes loads of valuable time by clipping thousands of extra coupons, visiting multiple stores every week, and checking out several times in each store. It also wastes space once you bring the items home.
However something people often forget is that excessive stockpiling often wastes food because even the most non-perishable food and toiletry items WILL expire eventually.
I've also noticed that I can be more wasteful if I know I have 10 more containers of something in the pantry. Maybe I'll use 2 sheets of paper towel when I could get by with 1… because I know I have plenty more. Or maybe I'll just toss the last bit of salad dressing, salsa, ketchup, toothpaste, bodywash, etc. because I have plenty more in the pantry and it's easier to open a new container than scrape out the old one.
It's greedy.
Yes, I know that many people with large stockpiles give their excess to charities and food banks — Dave and I do this too, and I think it's a great way to help out those in need without a huge financial investment.
However there comes a point when you are getting more and more just for the sake of having more and more. It's fun to find great deals and get lots of products for free (believe me, I know!) but if you don't even need, use, or want the products, it all starts to feel a bit greedy.
It's a form of hoarding.
Even if the products are completely free, there is no need to buy 20 containers of toothpaste if you already have 40 more at home.
By "hoarding" so many groceries, paper products, toiletries, etc, you're sliding down a very slippery slope that COULD lead to hoarding other things.
I've worked with hoarders… you don't want to live that way!
It's unnecessary.
There is absolutely no reason you should ever need 200 bottles of mustard (or any condiment for that matter). Even a more expensive brand of mustard can't cost more than $5 or $6 and if you ever run out, I'm sure you could scrape together a few bucks to buy another bottle or do without mustard until it goes on sale again.
Also, if you have been shopping sales and using coupons long enough, you know that all the really good sales are rotated about every 6-8 weeks… which means you really only need to stock up for 2 months at a time.
So while I will continue to save money by maintaining a small stockpile in our basement, I will also continue to monitor our stockpiles to make sure it doesn't get out of control.
I guess when it comes to stockpiling, the saying is true… you really CAN have too much of a good thing!
Oh, and if you're interested, I have many more posts about pantry stockpiling.
What are your thoughts on excessive stockpiling?