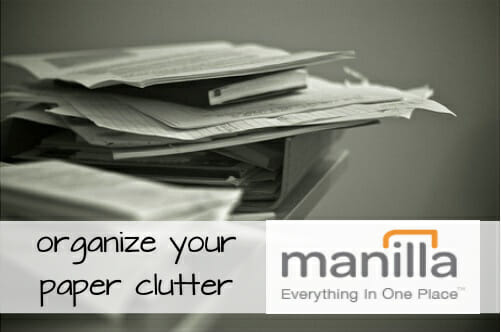 I've mentioned (more than once) that we pay ALL our bills online and don't get any paper statements. Not only does this help to significantly reduce the paper clutter in our home, it also saves us a bunch of time and money.
We save money by not wasting a stamp for each bill, we've gotten cash-back rewards from our bank for opting out of paper statements, and we even got a TINY bit higher interest rate from another bank for using their e-statements.
We save time by never having to worry about writing individual checks as they are all set up to be paid automatically via our credit card. Then the full balance of our credit card is automatically withdrawn from our bank account at the end of the month. So we rarely ever write checks… and aside from quickly glancing at our e-bills to make sure everything looks OK, we never have to worry about anything.
For those of you who are wondering about the safety… I've been doing this since college (at least 8 years) and I've never once had any problems or issues. I would never, ever go back to writing checks or getting paper-statements.
However, if you're not naturally an organized person, it can be somewhat overwhelming to keep track of all your online information, passwords, usernames, login URLS, etc. etc.
I've tried a few different methods for organizing my passwords, all with marginal success… but then I started using Manilla.com a few months ago, and now I'm hooked!
What Is Manilla.com?
Manilla.com is a completely FREE and super convenient way to organize all my online account information in one safe, secure location that I can access from any computer, tablet, or smartphone (yes, there's an App for that!)
This means, you only have to login ONCE to get access to all your accounts!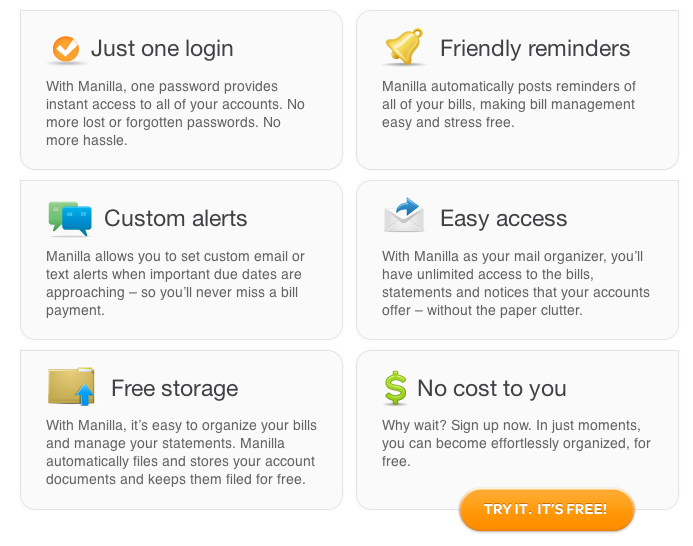 Not only does it keep all my online accounts neatly organized in one location, it also allows me to view my PDF bills, it reminds me when a payment is due, it sends me email notifications if necessary (you can edit these settings) and much more!
And did I mention that it's free? No credit card information required!
Here is just a tiny example of all the accounts you're able to keep track of with Manilla.com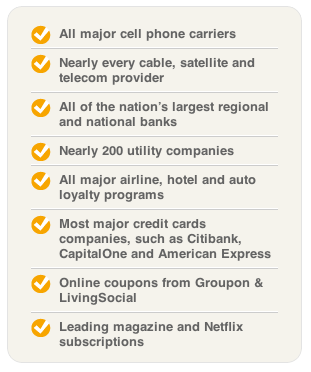 And SO many more…
I was really impressed that Manilla even accepts one of the small local banks we use!
How Does Manilla Work
Manilla gathers all of the information you need to manage your bills and accounts and puts it in one secure place, available 24/7. With automatic reminders, Manilla lets you know when important bills are almost due and even when your rewards points are about to expire.
And don't worry — Manilla is REALLY safe! To ensure that your account is always secure, Manilla uses multiple levels of physical security including biometric validation as well as SSL 256-bit encryption. Their practices are monitored and verified by TRUSTe, Verisign, McAfee and other security agencies. You can read more about the security here.
How can Manilla be free?
I actually wondered this myself for awhile — because as of right now, they don't even have a paid version that you can upgrade to. Literally every service they provide is completely free! Gotta love that 🙂
Anyway, Manilla is free because service providers pay a small fee for their mail to be delivered through Manilla to you. This is a brand new way for consumers to get copies of their bills and statements more quickly and at a much lower cost to businesses.
Sounds pretty sweet doesn't it — especially if you're like me and hate paper clutter!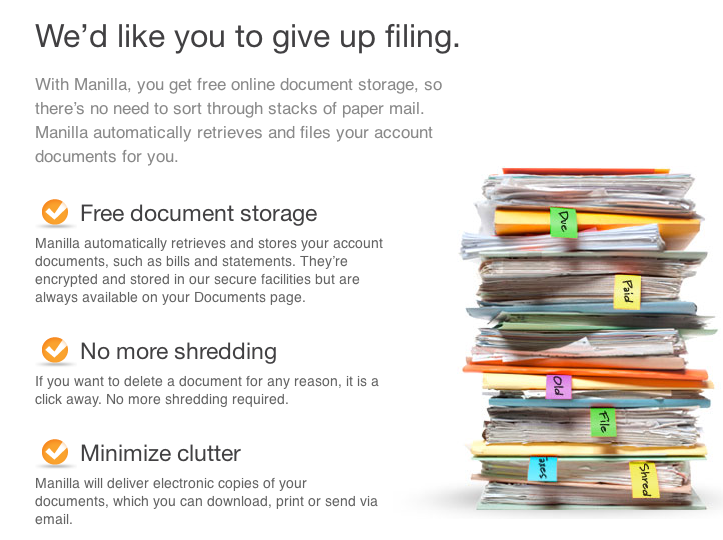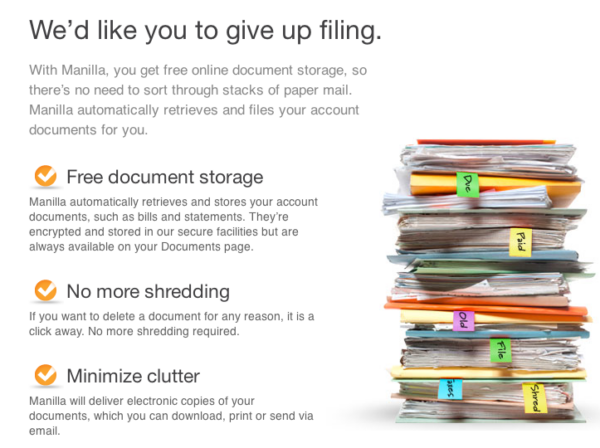 If you feel overwhelmed with your paper clutter, or if you'd like to make the switch to paperless but don't know where to start, I'd strongly encourage you to give Manilla.com a try. After all — it's totally free and it only takes a few seconds to sign up!
Oh, and for those of you who use Pinterest, Manilla.com is running a fun back-to-school promotion on Pinterest now through September 14 (and you can win a $500 gift card!)
Have you ever tried Manilla.com?
If not, how do you keep track of all your online account information?
---
This was a sponsored post — however I have been using Manilla.com for several months and I absolutely LOVE their services. All opinions are my own! Please read my disclosure policy and feel free to contact me with any questions you have.