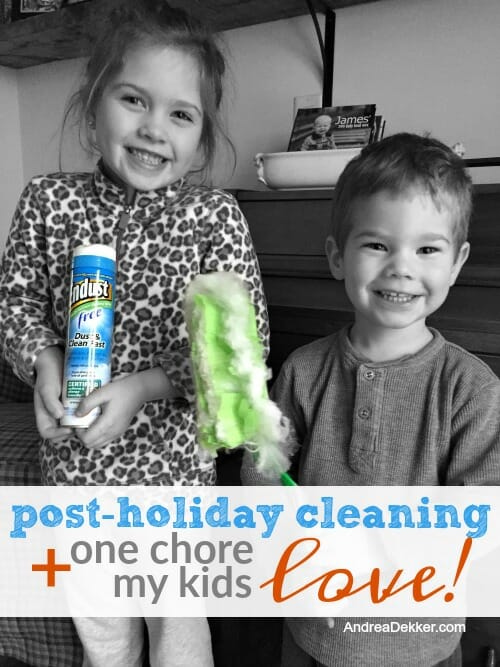 This post is sponsored by Endust.
As I've mentioned before, I've never been one to do tons of deep cleaning BEFORE the holiday season or before company arrives. In general, my house is always relatively organized, relatively neat, and relatively clean — so if I know company is coming over, I might take 15-20 minutes to wipe up any spills or stains on the bathroom counters and toilet and run a vacuum over the main living areas.
That's it.
My reasoning might be slightly selfish, but I honestly don't want to "waste" my deep cleaning efforts just for company to come over, trample through my house with their shoes on, drop crumbs all over my floors and furniture, and possibly spill large amounts of liquid or other food items. Plus, I don't know about your company, my MY company doesn't usually care if there's a little dust on the baseboards or a stack of papers on my desk 🙂
I'd rather just sit back, relax, let my company do as they will — all with the knowledge that I'll clean much more thoroughly AFTER they leave.
Then WE get to enjoy OUR clean house!
So now that the holiday season is officially over, I've started working my way through the various areas of my home, doing a little more deep cleaning than I've done the past several months.
I'm scrubbing behind the toilets and in all the little grout crevices.
I'm washing pillows and comforters and rugs and other things I don't normally wash every week (or every month).
I'm polishing my stainless steel appliances.
I'm washing windows (at least the insides).
I'm scrubbing the floors.
I'm cleaning out closets and purging drawers.
I'm dusting baseboards, window sills, door frames, and all those high-up places only Dave can see.
and I'll probably get our carpets cleaned sometime in the next couple of months.
I'm just doing little bits here and there, maybe one or two small areas every week, but I always love how my house feels once I take all the Christmas decorations down, do a little purging, and then a little extra deep cleaning.
Ahhhh!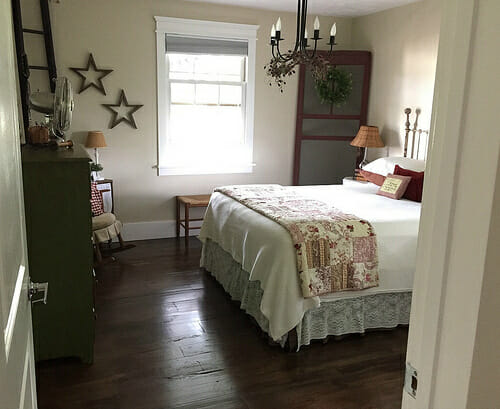 .
For me, the cold winter months just seem like the perfect time to deep clean as I'm cooped up inside anyway… and if I play my cards right, I can actually get my kids to be somewhat helpful — at least when it comes to dusting!
Since my children are quite young yet (5, almost 3, and 18 mo.) I haven't gotten too crazy with specific chores — and we certainly don't do fancy chore charts yet.
However, ALL 3 of my kids have a weird infatuation with dust mops, dust cloths, and pretty much all dusting tools — to the point where they actually fight about whose turn it is to help me dust.
True Story: sometimes I purposely wait to dust until they are asleep for the night so I don't have to deal with their "helpfulness". 🙂
Thankfully, we have a whole supply of my favorite Endust products (including my kids' favorites — "Special Spray" and "Magic Duster")
Can we all just pause for one moment and smile at the thought of my sweet Simon begging for the 'peshal 'pway and dustor, only to be interrupted by Nora chiming in, "But I'm older so I get to do the Special Spray while Simon uses the Magic Duster."
Yes, these are very real conversations at the Dekker house.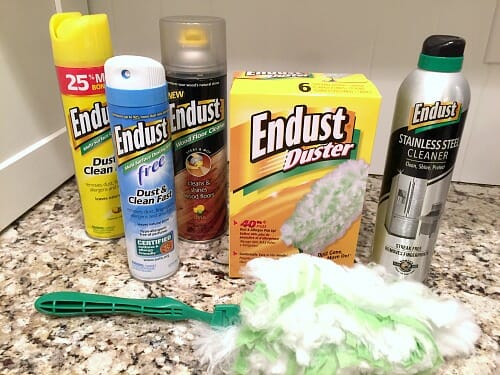 Anyway… I'm a huge fan of the Endust products because they dust AND clean oil-based stains like fingerprints and smudges at the same time (I cannot even tell you how many fingerprints and smudges we have going on over here!)
Plus, since Endust is made of a silicone-free formula, it cleans and shines WITHOUT any residue or build-up — which means I don't have to worry too much about how liberal Nora is with her spray.
I usually use the Endust FREE for most of my dusting — simply because I feel it's safer for the kids and I like that it doesn't have any smell.
Of course Endust cleans more than just furniture. They also have a great streak-free stainless steel cleaner, a fabulous multi-purpose spray, and a wood floor cleaner that won't dull the floor's finish.
Since the kids and I have enjoyed using the Endust products in our home, we figured it was only fair to share the love with you all as well!
In case you didn't already know, Endust products are EXTREMELY affordable and readily available in most grocery stores like Walmart, Dollar General, Kroger and Kmart. Our local Meijer carries a wide selection of Endust products; and of course, they're available from Amazon!
However, before you run to the store to grab your very own "Special Spray" or "Magic Duster", you might want to take a minute to enter the giveaway below!
Visit Endust on the Web:
Visit their website: Endust.com
Facebook: Endust
Twitter:@Endust
Pinterest: EndustClean
Enter To Win This Giveaway!
Today, ONE lucky reader will win a $75 Visa Gift Card and a stash of amazing Endust products — perfect to help you clean up your home for the New Year (and probably enough to share with your kids!!)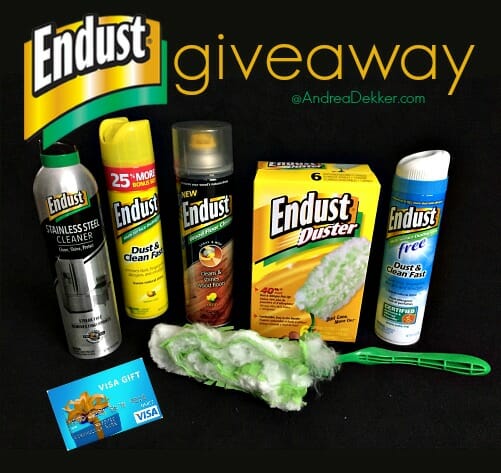 To enter, simply use the Rafflecopter widget below (it might take a second to load).
Also, just for fun, I'd love to know what chores your kids (or grandkids) like to "help" with!
.
This giveaway ends at 11:59 pm EST, Wednesday, 1/25/2017 and are open to US residents, 18 years or older. The winners will be randomly selected via Rafflecopter and notified via email. I received compensation in exchange for hosting this contest — all opinions are 100% my own. Please see my full disclosure policy and contact me with any questions you have. Good luck!