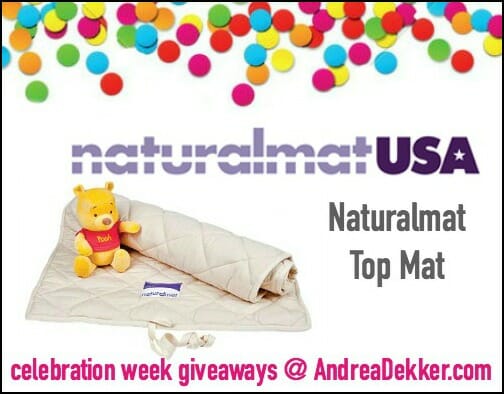 All week long, we're celebrating here on the blog — birthdays, babies, house projects, summer and more!

Click here to view the 8 fabulous giveaways — and join in on all the celebration fun!
When Dave and I realized we were having another baby when Simon was only 16 months old — and that Simon REALLY REALLY loved sleeping in his crib, we knew we'd need to have 2 cribs for a while (maybe a long while based on how much Simon loves his little "cage"!)
The funny thing is, Nora basically never used the crib… ever! She either slept in her car seat, in the stroller, in a swing, in my arms, in a wrap, etc. (yes, even at night!) and by the time she was 9 months old, she had transitioned to a twin bed because I was so sick of cleaning up puke after she screamed so much from us putting her in her crib.
Anyway, back to the whole 2 cribs thing.
We were fortunate to borrow a crib from a friend, and that will be going in Simon's new big-boy room — along with a twin bed for whenever he's ready to make the switch.
However, having 2 cribs meant we also needed 2 crib mattresses… and since Nora and Simon both used the same mattress (one I registered for way back when). I decided to take a little time and do some research on what type of mattress I'd like for the next baby.
I was prompted by a couple blogging friends to look into natural and organic mattresses this time around — so I was thrilled when I came across Naturalmat, a company that specializes in handmade natural and organic bedding.
They sent me their Latex Mat — which is their most allergy-safe and supportive organic crib mattress, suitable for children from birth through toddler years. This mattress is made with natural latex and organic lambswool. It is extremely breathable, naturally hypo allergenic, completely non toxic, and contains NO polyethylene or synthetics.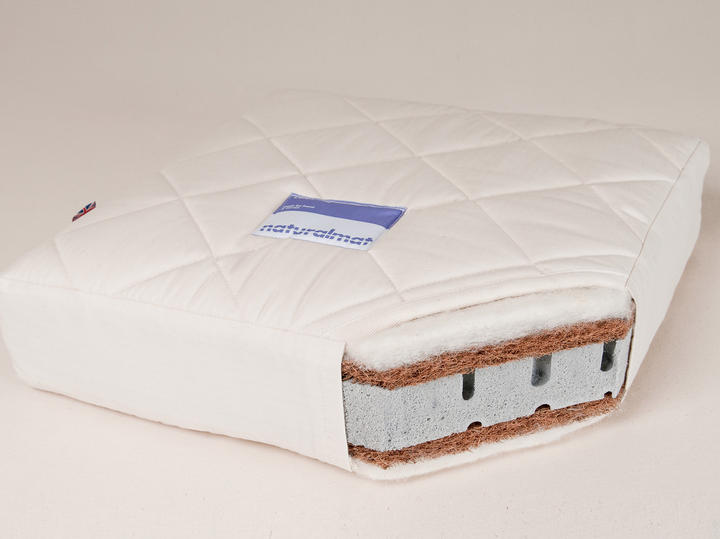 I'm excited to use our new mattress with the new baby, and based on what I already know about Naturalmat and about their mattresses, I think this mattress will be EXTREMELY EASY TO KEEP CLEAN! (and those of you who know me, know how grossed out I am by the thought of dirty mattresses!)
In addition to the Naturalmat organic waterproof mattress protectors (that are fully removable and washable), all Naturalmat mattresses come with an "outer cover" that can be completely removed and washed! So even if something gets through the sheets and the mattress pad, you can still "save" your mattress by washing the outer cover!
This might sound like a small detail to some, but it's a BIG DEAL for me as I've never seen any other crib mattresses that come with this sort of protection.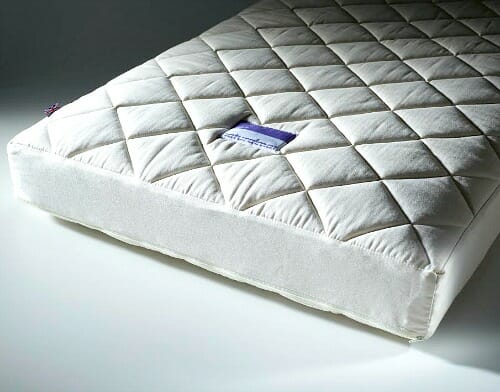 I never realized how much time babies spent in their cribs until Simon was born. So now that I know how many hours and hours our next baby will (hopefully) spend in the crib, I'm so glad we're giving him a really nice mattress!
Since many of you with young children most likely already have a mattress and it might not be in the funds to completely replace your kid's mattresses, I thought I should also mention that Naturalmat has a line of organic Top Mats that can be quickly and easily placed over any other mattress to offer an economical way to turn your crib into an organic one.
The natural and breathable materials contained within the Top Mat regulate your baby's temperature and help them to sleep soundly. Also, since the Top Mats are so lightweight and portable, they can easily be packed away and used on vacation or when visiting family.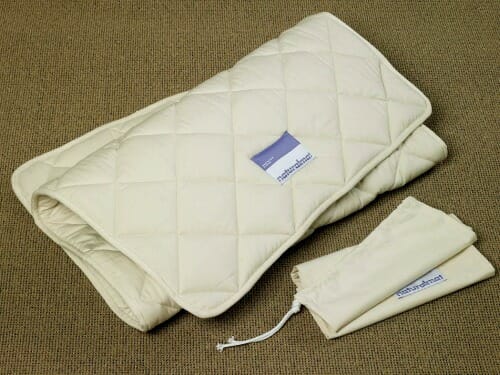 More about Naturalmat:
The Naturalmat Company was founded in 2000 by Mark Tremlett and Peter Tindall.
Naturalmat produces a huge range of baby and adult mattresses, as well as bases and toppers. They only use natural materials like organic lambswool from local sheep. And they make all their products by hand in a factory surrounded by green fields and mooing cows.
Learn more about Naturalmat by watching this short video clip.
Visit Naturalmat on the web:

Website: www.naturalmatusa.com
Facebook: Naturalmat USA
Twitter: @NaturalmatUSA
Pinterest: Naturalmat USA
Instagram: naturalmatusa
Enter To Win This Giveaway!
Today, one lucky reader will win a Naturalmat Top Mat — perfect for use at home (over your current mattress) or on the go (travel crib, pack 'n play, etc.)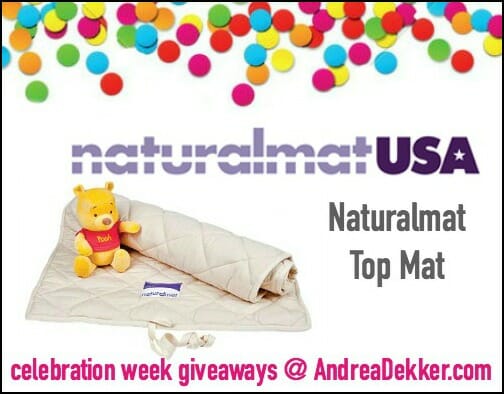 To enter, simply use the Rafflecopter widget below (it might take a second to load).
a Rafflecopter giveaway

All Celebration Week Giveaways end at 11:59 pm EST, Sunday, 6/21/2015 and are open to US residents, 18 years or older. The winners will be randomly selected via Rafflecopter and notified via email. I received a duplicate prize package in exchange for hosting this giveaway — but all opinions are 100% my own. Please see my full disclosure policy and contact me with any questions you have. Good luck!