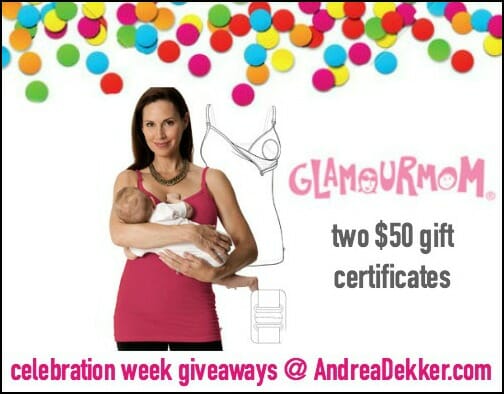 All week long, we're celebrating here on the blog — birthdays, babies, house projects, summer and more!

Click here to view the 8 fabulous giveaways — and join in on all the celebration fun!
You all know I couldn't celebrate a new baby without giving away some Glamourmom goodies… right?
Right!
I've been loving and wearing the Glamourmom nursing tanks and maternity tanks almost daily now for 4 years. They have held up amazingly well to constant washing and wearing, and I love them just as much today as I did when I neatly packed my brand new, crisp white nursing tank in my hospital bag before Nora was born.
My white tanks aren't quite as white anymore — but I guarantee their "performance" is just as good!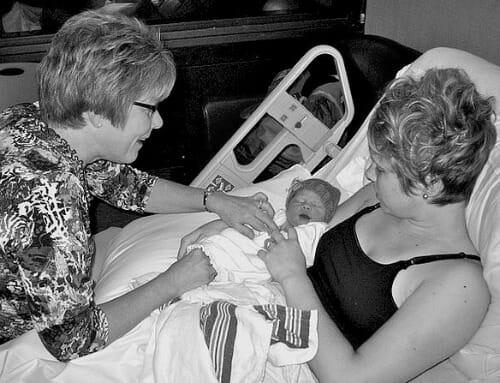 A few of the many reasons I love Glamourmom tops:
They are really long — which means they fit my long torso and I don't ever have to worry about my stomach hanging out. (Oh, and if you don't have a long torso, they have plenty of other tanks that are normal length)
They are SO comfortable. I wore one of these nursing tanks every single day under whatever I was wearing — even in the bridesmaid dresses for my sister's wedding.
They are slimming. There is just enough spandex in these tanks to really "hold you in" — which is something my post-baby-belly will be very thankful for in a few weeks!
They are very modest. Although I'm definitely not one to nurse in any type of public setting, it's still nice to be able to nurse without baring all — even when I'm just at home. As you can see by the image below, these tanks make it almost impossible to tell if you are nursing or just holding your baby.
They look like a "normal" tank top. This may sound trivial, but when you know that you'll be wearing nursing attire for the next several months of your life, it's nice to have things that look normal and don't scream, "I'm wearing a nursing top".
They have lots of variety. Not only are there a ton of styles to choose from — there are also loads of different colors and patterns to choose from as well, so you can mix and match to fit your style and your wardrobe.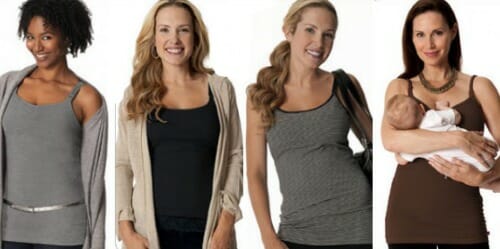 And yes, even though I only nursed Simon for 6 weeks, I still wore my Glamourmom tanks everyday for months — because they work so well for pumping too. In fact, Glamourmom has line of Hands-free Pumping Accessory Clips which made pumping even easier! Score!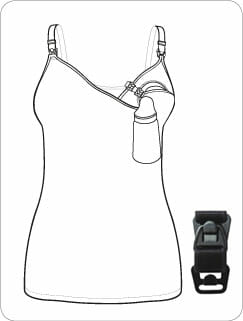 I'm such a huge fan of ALLLLL the Glamourmom products, and have 'sold' so many of my friends, family, and neighbors on these amazing nursing and maternity tanks and tops — I should start getting a commission 🙂
Seriously, they are really that fabulous and totally worth every single penny!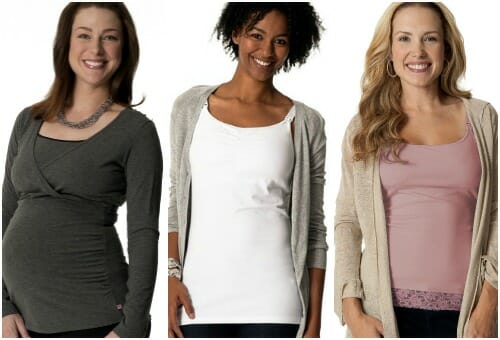 More about Glamourmom:
The Glamourmom Nursing Bra Tank was born out of necessity in 2000 shortly after founder Line Rothman gave birth to her first daughter. Since then, Glamourmom has evolved into an internationally loved brand. Their expanding collection is designed exclusively with moms and moms-to-be in mind with the idea that every woman deserves to be a Glamourmom!
Visit Glamourmom on the web:

Website: glamourmom.com
Blog: From Mom to Glamourmom
Facebook: Glamourmom
Twitter: @glamourmomtanks
Enter To Win This Giveaway!
Today, TWO lucky readers will win a$50 Glamourmom gift certificate!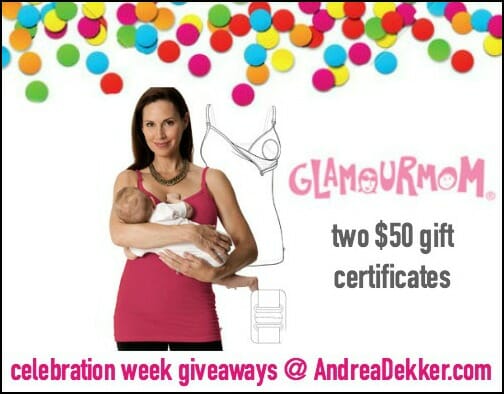 To enter, simply use the Rafflecopter widget below (it might take a second to load).
a Rafflecopter giveaway

All Celebration Week Giveaways end at 11:59 pm EST, Sunday, 6/21/2015 and are open to US residents, 18 years or older. The winners will be randomly selected via Rafflecopter and notified via email. I received a duplicate prize package in exchange for hosting this giveaway — but all opinions are 100% my own. Please see my full disclosure policy and contact me with any questions you have. Good luck!