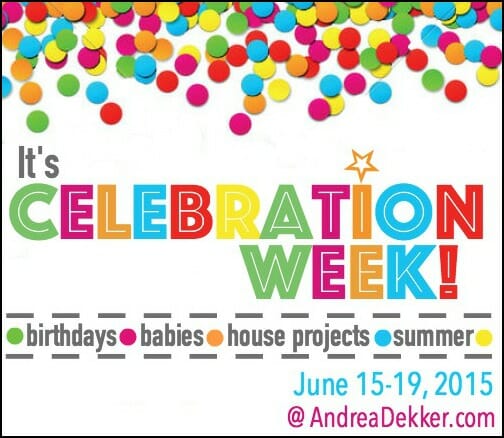 We have so much to celebrate in the Dekker household right now that I decided to devote a full week to "celebrations" here on the blog.
Not only will be celebrating my 30th birthday and the arrival of baby #3 (due any day now!), we're also celebrating all the house and yard projects we've crossed off our list the past 12 weeks and the fact the Dave is home for the whole summer!
Plus, we have over $1500 of awesome giveaways… so it should be a fun week! !!
Here's the schedule for the week:
NOTE: Links will be added once the posts are live.
Monday June 15 :: EIGHT amazing giveaways (see below for details)
Tuesday June 16 :: Celebrating a new decade — my 30th birthday
Wednesday June 17 :: Celebrating all the house and yard projects we've tackled so far (with lots of pictures!)
Thursday June 18 :: Celebrating the impending arrival of baby #3
Friday June 19 :: Celebrating the official start of summer with Dave home and lots of family time
Share the fun:
I'd be so grateful if you took 10 seconds to spread the word about Celebration Week!
:: Share it on Facebook ::
:: Tweet it ::
:: Pin it ::

And to be sure you don't miss ANY of the giveaway opportunities, subscribe via email to get them delivered right to your inbox for free!
THE GIVEAWAYS!
Below is a pictorial listing of ALL 8 Celebration Week Giveaways — valued at over $1500!!
Simply click on the images below to go to the giveaways you are interested in entering — however PLEASE NOTE that the links will not work until the giveaways are actually live. So if you get an "error message" it's just because that giveaways isn't open for entry yet!
Also, make sure you enter BEFORE June 21, 2015, at 11:59pm EST or you'll miss out!
The following 8 giveaways will go up every 90 minutes, starting at 8:00am EST on 6/15/15.
.
All celebration week giveaways end at 11:59 pm EST, Sunday, 6/21/2015, and are open to US residents, 18 years or older. The winners will be randomly selected via Rafflecopter and notified via email.
I received a duplicate prize package or monetary compensation in exchange for hosting the giveaways — but all opinions are 100% my own. Please see my full disclosure policy and contact me with any questions you have. Good luck!