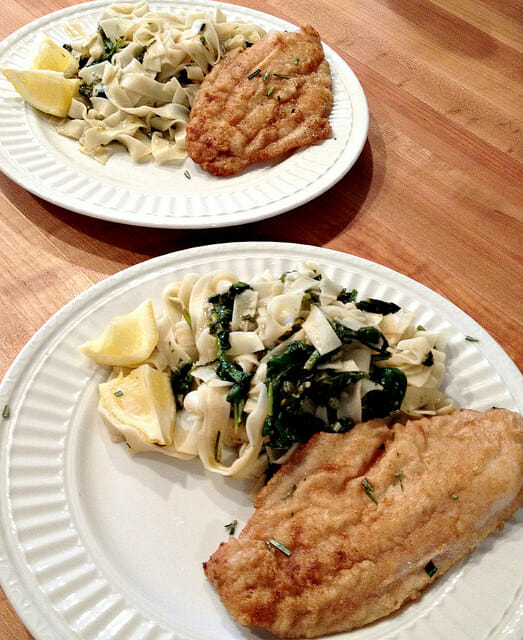 Several months ago, I shared a post about how I was using the fabulous Blue Apron meal delivery service to simplify and streamline my meal planning.
In case you missed that post I'll just give you a really brief overview of Blue Apron…
This post contains affiliate links — read my disclosure.
Blue Apron is an online service that allows you to choose from several amazingly gourmet-tasting chef-inspired meals each week and have the high-quality ingredients for those meals delivered directly to your home.

Depending on the size of your family, you can opt for the 2-person plan or the family-plan. And the prices are super reasonable for the quality and quantity of food you get (at least in my opinion). The 2-person plan ends up running around $9.99 per person per meal and the family plan runs around $8.74 per person, per meal.

There is no contract or any type of long-term commitment required, and shipping is always free!
Sounds pretty good huh!
While I don't use Blue Apron every single week, it has been a nice treat every once in a while — especially for the week after a vacation or after a busy holiday season when I don't feel like thinking about meal planning and I don't have any ingredients in the house.
There is nothing like getting a box full of deliciously fresh (grass-fed) meat, seafood, and produce delivered right to my doorstep — with everything pre-measured and ready to go whenever I'm ready to cook!
In my experience, ALL the Blue Apron recipes are delicious. However, my favorites tend to be their fish recipes — partially because Dave LOVES fish, but also because cooking fish at home has always been very intimidating for me (so I rarely ever do it).
I love that the Blue Apron meals come with step-by-step instructions that are VERY simple to follow. Their recipe cards include lots of full-color pictures, and they even offer multiple video tutorials online for each recipe.
On top of that, the ingredients are pre-measured so there is (almost) no room for error.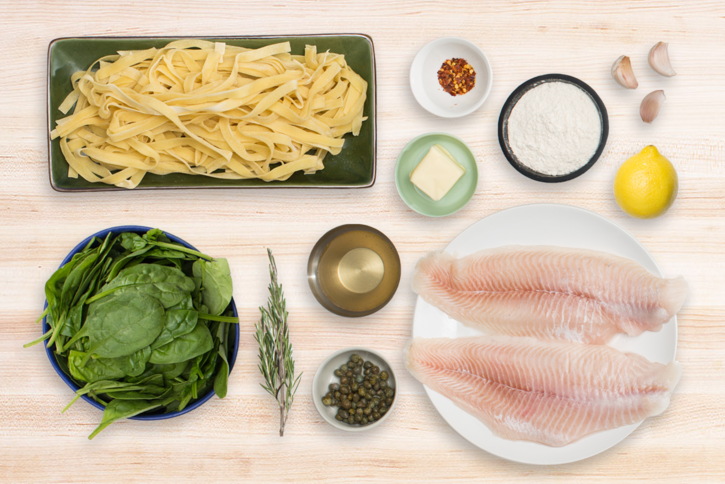 One of the more recent Blue Apron fish recipes I made was the Catfish Piccata and Fresh Fettuccini…
Oh my word, was it delicious!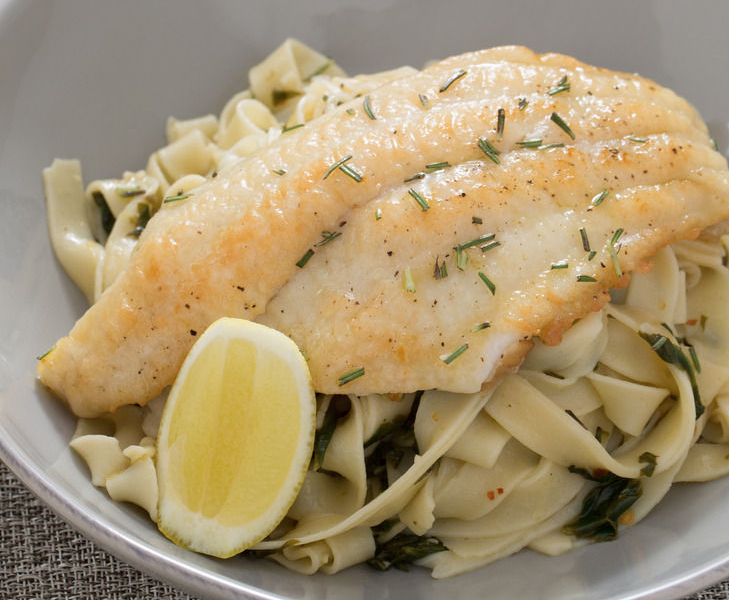 (click on the photo above to open the recipe in a new window)
My original plan was to make the catfish for Dave and me, and make chicken for the kids, but I think Simon ended up eating about one-third of my very large catfish fillet and over half my fettuccini! It was THAT good!
I'm slightly ashamed to admit that although pasta is one of our family's favorite meals, I've never made fresh pasta because it's more expensive and has a much shorter shelf life. However, after trying fresh fettuccini, I've decided that I might have to splurge on fresh pasta every now and then! YUM!
.
The Blue Apron meals have been such a time-saving, sanity-saving gift for me — especially when I'm home all day with 3 kids and still trying to finish all my blog work, VA work, and housework at night and during nap times. The fact that I don't need to plan dinner a few times a month is just one less thing for me to think or worry about!
.
If you're looking for the perfect last-minute, clutter-free gift for someone on your list this holiday season, I would highly encourage you to consider a Blue Apron Meal Box.
In fact, if you act now, you might even be able to give them a couple of meals for free!!
Get (or give) 2 FREE Meals!

Blue Apron is offering the 2 FREE meals to the first 50 people who place their first order via this link!!
You really have nothing to lose (except your grocery list!) because there is no commitment and you're not tied down to any sort of contract. So why not try simplifying and streamlining your meal plan with Blue Apron! It might just be the perfect gift to give YOURSELF this holiday season!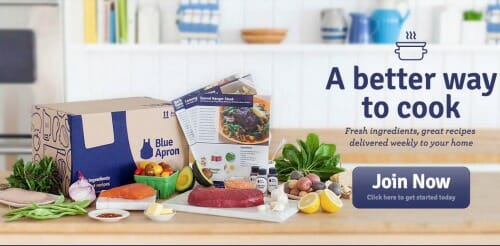 This was a sponsored post on behalf of Blue Apron. All opinions are my own.