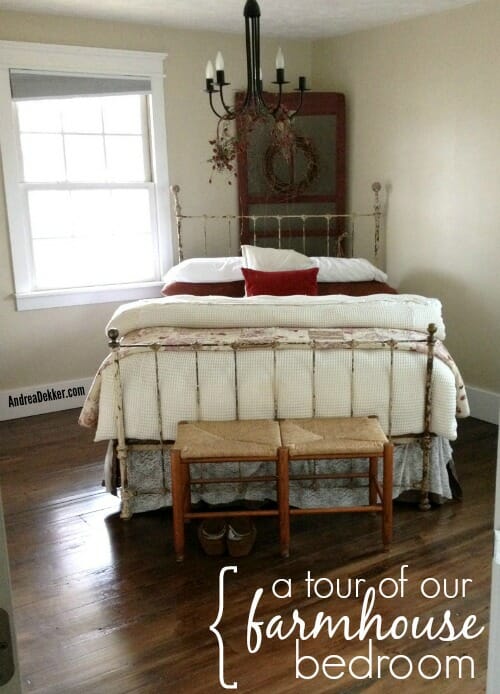 In the 5+ years I've been blogging, and the almost 5 years we've been steadily renovating our home (and sharing our progress on the blog) I've never gotten around to giving you a tour of our bedroom.
I'm honestly not sure why — after all, I've shared virtual tours of Nora's bedroom, Simon's bedroom, and 3 separate tours of the nursery (one for each new baby).
I guess I always felt like our room wasn't really 100% finished, and I wanted to wait until it was finished to share the pictures. However, since we've been living in this house for 5 years already and I haven't made any major changes to our room in those 5 years, I think it's safe to say our room is as finished as it's going to get right now 🙂
If I'm really honest, I love our room exactly how it is!
Although it's actually pretty small (about 11′ x 13′) and we hardly have any decorations on the walls, it's so bright and cheery. Plus, I really like how the bed is angled towards the door so it's the first thing I see when I walk into our room.
All the furniture in our room is from garage sales, junk yards, and thrift stores (I spent less than $100 on everything!) and the red door behind the bed is actually from a dilapidated covered porch at our first house!
All my bedding is mix-and-match (from early on in our marriage).
I made the bed skirt out of a brown sheet and some lace from the fabric store; and I use another brown sheet as the "top blanket".
The quilt was from Marshal's and the duvet cover is Pottery Barn kids brand (I got it for $5 from a garage sale!) It's actually for a full-size bed but works well for the look I'm going for.
The green dresser is for Dave and the white one is mine — both were $10 or less + a little painting on my part. We use our dressers to store socks, underwear, t-shirts, pj's, and grubby clothes to work outside.
The rest of our clothes are in the closet — you can see how that is set up in this post.
This little chair and lamp combo is one of my favorite things… along with my ladder-turned-necklace holder!
Our bedroom is right off the living room, which is right off the office and kitchen. Some people might want a bit more privacy, but right now, I love that these rooms are only a few steps away from our bedroom.
A few before and after pictures – just for fun!
So there you have it… our "master bedroom" (even though it's much smaller than Nora and Simon's rooms and doesn't have a bathroom connected with it).
Many people ask me why we didn't do something to make our room bigger, add a fancy walk-in closet, or connect our room to the bathroom that's right on the other side of our closet… and I guess we just didn't think it was necessary.
We just sleep and get dressed in our room, so there's no need for massive amounts of space — and clearly, we don't need a walk-in closet as our current closet has plenty of extra room!
As for the bathroom issue, I'm perfectly content to walk 3 feet outside my bedroom door to go to the bathroom or take a shower 🙂