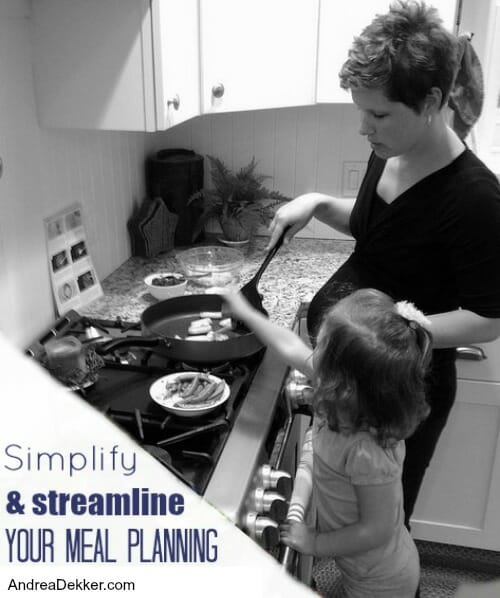 You all know how much I LOVE to systematize and streamline meal planning (and all other household tasks) so they take less time and run more efficiently… right?
And if you've been reading my blog for more than a couple of months, you also know how much I absolutely detest shopping — unless it can be done online!
Currently, the only in-person shopping I do is my weekly grocery store run — and I do everything humanly possible to get in and out as fast as I can (including writing my detailed list in the exact order the food is shelved in the stores so I never need to backtrack!)
I know, I might be crazy… but shopping just gives me anxiety.
I've often said that if we ever get a local grocery store who offers an online shopping service with curbside pickup, I would gladly pay the extra price to simply be able to pull up to the door and have them load in my goods — no schlepping of children in and out of car seats required!
2020 Update: We now have many grocery stores that offer curbside pickup and even grocery delivery! I utilized this service for a couple of years, but now that the older 3 kiddos are in school, I can easily manage to get groceries with 1 child!
Thankfully, with the power of the internet, I can have pre-measured farm-fresh ingredients for delicious chef-inspired recipes delivered straight to my doorstep in a refrigerated box, WITH THE RECIPE… so all I need to do is open the box, prepare the food, and dinner is served!
Nope, I'm not joking!
This post contains affiliate links. I will be compensated if you click through and take action. Read my disclosure.
Recently, I had the opportunity to try out Blue Apron, a fabulous online service that allows you to create a simple meal plan of several amazingly gourmet-tasting meals each week, AND have the high-quality ingredients for those meals delivered directly to your home.
Depending on the size of your family, you can opt for the 2-person plan or the family plan. And the prices are super reasonable for the quality and quantity of food you get (at least in my opinion). The 2-person plan ends up running around $9.99 per person per meal and the family plan runs around $8.74 per person, per meal. Shipping is always free!
This isn't something Dave and I would do every single day or even every single week, but boy is it a nice treat for busy weeks — or the week you get back from vacation and don't feel like grocery shopping or meal planning!
Thankfully, Blue Apron requires absolutely NO commitment. You can use their services for one week, take 5 or 6 weeks off, then order for a couple more weeks, etc. Or you can faithfully get 2 or 3 meals week after week after week. It doesn't matter.
You can also schedule the delivery dates to fit with your schedule and choose meals based on your dietary preferences and needs.
A Few More Reasons I Love Blue Apron's Simple Meal Plans: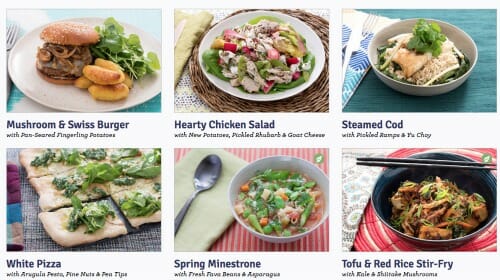 1. They allows me to easily experiment with new recipes and new ingredients I would have NEVER tried before.
Dave and I have eaten a huge variety of foods we've never eaten before (I hadn't even heard of some of the ingredients before). Things like Beef Dukbokki, Matzoh-Crusted Chicken, and Lentil-Crusted Salmon — all of which were delicious.

They also have other more "tame" recipes like Chicken and Drop Biscuit Casserole or Seared Flank Steak.
It has been SO fun for me to try out new recipes though — especially since I don't need to go out and buy a huge bottle of a random spice or seasoning, and then hang onto it forever because I'll only use it for this one recipe. Instead, I get just the right amount I need for my specific recipe.
2. The recipes are quick, easy… and nearly fool-proof!
Since everything is pre-measured and ready to go, all the recipes can be prepared in less than 40 minutes.
Every recipe also comes with a full-color recipe guide with step-by-step instructions and photos showing you what to do. There are even video tutorials available online to walk you through each step!
Even though I had never made anything like these recipes before, I could still easily manage with Nora "helping" and Simon snacking nearby!
3. The food is so healthy and flavorful!
All the Blue Apron meals are between 500-700 calories per serving, and they make a point to choose fresh ingredients from quality suppliers.
And since I usually don't use a ton of spices and seasonings when I cook, it has been a real treat to expand my horizons and try all sorts of flavors I might not necessarily buy from the store.
For the record, Garlic Black Bean Sauce is really good!
4. The process is SO simple and streamlined!
If you want to get started with Blue Apron, simply set up an account, pick your meals, choose your delivery date, and wait for your box to arrive.
You'll never be left guessing when the package will arrive or what to do when it does arrive because Blue Apron is totally on top of everything. They send out helpful emails to remind you when your package will arrive, let you know when your next shipment is scheduled, and remind you to pick out meals if you haven't yet.
And as I mentioned earlier, the cooking process really can't get much simpler or streamlined… just dump the pre-measured ingredients in and follow the clearly laid-out instructions!
5. Everything tastes amazing!
Dave and I are not picky eaters, but I was still a bit apprehensive to branch out of our comfort zone and try so many new recipes. However, every single recipe we've tried has continued to satisfy and impress us.
They might not be meals I would normally put into our menu rotation, but they are absolutely delicious — and such a nice change of pace from our more traditional meals (pasta, breakfast, Mexican, etc.)
The recipes even come with garnishes (something I never take the time to do) so we feel just a little bit more gourmet when we're eating our Blue Apron meals 🙂
It's been a real treat to sample some of Blue Apron's simple meal plans and delicious recipes… which is why I'm excited to share this online service with you!
If this sounds like something you'd love to try and something that would help to simplify your meal planning, grocery shopping, and weeknight dinners, I would highly encourage you to sign up and try Blue Apron for a week.
As an extra incentive, Blue Apron is offering the 2 FREE meals to the first 50 people who place their first order with Blue Apron via this link!!
You really have nothing to lose (except your grocery list!) because there is no commitment and you're not tied down to any sort of contract.
Simplify your meal plan with Blue Apron!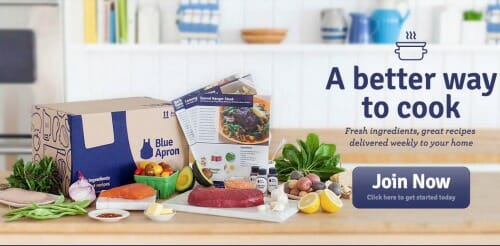 This was a sponsored post on behalf of Blue Apron. All opinions are my own.