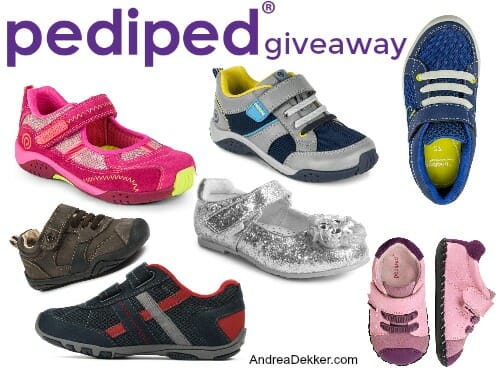 Happy Spring!!!!
The weather is definitely starting to warm up here in West Michigan, and the snow piles are almost gone — we've even had a few days when the kids went outside without coats!
We haven't quite packed up our snow boots just yet (that would be tempting fate too much!), but we did get new pediped shoes for everyone a few weeks ago — so we're ready to go when the weather officially warms up!
I've shared about my love of pediped shoes several times over the past 5 years — but that's because they really are my most favorite brand of baby, toddler, and children's shoes.
Not only are the super comfy and cute, they are also extremely easy to get on and take off… and their boxes are the perfect size for organizing our medicine cabinet! 🙂
Obviously, we've been enjoying our pediped shoes for a while now!
Here's Nora (age 2) with her first pair of pediped shoes!
As a child who has ALWAYS been very sensitive to how clothing (especially socks and shoes) feel on her body, we've loved pediped shoes from day 1. I know they will always be comfy for her feet — along with supportive and cute too!
We opted for the pink sparkly Mary Jane's for preschool last year — a huge hit for Nora!
And this year, she picked out her own pair — black and magenta high tops that are apparently all the rage in her kindergarten class. Yes, we purposely recreated the same pose! 🙂
.
Simon has HUGE feet — wide, long, thick — just big! The only shoes that will fit him comfortably are pediped and Crocs. So we buy him a new pair of pediped running shoes and new Crocs flip flops every year — he is a happy boy!
Here's Simon last spring (age 3) obviously putting his own shoes on at this point — apparently pediped shoes are still comfy on the wrong feet!
A little earlier (age 2.5) — his pediped boots are on the correct feet, but his pants are backward and his shirts are inside out!
This year, he opted for red and navy shoes that apparently look like "soccer shoes", "Spider Man shoes", and "super fast shoes" – depending on when you ask him!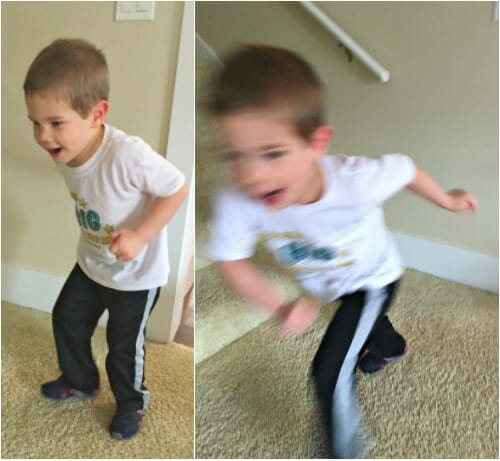 .
James has also grown up with pediped shoes and they are such great shoes for early walkers (he was walking at 10 months)
Last year, we ordered him a pair of waterproof winter boots, and he loved them so much, he wore them ALL SUMMER LONG!
James has the opposite "problem" as Simon — he has very narrow and petite feet.
Thankfully, the generously adjustable Velcro allows pediped shoes to easily accommodate both Simon's wide thick feet and James' narrow petite feet!
James also got to pick out his shoes this year — he opted for these super stylish shoes.
AND, in case you didn't note this when I mentioned it early…
These shoes are SO EASY for kids to put on and take off!
I'm certain our children are not overly-amazing, but they can take off their own shoes around 16-18 months and put their shoes on around 24-28 months.
This saves me SO much time and hassle — I just tell them to put their shoes and coats on, and by the time I have Clara buckled into her carseat, the other kids are ready to be zipped up and head outside!
pediped has three different lines of children's shoes:
1. Original: Best for infants and small children who are learning to walk (the navy and red pair below).
2. Grip 'n Go: Best for active toddlers who are already walking (the blue and grey pair below).
3. Flex: Perfect for more experienced walkers (the purple and pink pair below).
.
We are to the point where we order the Flex for the 3 older kids, and Clara got her first pair of Originals — ready for whenever she starts to walk later this year!
.
More about pediped:
Whether your child is crawling, learning to walk, or running all around, pediped has a stylish shoe that fits comfortably and ensures healthy foot development. It all started with a mom's hunt to find the best shoe for her little girl. Five years later, pediped is one of the most loved children's shoe brands around the world.
Visit pediped on the web:

Website: www.pediped.com
Facebook: pediped footwear
Twitter: @pedipedfootwear
Pinterest: pediped footwear
YouTube: pediped official
Instagram: pedipedfootwear
Enter To Win This Giveaway!
Today, TWO lucky readers will win a pair of pediped children's shoes.
Also, pediped is offering a discount code to EVERYONE! Get 15% off your order using code DEKKER15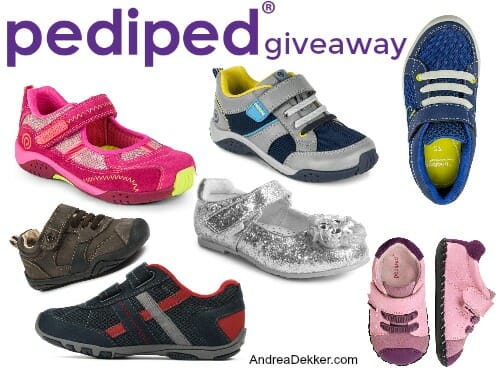 To enter, simply use the Rafflecopter widget below (it might take a second to load).
This giveaways ends at 11:59 pm EST, Monday, 3/26/2018 and is open to US residents, 18 years or older. The winners will be randomly selected via Rafflecopter and notified via email. I received compensation in exchange for hosting this giveaway — all opinions are 100% my own. Please see my full disclosure policy and contact me with any questions you have. Good luck!