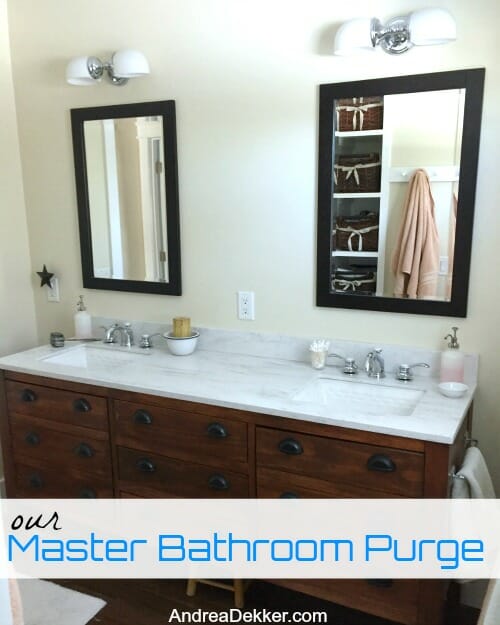 As I've mentioned before, I often do the majority of my deep cleaning and purging in the winter months — usually from January – March.
I figured we're cooped up inside anyway, so this is a good way to use my free time — keep in mind I actually REALLY enjoy small organizing projects and find deep cleaning oddly therapeutic. 🙂
Ever since Christmas break, I've been slowly working my way through various rooms of our home and essentially purging and/or cleaning every single drawer, shelf, closet, cabinet, etc.
I shared my kitchen purge last week, and today, I'm purging our master bathroom.
Now, when I say "Master Bathroom", I just mean the bathroom that Dave and I use. It's right next to our bedroom, but not connected to our bedroom (we chose to keep it separate for several specific reasons).
Even though we have 3 full bathrooms in our home, this bathroom contains nearly all of our bathroom "things" for everyone in our house. The other full bath on the main floor only has a few extra towels and extra toilet paper, and the kid's bathroom upstairs just has their towels, toothbrushes, and PJ's.
Everything else is in our bathroom, so we definitely need to use the small space wisely — there's no room for extra stuff we don't need, use, want, or love.
Let's start by looking inside our vanity (my uncle made this for us when we first moved in!)
The bank of drawers on the left and the right are actually DOORS, not drawers.
My sink cabinet is on the left — I keep a can of disinfectant wipes for quick cleans throughout the week. I also have a pump lotion, vitamins (they don't fit in my drawer), a spray bottle to help me style my hair every morning, and a set of tiny organizing drawers to corral nursing pads, and other feminine hygiene items.
Dave's sink cabinet is on the right. He has a ginormous supply of mouthwash, thanks to a recent sale 🙂 along with his vitamins and his lotion.
We try not to keep much under the sink, mainly because it's just one big open area and it's really easy for things to get "lost" or shoved to the back and forgotten about.
As you'll see below, we store the majority of our daily bathroom items in the middle bank of drawers since they are much easier to access.
TOP DRAWER :: Before + After
I swapped out the 2 baskets that didn't fit super well for small shoe boxes. We also purged many items we didn't need and swapped out a few large products for travel size versions as we're trying to use up most of our travel size items (more on that below).
MIDDLE DRAWER :: Before + After
Nora got several hair accessories for her birthday and Christmas, so we emptied out her "hair drawer" (the middle drawer of our bathroom vanity) and did a major revamp.
She loves her organized drawer and actually looks forward to getting her hair done every morning!
BOTTOM DRAWER :: Before + After
Remember our bottom drawer stuffed FULL of travel size goodies???
Well… it's empty now!
As I mentioned above, I'm on a mission to greatly reduce the insane number of travel size products we have amassed over the years.
Here are a few ways we've been using them up:
used them in place of regular size products
trashed any containers that were mostly empty
consolidated half-full containers
gave some of the items I know we won't use to a friend who wanted them
donated several unopened items to a basket ministry that makes baskets for foster care children and often requests travel-size items
We saved a couple travel size products for upcoming trips, but I'm SO happy to be done with all those tiny containers — and to have a nice big empty drawer!
.
We also have a large bank of open shelves on the other side of our bathroom. We literally built these shelves to fit baskets I found several years ago, and I LOVE the open storage!
After our purge, we now have 1 completely EMPTY basket, and the others are only about half full!
.
Although it's technically not part of our bathroom, we do have a large medicine cabinet in the hallway right outside our bathroom (more about that in this post) for First Aid supplies, vitamins, prescriptions, etc.
.
It feels so great to have another room cleaned and decluttered — especially since it's a room Dave and I both use many times a day.
I guess that's how I determine where I want to spend my time and energy organizing. I choose the spaces we use most often, so we will then benefit more from the organized space.
What room would you most like to purge?
Now that the mudroom, our closet, the kitchen, and our bathroom are all "lighter" and cleaner, I'll probably start working my way through the kids' bedrooms and toy areas (wish me luck!)
When the weather gets warmer, I'm tackling the garage!