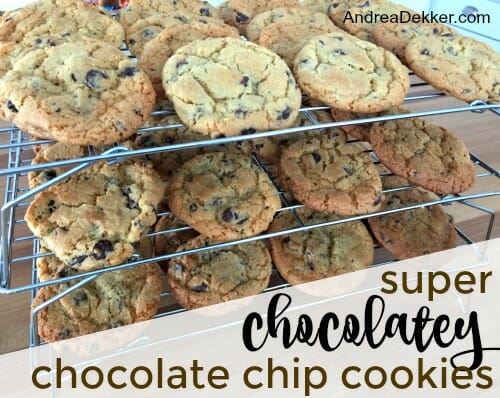 I know, I know. Yesterday I shared that I lost 10 pounds, and now I'm back with cookies! 🙂
It just so happens that our family loves cookies — so I am always and forever on the lookout for really great cookie recipes (chocolate chip being our across-the-board favorite!)
Four years ago, I shared this absolutely DELICIOUS Peanut Butter Chocolate Chip Cookie recipe from my friend Rochelle.
This is still my go-to recipe when I want the peanut butter and chocolate combo. Every time I take these cookies anywhere, I'm always asked for the recipe — they are just THAT good!
Then, two years ago, I shared a new recipe for chocolate chip cookies (no peanut butter).
This recipe is made VERY regularly at our house because they are the "perfect" flat, crispy, chewy chocolate chip cookie for us (we're not fans of puffy, crumbly, or super soft cookies.)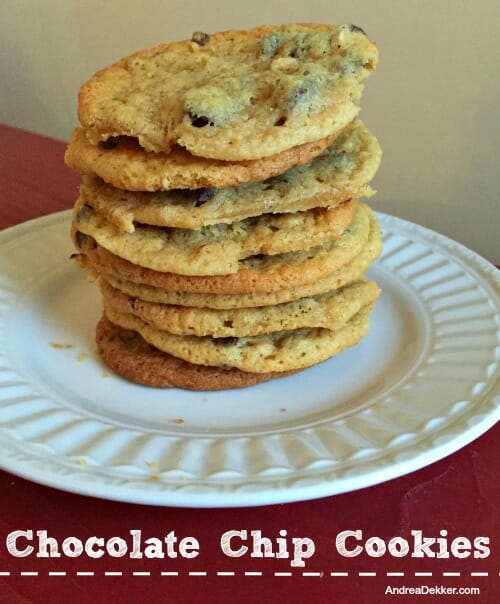 In that cookie recipe post, I also shared several of my tips for really delicious chocolate chip cookies… all of which I still use in my own baking.
.
Fast-forward 2 years later… and I have yet another super yummy chocolate chip cookie recipe to share with you all!
I got the recipe from Dave's brother, and he got it from The Savory Sweet Life Blog — where she claims it is "The Best Chocolate Chip Cookies Recipe EVER!"
I have to admit, the first time I tasted these cookies, my thought was, "these are the best chocolate chip cookies I've had in a really long time!"
I was surprised to see that the recipe was fairly similar to my own chocolate chip cookie recipe — with a few minor tweaks.
She uses sea salt instead of table salt
She uses baking soda AND baking powder
She uses slightly more flour and LOTS more chocolate chips!
Finally (and probably most importantly) she mixes her ingredients for a SUPER LONG TIME.
I was shocked that these few differences could make such a big difference in the deliciousness of a chocolate chip cookie — but I have to say, this recipe is definitely our new favorite!
Of course, I'll keep looking and testing and baking other chocolate chip cookie recipes, but I have a feeling this one will be on regular rotation in my mixer (pun intended) for a while!
Recipe for Super Chocolatey Chocolate Chip Cookies
makes 4 dozen cookies
INGREDIENTS:
2 sticks butter, softened ( 1 cup)
1/2 c. granulated sugar
1.5 c. brown sugar
2 eggs
1 T. vanilla extract
2.5 c. all-purpose flour (she suggests 12 oz. which is usually 2.5 c. for me)
1/2 t. sea salt (she insists that sea salt makes a difference — I'm not 100% convinced though!)
1 t. baking soda
1.5 t. baking powder
2 to 2.5 c. chocolate chips (I use a variety of chips, chunks, mini chips, etc.)
DIRECTIONS:
Preheat oven to 360ºF (still not sure if this is a typo or not, but her recipe says 360, so that's what I do!)
Cream butter and sugars with an electric mixer for 3 minutes (scraping down the sides as it mixes).
Add in eggs and vanilla and cream for 2 more minutes.
Add in dry ingredients and mix until just combined.
Stir in chips with a spatula.
Place heaping Tablespoons of cookie dough onto parchment-lined cookie sheets.
Bake in preheated oven for 8-10 minutes. (my oven might be "hot" but her estimated cooking time of 12-14 minutes is way too long for my cookies).
Let cool on pans for 2-3 minutes, then slide parchment sheets onto a cold counter top for 3-5 minutes before placing cookies on a wire rack to cool completely.
A Few Notes:

In my opinion, the dough freezes better than the already-baked cookies. For some reason, the frozen cookies seem to go stale much faster than when I freeze the dough and bake the cookies "fresh".

Also, if you want thick, puffed-up cookies, these are NOT for you. They are flat, but SO chewy with a little bit of a crispy outside. Just perfect for us!

Oh, and if you want your cookies to look extra gourmet (like if you're bringing them somewhere), use this simple tip!
So that's it!
My new favorite chocolate chip cookies… at least for now!
If you have a favorite cookie recipe, please share!!
Visit my virtual recipe box for more simple, delicious, family friendly recipes!