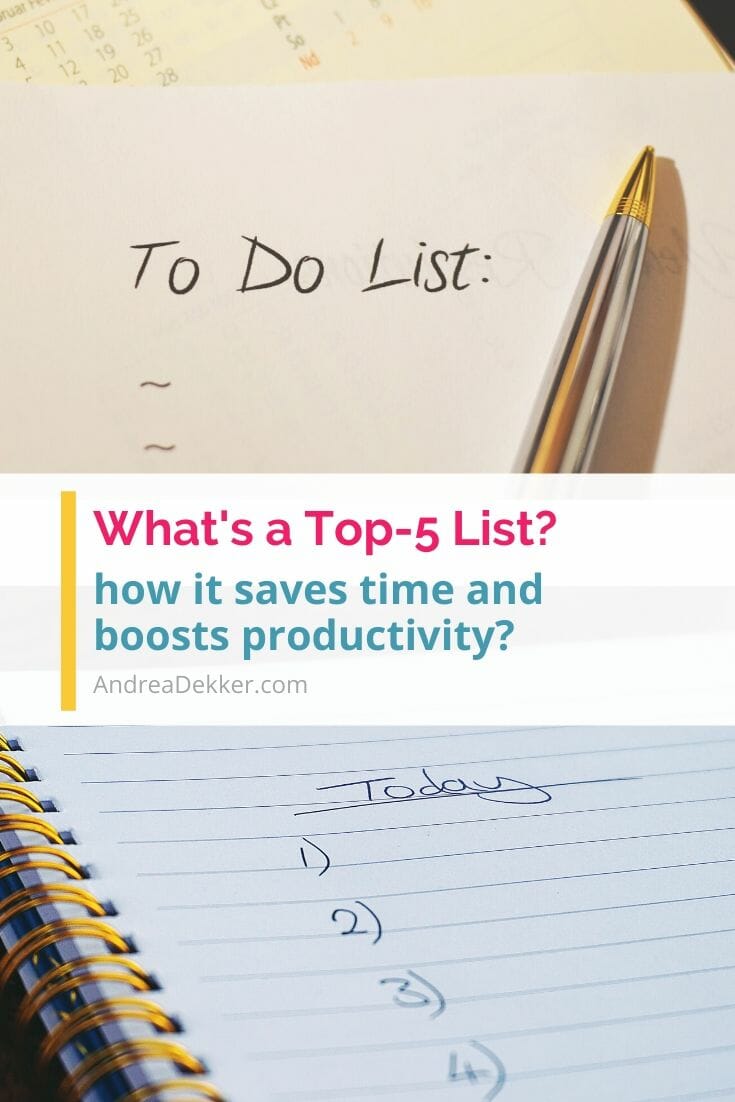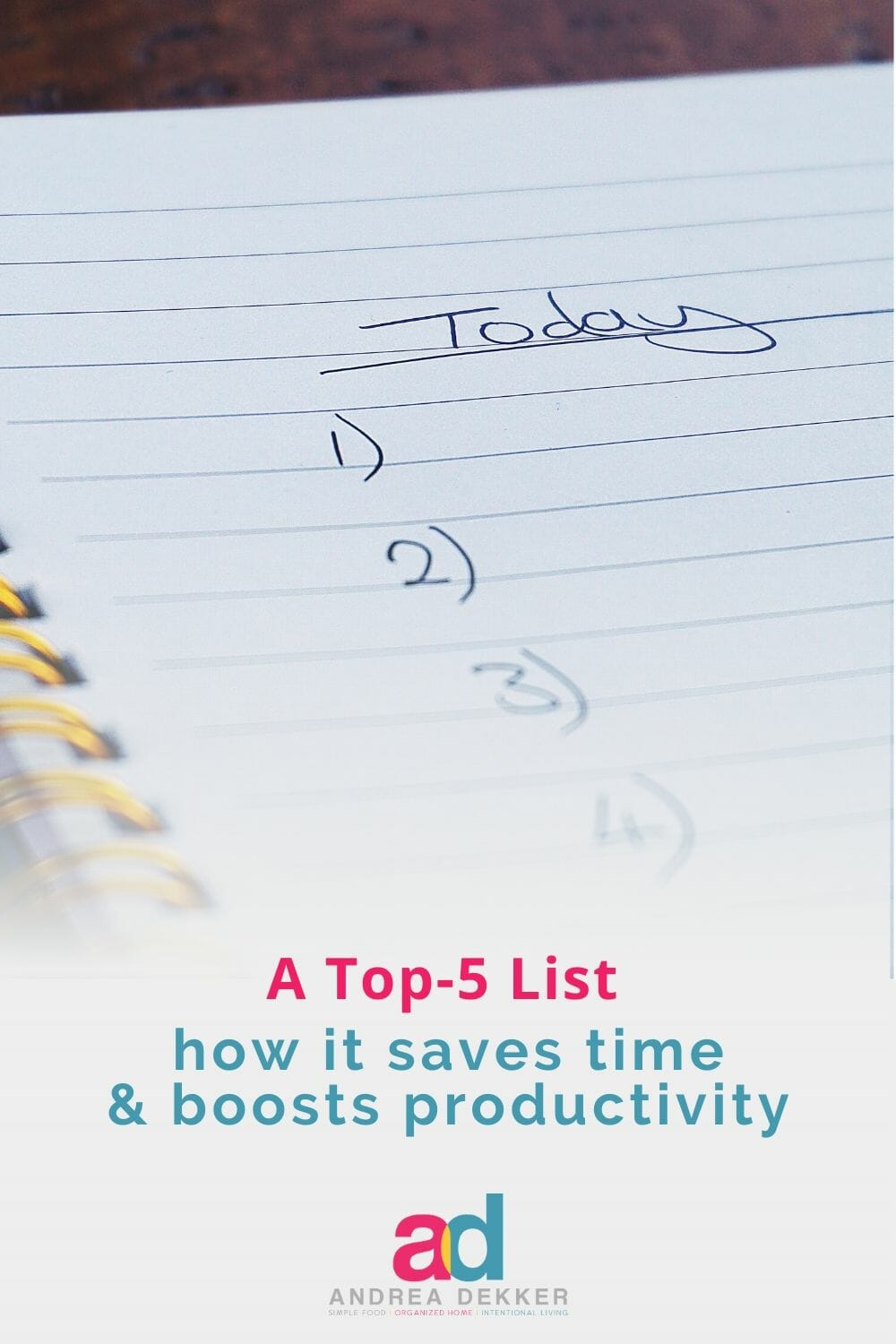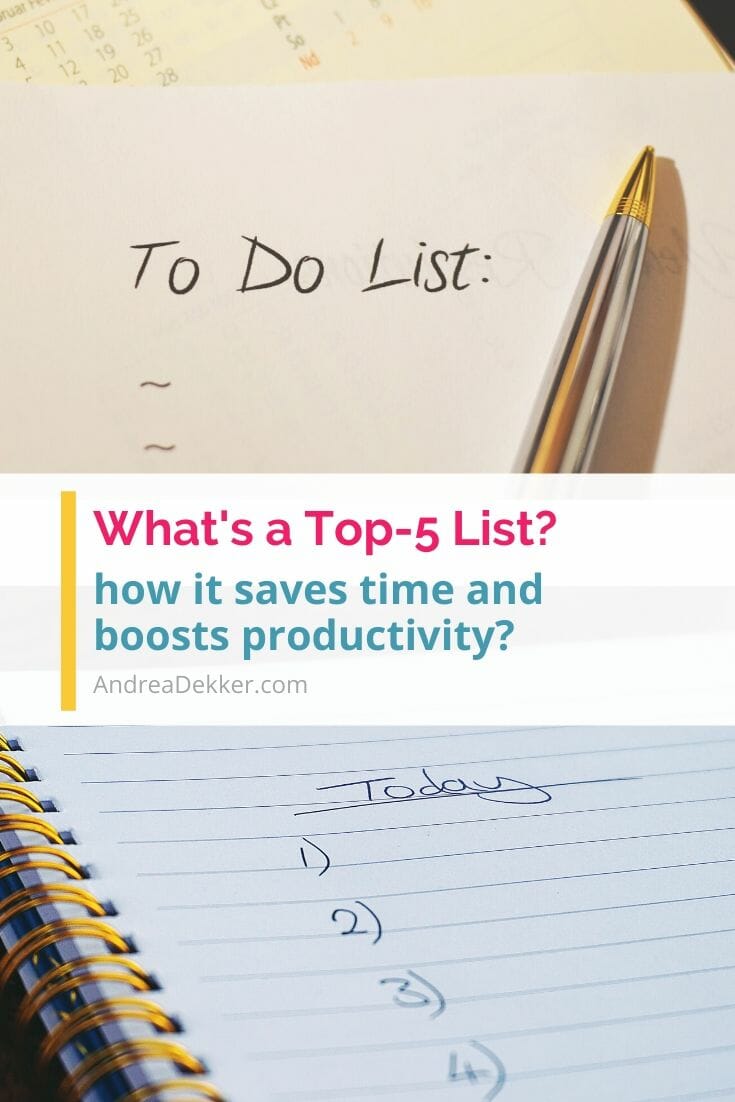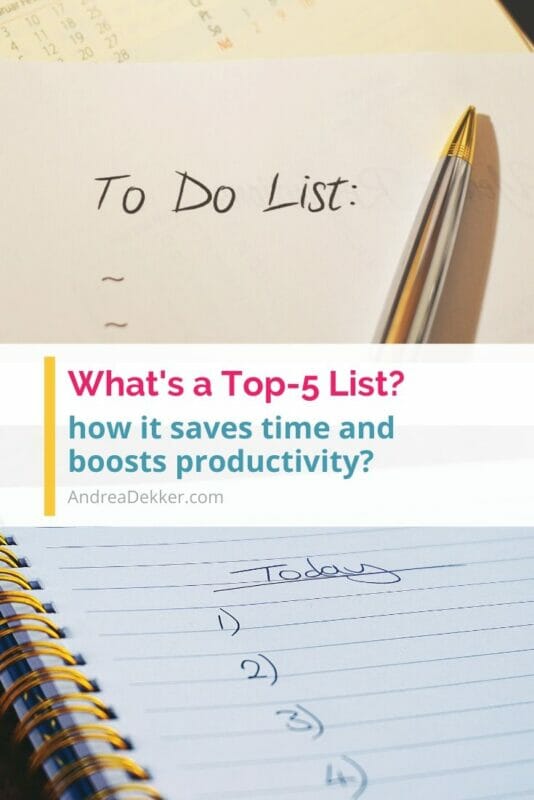 Several years ago, I wrote about the "Top-5 Lists" I make almost every day.
In the years since I published that post, I have gotten SO many emails, comments, and questions about how exactly I use my Top-5 List to boost productivity throughout the day.
So… it's time for a follow-up post!
What is a Top-5 List?
My Top-5 List is simply a handful of tasks that must be accomplished in a given day. Basically, if these tasks are not completed by the end of the day, I'll be behind.
Sometimes these tasks are work-related, sometimes they are house projects, sometimes they are personal… but they are always important for that specific day.
A few examples from my own life:
prep and make dinner for that night
attend a meeting or be available for a phone conversation at a specific time
wash a load of whites because we are all out of kitchen towels
buy more milk and eggs
finish painting the trim because new carpet is arriving the next day
My Top 5 List is NOT separate from my regular daily to-do list.
In my opinion, things get way too confusing if I make a bunch of little lists — so everything is always on one list for me.
It doesn't matter if it's a daily chore, a weekly to-do that I'm planning to tackle that day, a meeting, errands I need to run, a phone call to make, emails to send, work-related, personal, family, etc. When it comes to my daily to-do's they are ALLLLLL on one list!
I work best when I only have one simple daily to-do list that I can work from each day.
RELATED READING: Here's how I set this up with my current planner layout.
How I differentiate my Top-5 tasks without making a separate list:
Since I'm the only one who uses my daily to-do list, I usually just know which items are my Top-5. However, I often mark them with a star or highlight them.
Nothing fancy, but it works for me! 🙂
Where I make myTop-5 List:
I almost always make my daily to-do (including my Top-5 List) in my daily planner — on the right page (see photo below).
I use the left page to keep track of date-specific tasks and my meal plan. Then I use the right page to keep a running to-do list going throughout the week.
This seems to make the most sense for me, but scratch paper, sticky notes, or even an emailed list could all work.
There is no "one right way " to do this!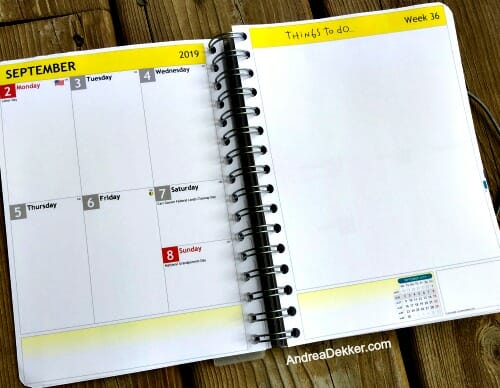 How my Top-5 List helps me:
I'm the type of person who would rather complete 15 small non-priority projects versus 3 larger, more time-consuming projects that MUST be finished before I go to bed that night.
So for me, a Top-5 List helps me to see exactly what important tasks I must do each day, and then mentally create time in my schedule to finish those tasks (a.k.a. it helps reduce my procrastination!)
Also, since I make my daily to-do list before I go to bed, I have a bit of time to think through the important things I need to do the following day. This way, I can get right to work when I wake up — again, reducing the natural human tendency for procrastination.
A Top 5 List can be more or less than 5 things:
The number 5 is just a guideline — a helpful way of making sure our to-do lists are totally overloaded.
If we only put 1 important item on our list each day, we won't ever accomplish much. On the other hand, if we're consistently putting 15-20 items on our "Top-5 List", we'll probably end up discouraged by your lack of productivity.
Personally, there are days when I have 6 or 7 "Top-5" tasks on my list, other days I might only have 1 or 2.
The important thing for me is that I can differentiate between the handful of tasks that absolutely MUST be completed each day from the many other tasks I would like to accomplish but could push back a day or two if necessary (vacuuming, stopping by the bank, weeding, etc.)
By sticking to roughly 5 super important tasks each day, I'm able to hone in and focus on those tasks without feeling overwhelmed by everything I need to accomplish in 24 hours.
I don't always tackle my Top-5 List first.
Sometimes, the more important Top-5 tasks are urgent tasks I try to take care of first thing in the morning, before the kids wake up. However, the majority of my Top-5 tasks are important… but NOT necessarily urgent.
I am able to plan my day around these Top-5 tasks and if they require lots of focused time, I plan them for early in the morning or later at night (when the kids are sleeping). Then I'll work on less focused work throughout the day (laundry, dishes, meal planning, running errands).
Having my Top 5 List made in advance allows me to better plan my day and (hopefully) accomplish my entire to-do list (including the Top 5) by the end of the day.
RELATED READING: Don't Let Urgent Get In The Way of Important
Do you ever add or remove items from your Top-5 List?
Yes!
Sick children, unexpected technology issues, or world-wide pandemics all force me to rearrange my schedule and adjust my daily to-dos.
Of course, this doesn't happen every day, but when it does, I need to be flexible and adjust my expectations accordingly.
I always need my to-do list to work for me… not the other way around! 🙂
What do you do if you don't finish a Top-5 Task on a given day?
This honestly does not happen very often because I try really hard to stay on top of the important things and finish my Top-5 Tasks every day.
However, if one or more tasks go undone for a variety of reasons, I would do 1 of the following 3 options:
1. Put it as the very first thing I do the next morning — and probably wake up pretty early to do it.
2. Consider if I can find someone else to do the task for me — and then contact that person the next day.
3. Evaluate whether the undone task is actually as important as I made it out to be.
So often, I've found that if I continually push a task off "until later" it's actually not nearly as important or essential as I once thought it was. I often realize that when one of my Top-5 Tasks is left undone at the end of the day, it's usually because I know, deep down, that it's just not a priority for me. If it was, I would have made the time to do it.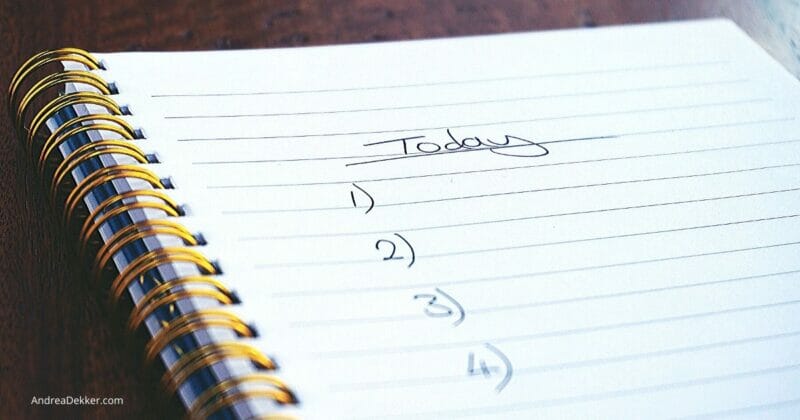 If you've never tried making a Top-5 List… I hope this post inspires and encourages you to give it a try.
It literally takes me 3 or 4 minutes to make my to-do list before I go to bed each night, and I can't even begin to calculate how much time, energy, stress, and confusion that 3-4 minutes saves me the following day!
Are you a Top-5 List maker? How has it helped you?