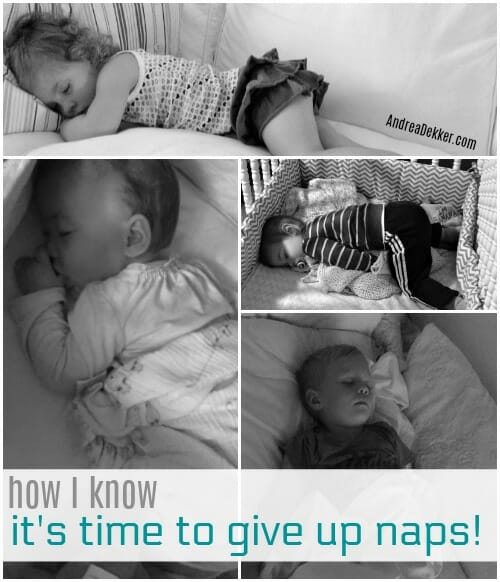 Over the past 7+ years, I've had 1 horrendous napper, 1 amazing napper, and 2 fairly normal nappers (in that order) — and looking back, I can see that they all "gave up" napping in basically the same way.
It all started with a few abnormal nights of refusing to go to bed, laying in their crib awake, shouting for "mama", crying, standing up, jumping around, etc. etc.
At first, I always think "it's just a one-time thing", or "it's just because we were out later last night", or "it's just because they took a longer nap today."
But, after several weeks of "fighting bedtime", it all-of-a-sudden clicks with me that… they are ready to give up their naps!
This all happened with Clara over the past month — I think I was in denial for the first 2-3 weeks though.
It honestly didn't even occur to me that she could be finished with naps because she seems so little! However, after SOOOOO many nights of fighting with her (for several hours) to get her to sleep at night, it FINALLY dawned on me that, DUH, she might just not need her naps anymore!
Wouldn't you know, the very first day we "skipped" her nap, she went to bed fantastically well at 6:45pm! Glorious!
For the last 6-8 months, Clara's normal routine was to nap from 1-3 p.m. and sleep for 12 hours at night (roughly) 7:30-7:30. However, over the past 4-6 weeks, she has been fighting bedtime, and fussing until 10 p.m,. but still waking up by 7:30 or 8:00.
After we stopped putting her down for an afternoon nap, she started sleeping from 7 p.m. (or earlier) to 8 or 9 a.m. with no fussing, no crying, no fits. She is happy all day (a little sleepy around dinner time) and seems very well rested each morning.
Doing the math, she actually ends up sleeping MORE hours per day when we skip her naps and goes to bed on time — so, we're going with it for now.
Of course, this doesn't mean we'll never put her (or any of our children) down for a nap again.
We just sort of play it by ear.
If we know we'll be out later, we put her down for a nap. If she's acting sleepy, we'll put her down for a short nap. If we have an extra-busy week, we might have all the kids take a short rest period in the afternoon. If someone is sick or didn't sleep well, we'll have them take a nap/rest at some point the next day.
By no means do I think all children should be done with naps before they are 2! In fact, Simon still regularly took naps when he was 3! It all just depends on the individual child, and the specific situation.
On one hand, it's a little bit sad when they move past this stage of life because I miss out on my afternoon baby break. However, on the other hand, it's SO much nicer for scheduling our daily activities when we don't need to worry about being home for nap time or missing nap time and having a crabby baby.
We do need to be careful about driving with Clara any time after 3 p.m. as she naturally falls asleep in the car if we're out for too long (which will totally sabotage her bedtime!) but since we're home most afternoons, this hasn't been a problem for us.
I can't believe our family is basically DONE with naps!
After almost 8 years of being a "slave" to nap time, our daily schedule just significantly opened up!
We'll see what happens during the school year (I wouldn't be surprised if Simon wanted to take a nap on the days he doesn't have school) but in the mean time, I'll be looking for fun things to do in the afternoon!!
How did you know your babies were ready to give up their naps?