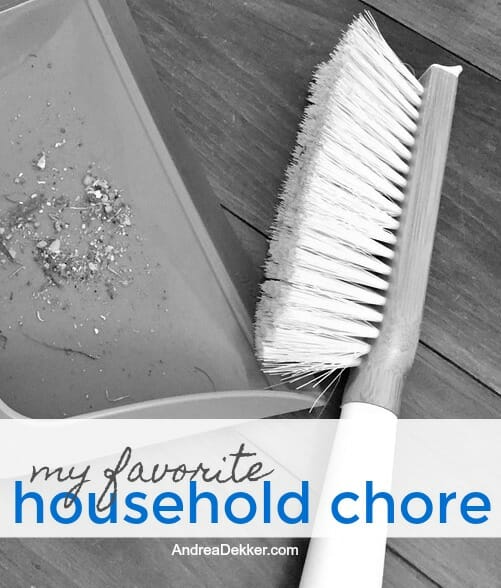 Do you have any household chores that you truly look forward to doing? Something you clean regularly, even if it isn't all the dirty to begin with? Something you don't even let your kids do because you actually enjoy doing it?
Or maybe I'm the only one!?!?!
It's very common to hear about "least favorite chores" or "dreaded chores" — often accompanied by various remedies or tips to reduce the time and effort it takes to complete those chores.
In my experience, it's not nearly as common to share a FAVORITE household chore… but that's what I'm doing today!!
As someone who generally doesn't mind cleaning my house, I do still have a few "least favorite chores" — ahem, the dishwasher!
However, I also have one household chore that is actually something I enjoy doing — and not just because it results in a cleaner home.
My favorite household chore = sweeping!
Under the table, in the mudroom, in the garage, on the porch, in the bathrooms, out on the driveway — it doesn't matter WHERE, I simply enjoy AND look forward to sweeping various areas in and around our home every day.
So why do I enjoy sweeping so much?
As I was sweeping last week, I realized how much I truly enjoy this monotonous (and very necessary) household chore. The more I thought about it, I can totally understand why sweeping is so enjoyable for me, my introverted personality, and my desire for a clean home with minimal effort.
Sweeping requires no smelly chemicals or expensive gadgets — just me, my broom, and maybe a dust pan. Nothing to buy, nothing to make, nothing to keep on-hand, nothing to smell up the house.
Sweeping doesn't require massive amounts of physical or mental energy to do a fairly good job — I can sweep when I'm tired, when my back is sore, when I have a billion other things on my mind, and even when I'm wearing a baby.
Sweeping is not messy or germy — I don't need to wear gloves, I don't need to keep the kids away, I don't need to wash or sanitize myself or the area when I'm finished. I just sweep and move on.
Sweeping can use as much or as little time as I want to devote to it — sometimes it's just a quick sweep of the kitchen and dining room after a messy meal, other times it's lengthy periods of time spent meticulously sweeping every last helicopter off our front porch or out of our garage (I've been known to sweep the garage several times a week!)
Sweeping is something I can do in complete silence — usually while children are sleeping, playing nicely in another room, or running around outside.
Sweeping is very cathartic — when I'm feeling stressed, when I'm too tired to tackle the rest of my to-do list, when I need to process various thoughts or ideas, when I'm excited about something but can't take action yet, sweeping keeps my hands "busy" while my mind is free to wander.
Of course, the end results of clean floors and less dirt tracked through my home are "added bonuses" too!
I've tried stick vacuums…
I've tried dust busters…
I've tried vacuums with fancy hard floor attachments…
These tools are all fantastic; however I ALWAYS revert back to a simple broom and dust pan!
My Favorite Sweeping "Tools":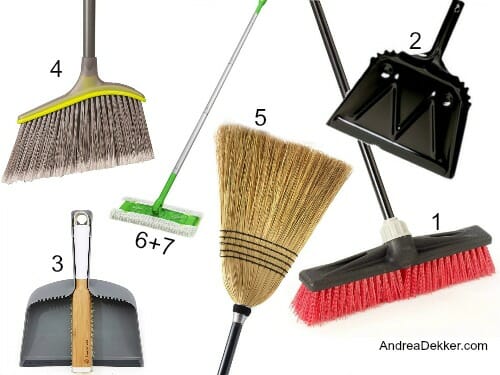 There may come a point in my life when I buy a fancier tool to aid in my sweeping efforts… and I might even "let" my children help with this chore eventually!
But for now, I will continue to sweep every day (sometimes multiple times a day) — enjoying the quiet thinking time while my arms monotonously perform this simple task.
What is YOUR favorite household chore?