My Favorite Dollar Store Buys
posted by Andrea | 08/28/2017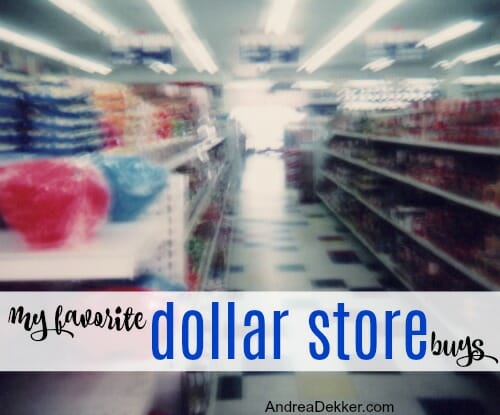 I often talk about how I ONLY shop at Meijer (our local grocery supercenter — you can buy almost anything there!) and anything I can't find at Meijer, I buy online.
This is mostly true; however, the kids and I love frequenting our local thrift store and our local dollar store — both of which are walking distance from our house (dangerous… I know!!)
AND… the dollar store is a TRUE dollar store where every single thing in the store is $1 or less! 
We usually stop by the thrift store every week after our weekly library visit (it's right next door), and we walk to the dollar store at least once a month to pick up things I need — and then the kids can usually pick out a special treat for themselves.
Of course, everything at the dollar store isn't necessarily a great deal (for example, most of their single-packs of gum and candy are actually more expensive than our grocery store), but there are some amazing deals if you're willing to browse!
Since we love our dollar store so much, I thought it might be fun to share some of OUR favorite items to buy at our local dollar store.
Disposable Foil Pans
I can often get 10 disposable foil pans for $1 at our dollar store — which is so much cheaper than any place else I've ever seen them. They have many different sizes available, so I can always find one that fits my needs.
I often use these pans when I bring meals to friends, and even for my own freezer cooking needs.
Pregnancy Tests
I haven't purchased many pregnancy tests in my lifetime, but the 4 I have purchased were all from the dollar store — YES, for ONE DOLLAR. I don't know of anywhere else that sells pregnancy tests for even close to a buck!
Also, our dollar store has ovulation test kits right next to the pregnancy tests — also for $1!
.
Helium Balloons
For Nora's first birthday party, I went to Meijer to buy balloons — and I left without any balloons, after realizing it would cost me over $20 for a simple balloon bouquet!
I drove to the dollar store and waltzed out with a pile of balloons for $7.00.
Paper Products
I will say that the plastic "solo cup knock-offs" at our dollar store are very chintzy — but the plates, bowls, napkins, and cutlery are very good quality for $1. Plus, they have every color available, including some character plates and fun designs (like camo, princesses, or animals) which are fun for birthday parties.
I also buy most of my freezer bags, zip-top bags, and plastic wrap and aluminum foil from the dollar store. Our dollar store doesn't sell the Glad Press 'n Seal wrap — otherwise I'd definitely stock up on that too!
First Aid Supplies
We can get full-size packages of bandages, gauze, wrap, tape, and antiseptic cream for $1.
They even offer LOTS of different full-size over-the-counter meds like off-brand Tylenol, Ibuprofen, Advil, etc. for insanely cheap compared to any other store.
I still buy the kids' liquid medicine from our grocery store as White Grape is the only flavor they will take, and I also sometimes buy "fun bandages" from out grocery store as the dollar store only carries skin colored bandages!
. 
Socks
Socks are SO expensive — especially kid's socks that they outgrow, wreck, or lose so quickly.
Thankfully, when Nora was a baby, I discovered that our dollar store sells ALLLLLLL sorts of socks in different styles, sizes, colors, fabrics, etc. Now I buy almost all our socks from the dollar store and have been very happy with the quality.
I still buy Dave's dress socks online, but the kid's stockings are always stuffed full of dollar store socks and slipper socks every Christmas (and they still think it's fun!)
Paint Supplies
Ok, I have a few disclaimers for this — because our dollar store painting supplies definitely are not as high-quality as a hardware store.
HOWEVER, they have a huge selection of paint brushes, rollers, paint trays, and other painting supplies (like drop cloths and painter's tape) that I'm sure I save a bundle based on all the painting I do.
Also, they often have a few colors of spray paint — which I don't usually use for any painting projects, but they are great for when we do yard work and want to mark off specific areas with cheapy spray paint.
I buy all our paint trays, liners, and drop cloths from the dollar store. I also keep a handful of cheapy rollers and brushes around for smaller projects when I don't want to pay $10 for one brush. If they get nasty (like with oil based paint or stain) I just toss them out.
These $1 brushes are also great for kid's craft projects because I don't care if they get ruined.
Coloring and Activity Books
Our dollar store has a huge variety of coloring and activity books for kids — and I don't know about you, but I have a hard time finding full-size coloring and activity books for less than $1.
We also buy lots of craft supplies, stickers, markers, crayons, and little craft kits from our dollar store — they are great for little road trips, stocking stuffers, or "just because" surprises for the kids.
.
Thin Gloves and Mittens
My kids hate wearing thick winter gloves. Obviously, they have to wear the thick gloves at times, but for the most part, they prefer the thin, stretchy, cotton gloves and mittens.
However, they are so small that we often lose LOTS of thin gloves and mittens each winter season 🙂
Thankfully, our dollar store has a full wall display of various sizes and colors of thin gloves and mittens — usually TWO for $1! I stock up every fall, and we're set for the long Michigan winters.
Greeting Cards
I'm not a huge card giver — mainly because I feel like cards are a waste of money. However, our dollar store has a HUUUUUUGE selection of name brand greeting cards for $0.25 and $.50 each.
Often, I can even get a full box of cards for $1!
.
PJ T-shirts
For some reason, there are always several racks of random kids and adults t-shirts for $1 — some with pictures or words, others are totally plain solid color t-shirts.
Often times, the words and pictures aren't things I'd necessarily buy my kids (like college names we've never heard of) but they are fabulous pj T-shirts because they are all 100% cotton and really comfy.
Simon especially LOVES his dollar store pj's 🙂
Shaving Cream
We actually don't use much shaving cream in our house, but I buy it for kid's craft projects and for their school (the school collects cans of shaving cream for sensory activities).
Shaving cream is crazy expensive at the grocery store, so finding full-size cans at our dollar store is a great deal!
. 
Flashlights
For some crazy reason, all of our kids LOVE flashlights. They carry them around throughout the day, using them to "find bad guys", look for hidden objects, or just have dance parties in their rooms with the lights turned off.
Their love of flashlights was getting expensive when they kept breaking or losing flashlights month after month — and then I discovered small LED flashlights at the dollar store… for $1!! We are now well stocked and they can use their flashlights whenever they want!
. 
I'm sure there are lots more things I could mention, but these are the items we regularly save big on by shopping at our local dollar store.
I'd love to know…
What are YOUR favorite dollar store buys?