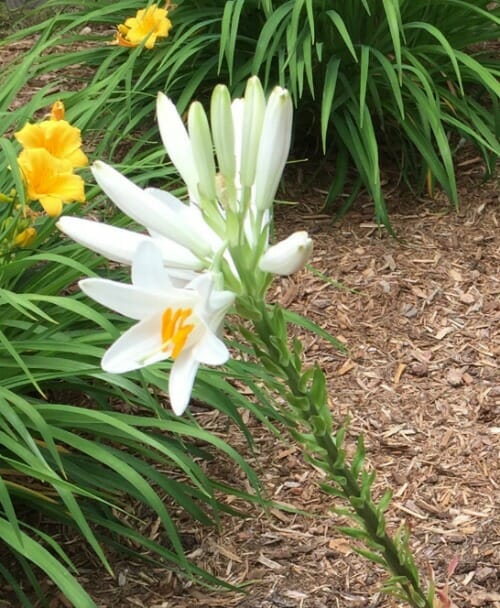 TRUE STORY: These white lilies once flowered in the gardens of my Great-Grandparent's dairy farm. After the farm was sold in the 80's, the flowers made their way around to various relative's gardens; and earlier this year, we transplanted a handful of them into 3 different spots in OUR garden!
Isn't that such a cool piece of history that we will hopefully enjoy for years and years to come!
.
What you can't see in the picture above though… is that these beautifully flowering lilies don't actually look that great when you see the entire plant.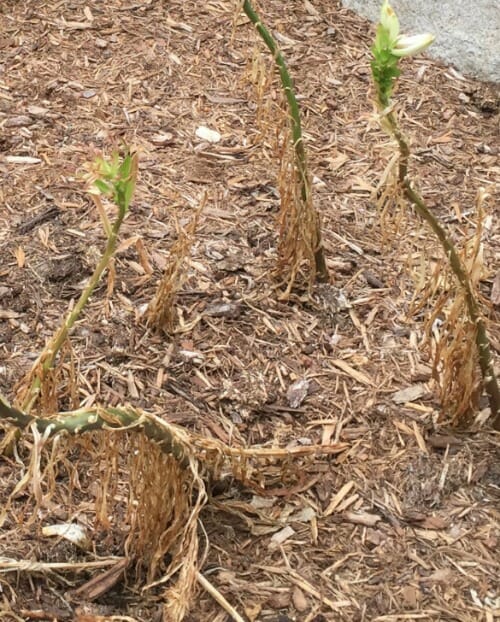 The reason the lily plants are brown and wilted is because I transplanted them in mid-spring (out of necessity) so they were already about a foot tall when I dug them up. We also had an unseasonably hot spring… and I didn't do the best job of watering them 🙂
I wasn't surprised when my newly transplanted lilies started to droop and sag a bit, or when the leaves started turning brown — and I certainly didn't expect them to flower this year.
However, as I walked through our yard a couple weeks ago, I noticed that even after all my neglect, the lilies were actually blooming!
Yes, the stalks and leaves were still completely brown and withered — but that's because all the plant's energy went into producing its beautiful flowers!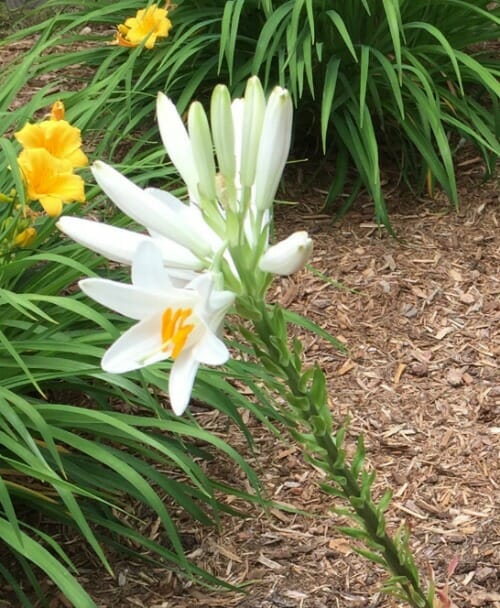 .
This might sound kind of crazy, but when I noticed the withered (yet still flowering) lilies, I instantly thought about my motherhood journey.
You see, those lilies LOOK the way I have sometimes FELT.
Many times, I have felt physically withered and worn out — with stretch marks, saggy skin, bags under my eyes, a very tired brain, and a sore back from lifting kids all day long.

Some days I feel like every single ounce of my energy is poured into my children, my marriage, my home, my business, my friends, and my community (the flowers and fruits of my labor) leaving my own body tired, withered, and lifeless.
.
Since becoming a mom in 2011, I have definitely lowered my standards for myself and given up a lot of things I used to enjoy. I sleep less, I do less, I get out less, I see friends less, I exercise less (really, not at all), I spend much less time on myself… but I'm truly OK with that right now.
I am fully aware that I'm in a the season of life where most of my energy is spent making sure my young children are fed, clean, warm, dry, safe, and happy.
I honestly do NOT feel stressed out, nor do I feel like I have too much on my plate (you know I say "no" to a lot these days). But as many of you can relate, taking care of 3 small children, a home, a yard, and a business all day, every day is a lot of work!
I know the "experts" say that as mothers, we must take care of ourselves first to assure we can properly meet the needs of everyone else… and I believe this is true. However, I doubt there is a mother (or even any responsible adult) out there who has NEVER neglected her own needs for the sake of her family or another loved one.
This is not because we're trying to please everyone all the time. It's not because we're looking for a reward, recognition, or sympathy. And it's certainly not because we don't have anything else we want to do.
It's just what we do!
We stay up late, we wake up early, and we're up all hours of the night.
We let everyone else choose first and we eat cold food ALL THE TIME.
We do without, we make sacrifices, and we say "yes" too often.
We rock sick babies until our arms feel like they might fall off.
We calm nerves, we wipe tears, we kiss boo-boo's, and we make everything better (at least for the 5 and under crowd!)
Yes, there are hard days (and weeks and months).
There are times when I literally hand the kids to Dave when he walks in the door after school just so I can get 15 minutes to myself to think. There are times when I wished I worked outside the home and had the "luxury" of a few child-free hours during the day. There are times when I wish my home would stay clean for more than a few minutes. There are times when I wish I had more of a social life (yes, even as an introvert). And of course, there are times I wish I could eat my hot food in peace and quiet!
But I have a feeling that in a few more years, my children won't be so completely dependent on me for every single thing (Nora is becoming quite independent already) and I'll get just a tiny bit more "me time".
.
If you are in a season with very little time for yourself, just remember that even though it might seem like a LOOOOOOONG season, it will not last forever.
I thought I'd never make it through the first 2 years with Nora basically attached to me 24/7 — but I did! And although I still don't have massive amounts of me time, I now get to enjoy a couple hours of quiet after the kids go to bed at night.
I usually use this time to clean the house, finish the laundry, prepare for the next day, write blog posts, or work in the garden — not necessarily glamorous, but at least it's quiet!
Also, every once in awhile, I'll toss my to-do list for the night, watch a Netflix movie while eating a special snack, take a nice hot shower, and go to bed early. Little things like that are just enough to keep me going even while most of my time and energy is given to other people and responsibilities.
I don't think my Great-Grandparents' lilies could survive if I neglected them year after year; but one season with a little less care and attention doesn't seem to have affected their blooms all that much.
Just like the lilies, we can't completely neglect our needs forever; but for short seasons of life, it often seems that pushing SOME of our own needs to the side is simply inevitable.
I know some of you will disagree with me, and that's OK.
But for those of you who have shoved your own needs and wants to the side in order to devote more time and energy to caring for elderly parents or a sick spouse, living through intense home renovations, working multiple jobs, pursuing an advanced degree, climbing the corporate ladder… or taking care of multiple little people every day, just know that you are NOT alone!
These situations require us to make sacrifices for a while — but not forever.
If the lilies can survive… we can too!
.
And speaking of time for yourself… I'm taking my annual summer blogging break. I'm stepping away from the blog until August — what should I do with my extra 'free time'?!?!