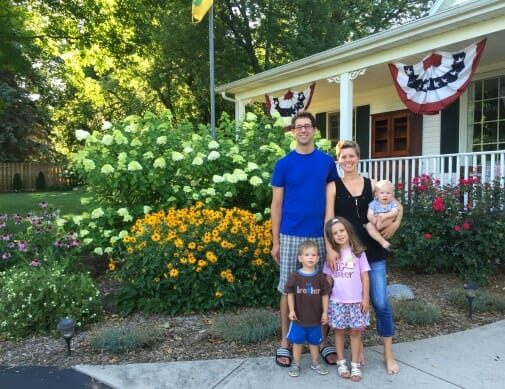 I recently read a CarePages entry, written by a friend who is SO good with words. She is also a teacher, home with her girls all summer, and writing about how they are enjoying the more restful days of summer.
She said: "…[we are] grateful for the gift of time that is slow and full — full of family, full of friends, full of activities for the girls and for me — full." (you may read her full post here)
As I read that sentence, I immediately realized the "slow and full" explanation of her current season of life is EXACTLY how I have felt all summer long — especially over the last 2 weeks as I stepped away from my blog work.
Our summer days have been FULL (sometimes jam-packed)… but probably not "full" in the way most people think of a busy summer.
After Dave and I get the kids in bed, we often joke about how we feel totally exhausted even though we literally spent the entire day at home — in and out of kiddie pools, riding bikes in the driveway, doing crafts, entertaining the mob of neighborhood children, reading, watching movies, cooking and baking for friends and family, doing yard work, picking the garden, and keeping the fridge stocked.
Our summer has been FULL of people and activities… but at the same time, it has felt SLOW in the best possible way.
.
I realize that with 3 young children a "slow and full" description of life might sound a little crazy — because in all actuality, our days are VERY loud, messy, crazy, and even quite chaotic at times!
However, as I think about everything we've done this summer (and everything we intentionally chose not to do), I have a feeling THIS summer will be one of slowest summers our family will ever have…
For starters, it's the first summer since 2011 that I haven't been pregnant or taking care of an infant, and even though James is just barely 1 year old, he is my happiest baby so far and usually plays nicely with Nora and Simon.
Also, we haven't done one single house project all summer (for the first summer ever since we've been married). Wow, does that feel nice!
We didn't do any traveling, vacations, trips, etc. the entire summer.
And to top it all off, ALL 3 of our children are at the age where we still control basically everything they do. If we don't sign them up for sports camps, music camps, dance lessons, or any other 'extra activities' they won't know what they're missing. This means less busy and less stress for the whole family.
.
I have always been intimidated by infants and babies, and even before we had our own children, I predicted that my favorite age-range of children would be between 18 months and 6 years old.
Now that we almost have all THREE kids in this age-range, I'm convinced this range really is my favorite. I'm also grateful we'll be able to enjoy all 3 kids in this range for over 2 years!
Although they are SO much work when they're little — changing diapers, working around nap schedules, potty training, feeding, cleaning their messes, waking up at night, lugging strollers and diapers bags around everywhere you go, etc. — they are also so much fun to be around (most of the time!)
They make us laugh a hundred times every single day, they are amazed and entertained by the simplest things, and even in their most difficult moments, they are nearly impossible not to love.
.
Right now, I'm honestly just proud of myself for realizing my children are all right smack in the middle of my 'sweet spot' age-range… and actually being able to slow down and enjoy it before this time flies right past.
As I mentioned a few weeks ago, my new goal is to enjoy at least ONE moment (but maybe not every moment)… and I can honestly say I'm enjoying much more than one single moment here or there, thanks in part to our very SLOW and FULL summer.
We have more house and yard projects tentatively planned for next spring and summer, and we might even try a family vacation if we feel really brave.
And of course, as our children get older, I see future summers filled with summer camps, VBS, family vacations, and more time away from home. Not necessarily bad activities, but our schedule will be busier and more full in a much different way than it is right now… and I don't know if it will ever feel quite so wonderfully slow as it has this summer.
I know this slow pace of life will vanish almost instantly once Dave heads back to school — but for the next few weeks, I'm going to soak it all in!
Thank you for the break… and for your emails, comments, and encouraging messages while I was away. I'm excited to be back to blogging again (seriously, I have SOOOOOOO many posts drafted) but so thankful to have had a bit more time to rest, relax, and enjoy our slow and full summer!
Have you ever enjoyed a slow and full season of life?
If so, what was your favorite thing about it?