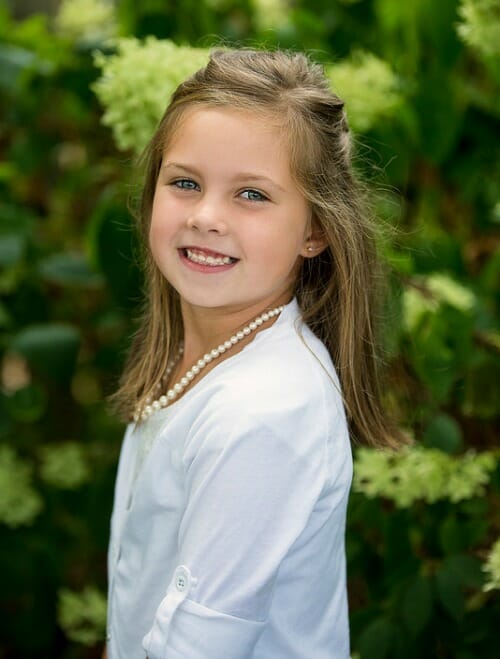 Can you believe it… this girl turns SIX today!
In some ways, I suppose these six years have gone pretty quickly, but in many other ways, I have "felt" every single day of the past 6 years!
Nora served us a crash-course in parenting, with a large dose of humility on the side (and I'm certain we are better parents now because of it).
As many of you know, Nora has always been our "more" child — everything is MORE with her.
More happy
More sad
More enthusiastic
More stubborn
More frustrating
More fabulous
More exhausting
More exciting
She requires more of my attention, more of my patience, more of my energy, more of my time, and more discipline than our other kids… I have a feeling this will always be the case.
About the only things she didn't do MORE of was sleep 🙂
I can't complain anymore though; she now sleeps 11-12 hours straight every night with no issues whatsoever — but boy did it take us a LOOOOOONG time to get there!
At this point, I could probably write an entire book about Nora, her very big personality, and all the crazy stories I have from the past 6 years — but since we're coming up on a long holiday weekend, I'll keep it short and sweet!
The honest truth is, I have often thanked God for giving us Nora FIRST — because if she would have been our 2nd or 3rd child, I'm fairly confident we wouldn't have had any more!
Now that she's 6 (and looking awfully grown up these days) she has started to learn how to channel her "more" personality in positive ways.
She is very smart and loves everything about school.
She basically picked up reading overnight and now reads books to ME before bed!
She is interested in every craft imaginable and constantly comes up with creative ways to use different craft supplies and tools.
She rarely forgets anything.
She is very independent — to the point where I feel like she could practically survive without me as long as she had a step-stool!
She has a crazy fashion sense, and every outfit is carefully planned out the night before — down to the socks, shoes, and jewelry.
She exudes confidence and truly doesn't seem to worry about what others think of her.
One of my favorite Nora stories was last year, right before she started preschool…

I told her she had to stop picking her nose all the time because kids at school might mock her… to which she immediately responded, "I'll just tell them I like picking my nose and they can deal with it!"

Boy, do I hope that confidence sticks through high school!
She was so excited to bring her birthday treat to school yesterday (glow bracelets, temporary tattoos, and Skittles), and she is anxiously anticipating her Little Mermaid birthday party later this week!
Oh, and she convinced me to chop her hair short this past weekend!
Happy Birthday to our not-so-little-anymore girl.
We love you!